I'm not into sweating profusely. It's a big reason I gave up doing Bikram yoga and running more than two miles at a time. But there's no denying that a good sweat does wonders for your skin, whether it's from a rigorous workout or banging sex.
The health-obsessed beauty had taken to Snapchat to share her infrared sauna experiences at Gravity and Higher Dose in New York City. Even though Bronfman's butterscotch complexion is already seemingly flawless, she reappeared on camera after each spa session with "lit-from-within" skin. And I wanted that, too!
What Is An Infrared Sauna?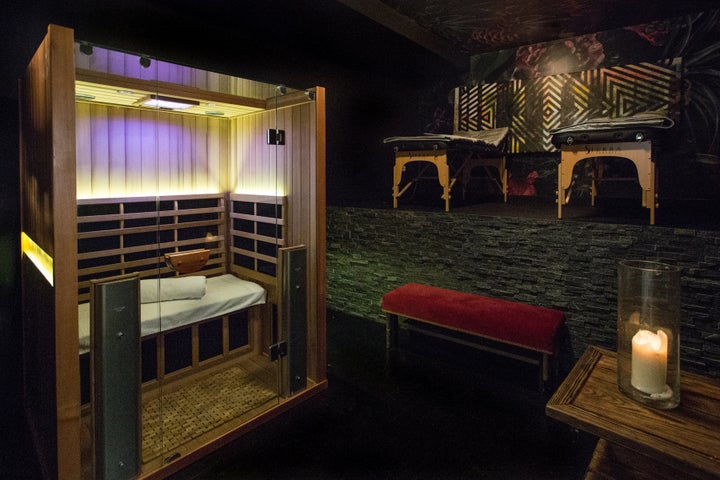 Infrared saunas use heaters that emit the same type of rays the sunlight does, but without harmful UV rays to heat the body -- whereas traditional saunas rely on hot coals to heat up a room at an average of 200 degrees Fahrenheit. The technology behind infrared sauna has existed for years, as these heaters are used in neonatal units to warm prematurely-born babies. Athletes also rely on it as a form of therapy for strength and endurance training.
Another bonus to infrared saunas is that they heat your body up faster, even though they're a lower temperature (around 150 degrees) than normal saunas. This makes you actually release more sweat.
I booked a 60-minute infrared sauna session at Higher Dose. Co-founders Lauren Berlingeri and Katie Kaps have created an oasis where you retreat to a room that houses a Clearlight Infrared Sanctuary Full Spectrum Sauna. Each sauna is private, but has a glass door in the front that makes you visible should anyone else enter the room. I was provided with fresh towels, alkaline water to stay hydrated and a spray bottle filled with lavender-scented water to mist my skin post-treatment.
I got undressed and slipped into a yoga bralette, shorts and wave cap to protect my French braids. Before I entered the wooden sauna "box," I was beginning to sweat. Granted, I arrived in a wool sweater because it was unseasonably cold. But I wasn't expecting to sweat before I took my seat inside the sauna.
This had to be the chicest of infrared saunas, as it came complete with outlets for charging my iPhone and auxiliary cord to play music or soothing sounds that rung out from Philips speakers above my head.
I used a remote control to select a violet shade from the chromatherapy (a form of therapy that combines light and color to alter mood) to drift into a meditative state. There are six hues to choose from, including green, yellow, blue, orange, red and violet.
Seven minutes later, as The Internet blasted throughout the box, I was dripping in sweat. Holding my arms up, I was astounded at the amount that trickled down my entire body. I haven't sweated this much since the last semi-annual Zara sale I shopped.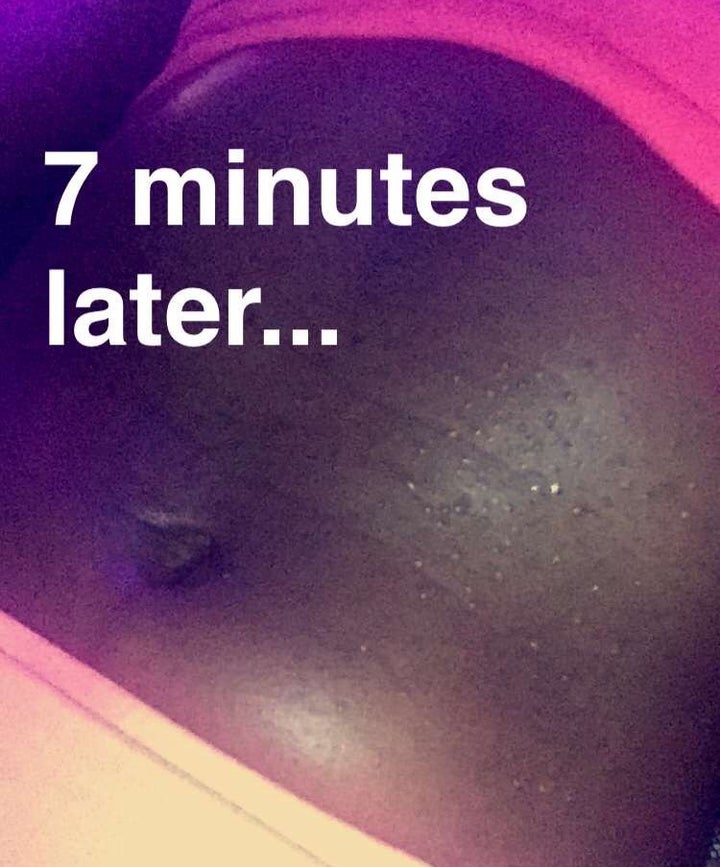 By the time I reached the 15-minute mark, I was sweating like a sinner sitting on the front pew during Easter Sunday Service. I kept downing glasses of water so I wouldn't pass out and to take my mind off all the perspiration. Eventually, I welcomed the sweat because I was willing to try just about anything to release the blackhead that formed on my upper left cheek.
With just 10 minutes left, a small pool of sweat had formed inside my belly button. Then, I noticed that the two infrared towers that faced me had turned off with just seven minutes left. As my time in the infrared sauna slowly ended, I haphazardly licked my lips and got a salty taste of all the sweat.
What Did My Skin Look Like Afterward?
Before I washed my face, I immediately noticed that my dull complexion appeared brighter. The blackhead that I was worried about came to a head just one day later!
My white face towel wasn't as grimey now that God-knows-what was released from deep inside my pores. And even though I'm not a huge makeup wearer, I decided to glam up for a press event with Kerry Washington. The proof is in these pictures that having a clearer and smoother foundation to apply makeup made for epic selfies with the "Scandal" actress.
At Higher Dose, an infrared sauna session for one person that lasts 60 minutes is $65 and for two people it will cost $80. Higher Dose also offers sessions for 30 minutes and package deals.
Always consult with your doctor before starting such a treatment. Once you've got the green light, you can book an infrared sauna session at the Higher Dose Spa in New York City or find similar services where you live.
Abso-freakin-lutely. Not only did my skin look and feel better after one session, but I felt serene. And that emotional state doesn't come easy working in a fast-paced environment. I also think this is a great alternative to loosen up tense muscles for individuals who aren't into deep-tissue massages or public hot tubs.
Higher Dose provided an infrared sauna treatment for review purposes.
Related
Before You Go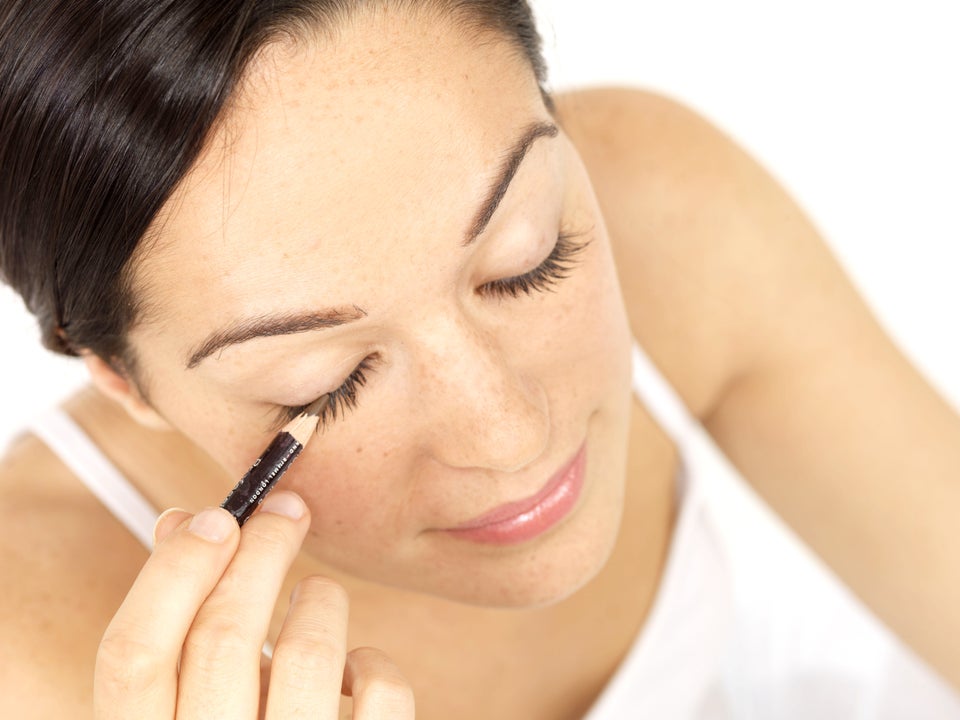 50 Awesome Beauty Tips