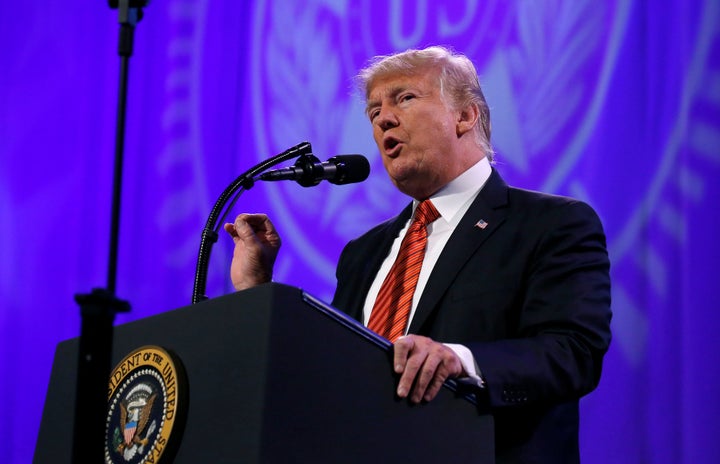 WASHINGTON ― Another White House council has taken a hit after President Donald Trump's controversial response to a deadly white supremacist rally in Charlottesville, Virginia. Seven members of the National Infrastructure Advisory Council, which includes Obama appointees, resigned this week, citing Trump's Charlottesville response and other issues.
"Your actions have threatened the security of the homeland I took an oath to protect," the resigning members wrote in a letter sent Monday and obtained by HuffPost. They referenced the Aug. 15 press conference about infrastructure reform in which Trump suggested the "alt-left" was also guilty of instigating violence in Charlottesville.
"You failed to denounce the intolerance and violence of hate groups," the letter read.
The resigning members include Cristin Dorgelo, former chief of staff at the White House Office of Science and Technology Policy under President Barack Obama; DJ Patil, former White House chief data scientist; and Christy Goldfuss, former managing director at the White House Council on Environmental Quality. All three confirmed to HuffPost that they had resigned.
Daniel Tangherlini, a former administrator of the General Services Administration, was also among those who resigned, CQ Roll Call confirmed on Wednesday. Seven total people resigned, according to Dorgelo and Goldfuss.
A White House spokesperson did not respond to HuffPost's request for comment. But a White House statement published by Reuters on Tuesday said "We can confirm that a number of members of the [council] who had been appointed under the previous administration have submitted their resignation."
The National Infrastructure Advisory Council is made up of presidential appointees from the private sector, academia and government, and was originally founded in 2001 under then-President George W. Bush. It advises the president on security, including cybersecurity, for critical infrastructure like water systems. There are now only 20 members listed on the council's website, down from 27 earlier today.
The Trump administration has not shown itself to be "adequately attentive to the pressing national security matters within the NIAC's purview, or responsive to sound advice," the resigning council members wrote.
They also said the president has "given insufficient attention to the growing threats to the cybersecurity of the critical systems upon which all Americans depend, including those impacting the systems supporting our democratic election process."
This is only the latest White House council to lose members in the wake of Trump's Charlottesville response. Multiple high-profile business leaders on two White House advisory boards resigned to protest his remarks, prompting Trump to officially disband the councils. Every member of the White House arts committee resigned. Trump ended plans for another advisory council on infrastructure last week.
Support HuffPost
The Stakes Have Never Been Higher
Popular in the Community