Ingrid Dabringer, an artist whose latest project focuses on map art, has spent her life traveling. She's lived in countless places; born in Vienna, she "came of age" in Ecuador and has since lived in Indonesia, Lebanon, Mexico and the U.S. She currently makes her home on the Canadian side of the Great Lakes ("We are deep into North America, but we get these huge tankers that come through the locks, so you feel connected," she tells HuffPost Travel).
From there, Dabringer now spends her time as a multi-media artist. Her latest project, which she started in January 2010, are these stunning drawings on maps that she's come across over the years. Dabringer told the Huffington Post that as a kid, "I remember always pulling maps out of National Geographic. That was how we learned about other places." (*SEE PHOTOS BELOW*)
She claims that she's "been trying to figure out how I see the world in my art. I always knew maps would be great... People are instantly animated and put themselves into the maps [they look at]. Every time I meet someone with a map, I get stories of memories and travel and times that are special."
Dabringer uses maps that are standard size ("the ones that were made before maps were these big books"). She spends time looking at the maps to decide their character. First, she sees shapes. "I'm constantly pulling focus with my eyes. Sometimes I focus on the color, other times topography, other times black lines or colored lines or the landmass. I also let my eyes go blurry and focus sort of behind or in front of the map. Once I sift out a contour I don't lose it. In the end, I see all of the separate elements all together," she tells us. She prefers to draw cities with water--whether they're rivers or lakes is no matter--she finds them dynamic.
An added bonus? She loves working with maps. "It's a lot of fun. I find that when I'm working on Austria maps, I speak in German. I find new places, like 'Oh, look, there's the Isle of Man!'"
In the end, what drew her to maps in the first place? She offers a completely understandable answer: "I've lived in so many places that I don't have a physical home. But all these maps of these places have really defined me. I find it interesting that I'm defined by place, even though I don't have one."
All images courtesy of Ingrid Dabringer.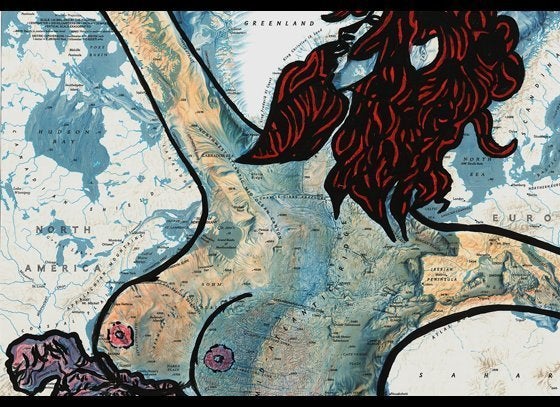 Related