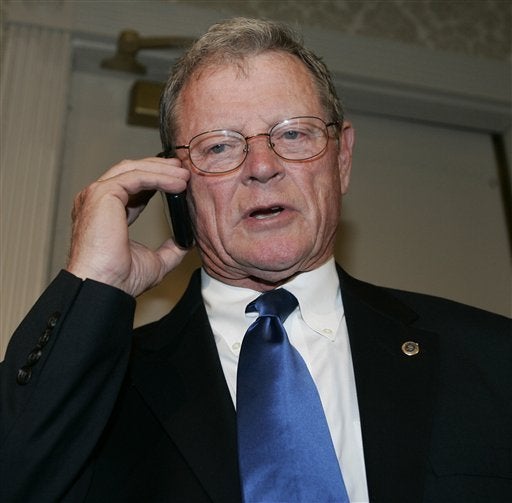 For the second time in less than a week, a Republican senator has blocked efforts by Democratic leadership to raise the cap on the economic damages that oil companies pay in the wake of a damaging spill.
On Tuesday morning, Sen. James Inhofe (R-Okl.) blocked a unanimous consent measure to increase the liability faced by companies like BP from $75 million to $10 billion. The Oklahoma Republican said he wanted to raise the cap as well but thought that the figure introduced by Sen. Robert Menendez (D-N.J.) was arbitrary.
"I don't often agree with President Obama," Inhofe said from the floor. "Right now he is unsure of what that level should be. I'm unsure of what it should be. Maybe it should be the level that we're talking about right now. Maybe it will be. We don't know that... Certainly we need to raise these limits. Now, where it should be raised, I don't know."
Speaking shortly after Inhofe at a hastily convened press conference, Menendez insisted that the Republican Party was blocking efforts to stand up "to Big Oil" and help the taxpayer with cleanup and recovery from the current spill in the Gulf.
The debate, however, is more nuanced than just that.
The Republican Party has put out a counter-proposal that attaches a number to the punitive damages an oil company would have to pay in the wake of a spill. That number is the equivalent of a year's worth of profits or $150 million (whichever is bigger). Menendez rejected the idea on Monday, noting that some companies -- including one currently involved in the Gulf catastrophe, actually didn't earn money this past year. A $10 billion liability, they argue, may be randomly set. But it is certainly better and more concrete than liabilities based on profit margins.
On the floor Tuesday morning, Inhofe pushed another common GOP complaint with Menendez's approach. Raising the liability too high, he insisted, would make it prohibitively expensive for smaller oil companies to operate offshore.
The White House hasn't explicitly endorsed Menendez's cap. But it has pushed back against this line of GOP criticism -- arguing that it is shortsighted to allow companies to drill offshore if they don't have the funds to cover major economic damages should a spill occur.
"I think somebody has to understand that if the project that you're undertaking has the potential to cause the type of damage that exceeds what is -- what could or may happen, that the law take that into account regardless of the size of your firm," Press Secretary Robert Gibbs said on Monday. "I think if -- I think that's, quite frankly, a series of steps based on common sense to ensure that the protections are there for people in the event that something catastrophic does happen."
With each side fairly dug in, there is some concern on the Hill that legislation might not get done in a timely fashion (though anything passed will be considered retroactive to include BP and the Deepwater Horizon spill). A Senate leadership aide, however, tells the Huffington Post that another vote on Menendez's legislation is likely to come on Wednesday with plans to continue pushing the legislation until progress is made.
Popular in the Community