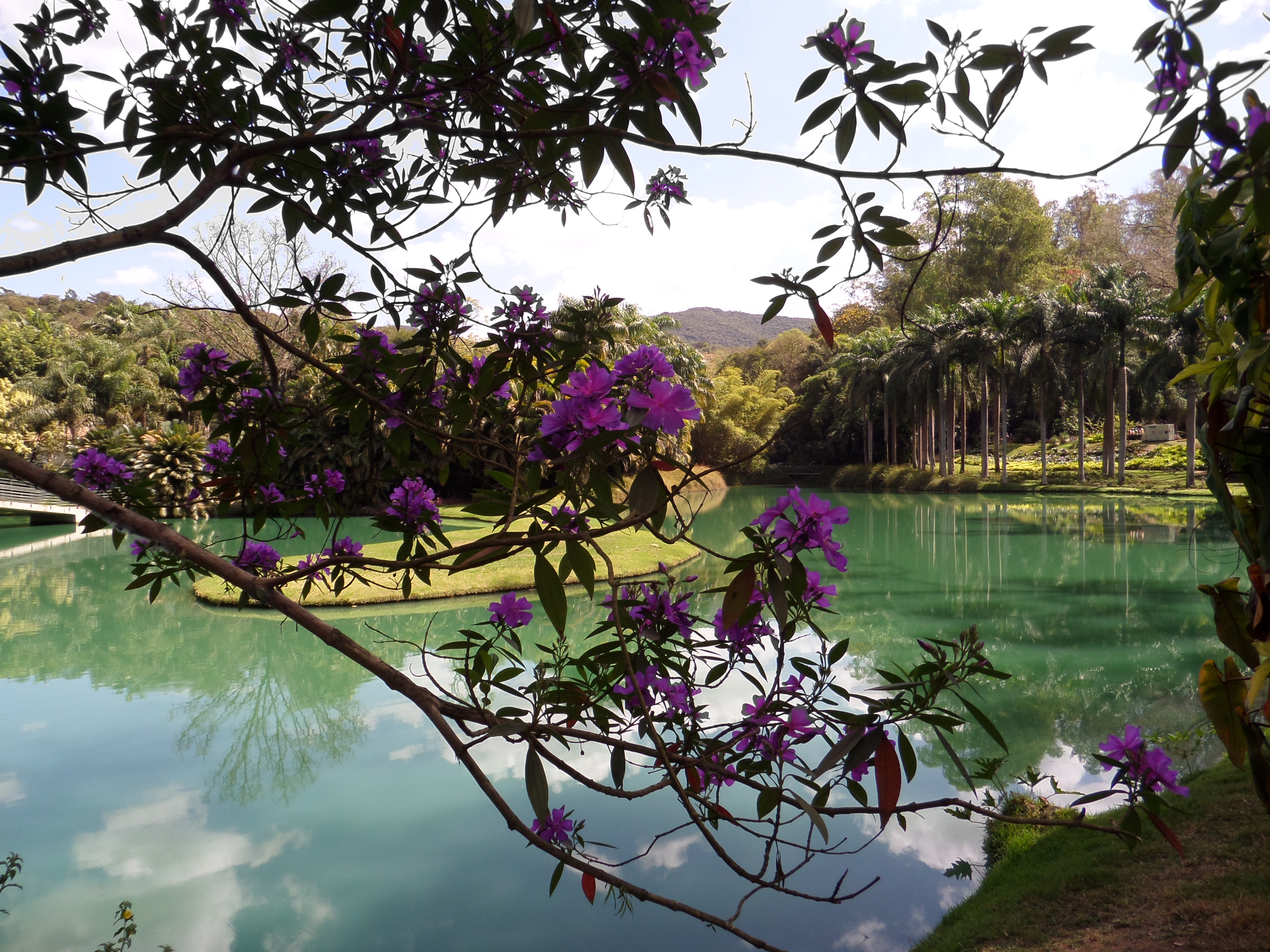 Nothing can prepare you for the breathtaking beauty of Inhotim, Brazil's best-kept secret for lovers of contemporary art. Nestled in the remote southeastern town of Brumadinho (a 90-minute drive from the city of Belo Horizonte), Inhotim (pronounced IN-YO-TCHEEN) offers visitors a full-sensory unparalleled aesthetic experience.
A sprawling 5000 acres of lush botanical gardens (designed by Brazilian landscape artist Roberto Burle Marx) house approximately 500 works by 100 artists from 30 countries in over two dozen gallery pavilions. Arguably the finest outdoor contemporary art center in the world, Inhotim also boasts the world's largest collection of palm trees (over 1500 different species); 4500 different exotic species of plants; gourmet restaurants; and works by the likes of Matthew Barney, Chris Burden, Janet Cardiff and George Miller, Anish Kapoor, and Brazilian superstar Tunga.
The brainchild of local mining billionaire Bernardo Paz, Inhotim transformed from his private collection into a public museum in 2006. Since then, the complex has attracted over 250,000 visitors each year. Landscapers work in collaboration with each artist to create a series of psychological encounters that extend from the galleries to the gardens.
Inhotim's installations demand direct participation between the viewer and the art object. It's nearly impossible to have a passive viewing experience. On a massive lawn, for instance, hundreds of scattered pots in the shape of letters await patrons, who are encouraged to spell their names and then plant flowers inside them. Across the lake, a giant kaleidoscope by Danish artist Olafur Eliasson ("Viewing Machine") offers a stunning vision of the mountainside.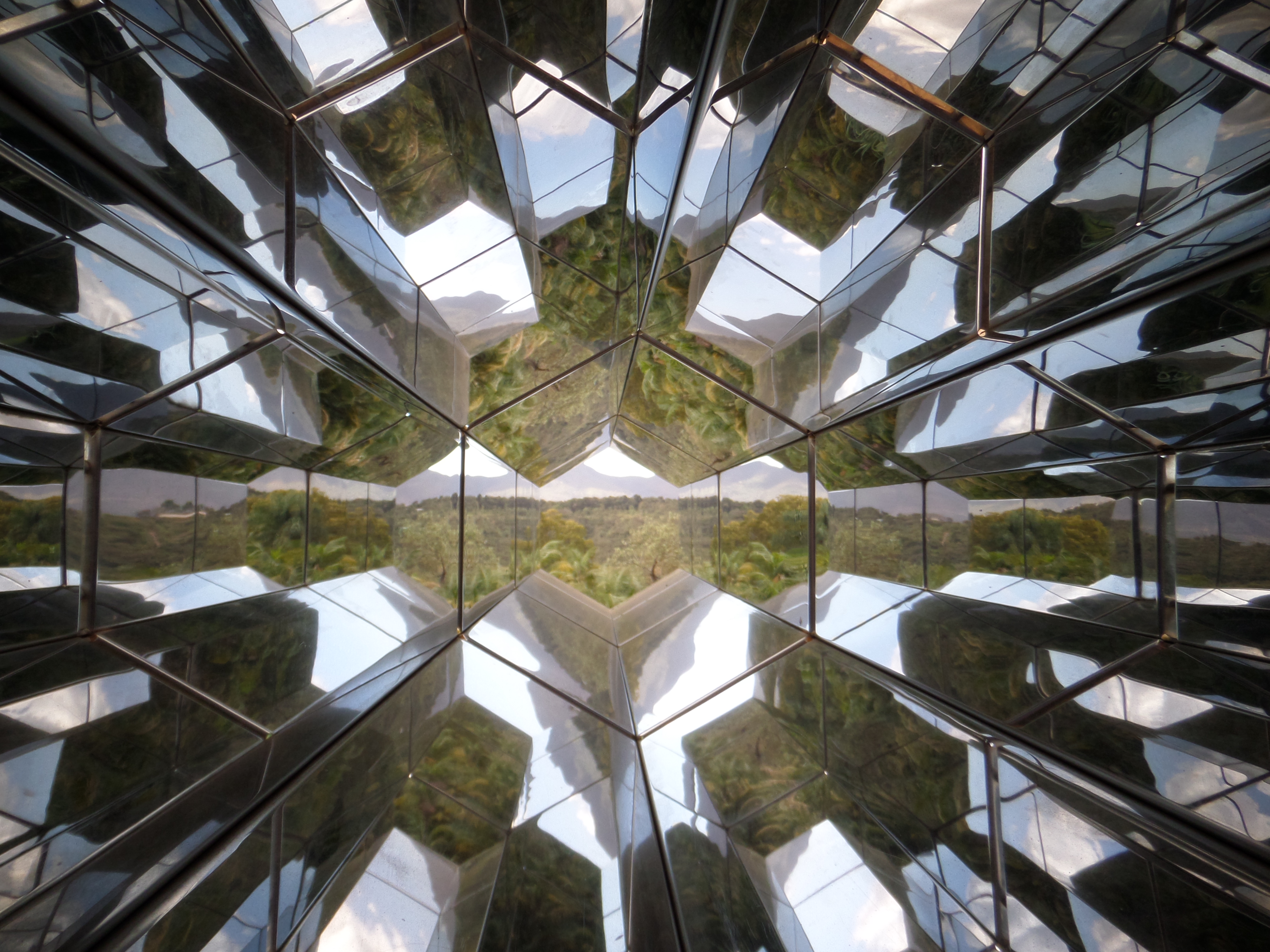 "Viewing Machine" by Olafur Eliasson
In a pavilion dedicated to Hélio Oiticia & Neville D'Almeida's "Cosmococa," visitors enter five rooms that promise to give them the sensations of being on cocaine. A giant mattress covers the floor in one room with bright-covered pillows scattered about; strobe lights flicker across video projections and music by Jimi Hendrix, as patrons let loose in a chaotic pillow fight. In another room, guests are encouraged to swim in an eerily-lit indoor pool (one of several pools designed by artists for spontaneous swimming in the complex). Another room is filled with functional hammocks.
"Desi Vo Para O Vermelho" ("Red Shift") by Cildo Meireles (1967-1984)
Golf carts drive visitors between pavilions -- each one showcasing the work of a single artist. Rio artist Cildo Meireles forces you into a dreamlike state in "Desi Vo Para O Vermelho" ("Red Shift"), in which you enter a home furnished entirely with red furniture and accessories; after moving through the interactive space (even the refrigerator is filled solely with red items), a trail of red paint leads you through a pitch black room, until you eventually arrive at a sink gushing forth red liquid.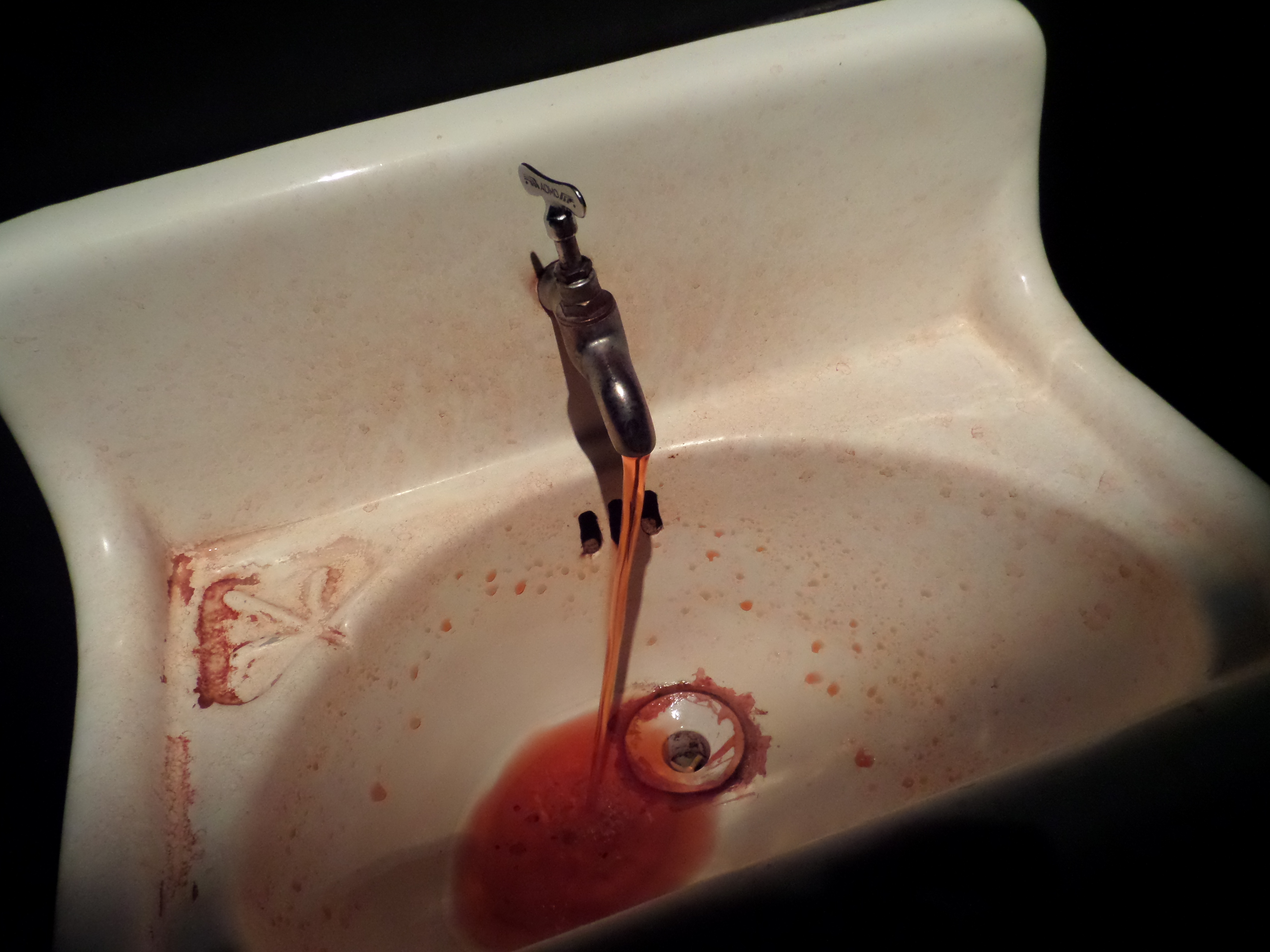 Paz has built the complex's largest gallery for Tunga, the celebrated Brazilian artist fascinated by alchemy, rituals, and the organic products of nature and the human body. In one installation, nets hanging from the ceiling contain beakers filled with urine, dinner plates, and giant crystals. A series of drawings showcase an elaborate suruba, the Portuguese word for orgy with phallic gemstones incorporated as props.
A recreation of Chris Burden's New York performance art installation "Beam Drop" (in which he dropped 71 steel beams into a pool of wet concrete from a dangling crane) rises out of a valley surrounded by lush mountains and a pristine lake.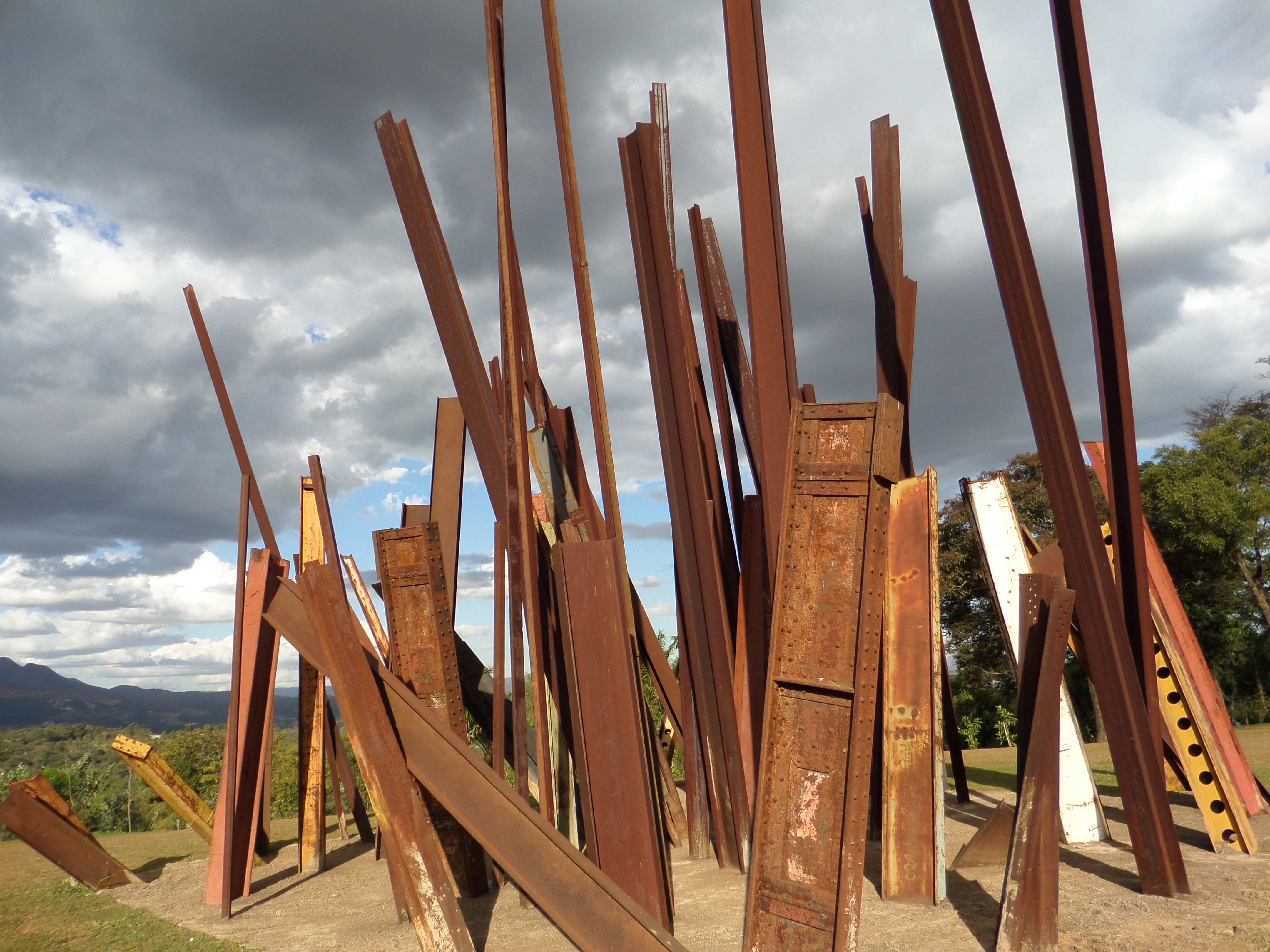 "Beam Drop Inhotim" by Chris Burden (2008)
Nearby, a gazebo constructed of mirrored walls houses Brazilian artist Valeska Soare's "Folly," a funhouse that projects the video of two samba dancers to the soundtrack of Burt Bacharach's "The Look of Love."
Like most of the exhibits at Inhotim, Soare's pavilion is a special space where aesthetic beauty is elevated to a spiritual experience by its natural (and man-made) surroundings.
For more information, visit www.inhotim.org.br.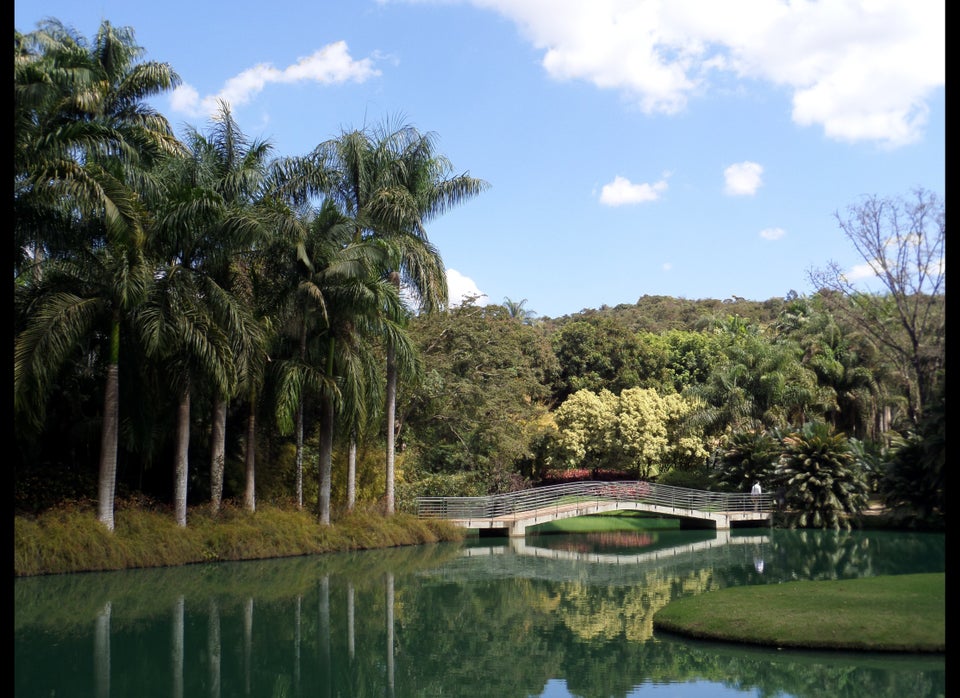 Images of Inhotim (Photographs by Zach Udko)
Support HuffPost
The Stakes Have Never Been Higher
Related
Popular in the Community