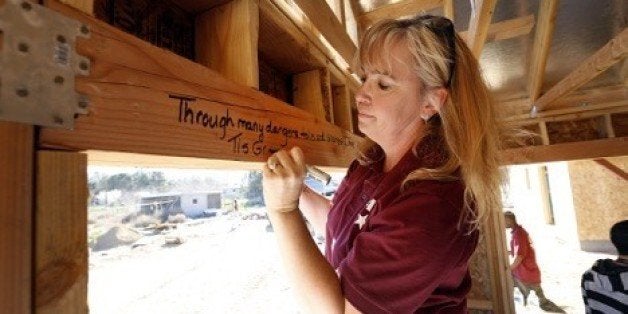 Some 6 million students attend California's 10,000-plus public schools -- the largest state school system in the country. Across districts large and small, rural and urban, the knowledge and skills to be good citizens of the world is imparted from teacher to student, thousands of times a school day.
But they're not just centers of learning; a groundswell of activism and advocacy is taking place at California's public schools. Many students, and their teachers, are creating positive change through organizing and volunteering, and their budding movements are seeing an impact beyond the walls of the classroom. We partnered with the California State Lottery to bring you their stories.
1. Amy Conley, English teacher at Fortuna High School in Fortuna, Calif.
Teacher Amy Conley's "Change the World," which began as a project in an Advanced Placement English course, has turned into an incubator for students who want to do just that. Conley created the program to connect her students with volunteer opportunities within their community. "I get to launch children into the future!" she says.
When Conley's students begin school in September, they survey their community and research the community's needs. Then they spend the remainder of the year creating, organizing and running projects for their newly created service organizations. So far, Conley's students have been contributing their time and skills in a variety of ways, from mentoring bilingual kindergarteners to creating a mural, gathering waste materials for the school's composting program, cleaning up rivers in the area, and more.
"I get to launch children into the future!"
Conley says this program replaces obligatory community service with service that's meaningful and impactful for both students and their neighbors. "These students aren't just logging hours. They're figuring out what will make a real difference where they live. They've lobbied and changed city laws. They've renewed a teen court and restorative justice program which has been getting kids back on track with school and behavior and helping them stay in school."
Her students also benefit long-term from such work. "In English we focus on reading, writing and public speaking," Conley adds. "These students put those skills into practice -- they're writing proposals and then presenting those in front of adults and a larger community. They're not just doing it for a grade. They're actually understanding that they gain agency and they gain skills to succeed in the real world."
Since its launch, the Change the World program has become a schoolwide initiative, and there are plans to implement its principles throughout the school district.
2. Jamie Goodreau, history teacher at Lancaster High School in Lancaster, Calif.
"My students advocate for those in need. They'll be the next generation for those who need a voice," says teacher Jamie Goodreau.
Students in Goodreau's history class create a final project that takes them into their community, with the goal of giving back. She found that her students thrived when they were given the opportunity to address an issue in their community. After 14 years of empowering her students, one class found a cause that catapulted their efforts to a new level.
"There was a local veteran who had been catastrophically wounded and he was in a small mobile home with his two young children," says Goodreau. "He didn't have much mobility, and the students voted that rather than just fixing up the trailer, they would build him an actual new home -- one that would meet his accessibility needs."
It was up to the students to source the materials and labor, but they had help from many eager adults in the community, and of course, their teacher was right along with them.
"They see the world is bigger than just themselves."
Just as Goodreau and her students rallied around this ambitious new mission, "The district said that this project was getting bigger than what the district could handle for a class to take on," she says, "so we formed a nonprofit." The class project blossomed into OATH (Operation All the Way Home), an organization to assist veterans in finding housing.
Four students sit on OATH's board, along with five adults in the community, and Goodreau serves as the president. The kids have a vote in how everything is conducted. Through their participation in OATH, Goodreau explains, "They see the world is bigger than just themselves."
3. James Van Buren, music teacher and special education instructor at Grant Union High School in Sacramento, Calif.
High schoolers are known for staying up late, a habit on which most teachers would frown. But "Mr. V," the moniker of music instructor James Van Buren could offer a valid reason for a set of Grant Union high schoolers to postpone bed time on one particular evening last year. The students in his drum line appeared on the "Jimmy Kimmel Live!" show. It's pretty easy to see why students would agree to participate in Mr. V's extracurricular music group; his enthusiasm is nothing short of infectious. "Music helps us relate as people and as musicians," he says. "It brings us all together."
Van Buren says he's always focused on what his students can do to overcome the limitations of their environment. "Our kids, a lot of them, are in poor and high crime areas. But we live here. And this is home. And while they're in the band, there is security and there is guidance and they have this awesome skill they get to demonstrate for people."
Van Buren says he started as a math and science teacher, but quickly realized the drums helped him reach more students.
"I used to hold open mics and the kids could come and express themselves and play the drums or the piano. Even students who were emotionally disturbed really took to the music. And this was a way to give them incentive to focus and work in school."
"Our kids, a lot of them, are in poor and high crime areas. But we live here. And this is home. And while they're in the band, there is security and there is guidance and they have this awesome skill they get to demonstrate for people."
Van Buren is no stranger to the hardships and challenges faced by the students he's mentoring: since money was tight and he had to hold down a full-time job, it took him nearly a decade to complete his bachelor's degree. This makes it easier for him to stress the importance of education and long-term goals to his students, and to offer his support and guidance every step of the way.
Ever since trading in his microscope and slide rule for drumsticks, Van Buren and his students have been drumming up wild success. Kicked off in 2008, the drum line has been a popular staple of school and community events since its inception. That popularity extends beyond Sacramento -- to other countries, in fact. This year the band members will be touring Japan.
4. Valerie Ziegler, history, social studies and economics teacher and head of the Green Academy at Abraham Lincoln High School in San Francisco, Calif.
Teacher Valerie Ziegler's Green Academy is a hands-on, project-based course that teaches students to consider their local environment and devise ways to improve it through civic activism.
"The students work with the Board of Supervisors and other city officials," Ziegler explains. "They learn how to coordinate with one another, how to craft an argument, how to write a coherent email and how to follow up. They'll be graded, but the students are empowered to achieve real and lasting change in their communities. They go well beyond the coursework!"
Her students have worked on minimizing food waste while helping hungry San Franciscans as well as water conservation efforts.
Green Academy students learn to recognize the power in what they are able to get done. "We may not be able to cure all hunger or to end global warming," says Ziegler. "But here, we focus on small, doable change. We fix one problem at a time."
"They'll be graded, but the students are empowered to achieve real and lasting change in their communities."
Next year looks to be just as active. "The current Juniors want to [enact] a ban on disposable plastic water bottles at their school. That's going to be hard -- it's a revenue source, after all. But that's the project they've chosen." And Ziegler says she has confidence that her students will be able to accomplish whatever they decide.
5. Helen Kassa, Senior at Prospect High School in Saratoga, Calif.
In this era of resume-booster activities and helicopter parents pushing their kids into "good looking" activities, student Helen Kassa is clearly a born activist who is doing what comes naturally to her. By the third grade she'd started a nonprofit to make education more accessible to rural students. A decade later, environmental justice and economic equality are the issues she works to improve.

"What I'm doing is my passion," says Kassa. "I plan to help bring equality to the world."
In recent years Kassa launched a column in her high school newspaper called "The Black Voice" in order to make sure the publication represented diverse perspectives. She presented a TEDx Talk on the intersection of race, gender and identity, and revived her local community's NAACP Youth Council as well as the Black Student Union at her school. Kassa also established Girls Lead Forward, a program intended to incentivize young girls to stay in school by leveraging their life experiences and their work in global volunteer initiatives as credits toward graduation.
Last winter, she represented the NAACP as a delegate at the 2015 United Nations Climate Change Conference in Paris. "The bottom line," as Kassa sees it, "is education. Economic development and why some people don't have access to opportunity can all be traced to education. To close the gap between men and women and to close gaps between different races and genders, it all has to do with access to education. They're not isolated issues."
Kassa plans to study Economics and Environmental Studies in college. She says she's going to do all she can to empower people to fight for the environment and for access to education with the goal of economic stability.
6. Hector V. Perez-Roman, AP history and geography teacher at Arleta High School in Los Angeles, Calif.
"When a student sees beyond their neighborhood," says teacher Hector Perez-Roman, "it gives them a world perspective."
When Perez-Roman was a boy, he didn't have opportunities to travel. He loved the idea of using travel to help his students better understand the history and geography they were learning. He established the Student Traveling Club, and partnered with local community organizations as well as national organizations such as Explore America to offer educational trips for all his students, from inauguration trips to journeys to the capitals of Europe.
"You see them recognizing their place in the world."
"An athlete can see Greece and recognize that this is where the first Olympic games were held," Perez-Roman says. "Another student can see the buildings, and it encourages their learning of architecture and engineering."
Though he admits that it's hard to travel with young people, Perez-Roman says the experience is invaluable. "These students might never go outside of a place where people are all like themselves. And when they do, you see the world make more sense to them. You see them recognizing their place in the world."
7. Christina Owen, career advisor and community service director at Palo Alto High School in Palo Alto, Calif.
Educator Christina Owen sees volunteering as not only a meaningful opportunity to give back, but as the thing that saved her during a very dark time in her life, when she was battling depression. "The best outcome of this personal trial was the discovery of several volunteer opportunities in my community, which on some days were the only bright spots," Owen said in a post for Palo Alto Online.
Motivated by transformative power of volunteering, Owen went on to found a grassroots service-learning program, Get Involved Palo Alto, with the goal of helping students find purpose and meaning outside of the classroom. In the wake of a cluster of youth suicides in her community six years ago, Owen felt strongly that through service-based learning and community engagement, local teens could explore their interests without any grades, school requirements or pressures attached.
"The best outcome of this personal trial was the discovery of several volunteer opportunities in my community, which on some days were the only bright spots."
The program now includes an internship program, where 75 students pursue one-month summer internships tailored to their individual interests and skillset. Participating students are also paired with mentors from more than 20 local partner organizations.
Under Owen's leadership, Get Involved has helped nearly 400 students contribute over 26,000 hours of service to 187 different organizations.
Education creates possibilities, which is why the mission of the California Lottery is to maximize supplemental funding for public education. Learn more.