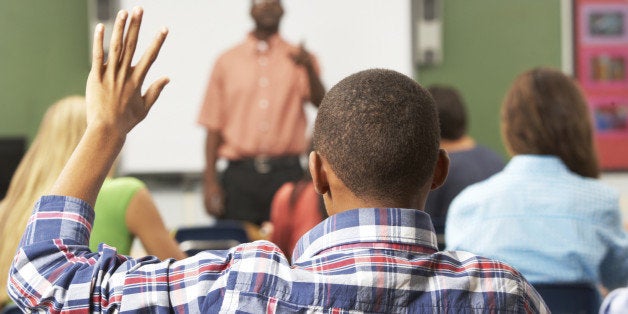 Like in most U.S. states, the landscape of education continues to evolve in California. As the ecosystem gets crowded with more and more options, from private schools to charter specialty schools to parochial institutions, it can seem as if public schools are falling behind in the race for attention and impact. Think again.
Public schools are now serving the most diverse student population in history. They are the stepping stone to a better future -- for everyone: The public school system is education's closest reflection of the promise of the American dream, where all people are welcome, regardless of economic status, religious conviction, gender, race, political persuasion, language of origin, or mental or physical challenge. And California public schools have been rolling out ambitious new programs that give students the tools they need to succeed.
In partnership with the California Lottery, a provider of supplemental funding for public education, we brushed up on several of the initiatives making California public school more relevant than ever.
1. There's a serious push for an ethnic studies curriculum in Los Angeles public schools.
Critical to students' understanding of the history and sociology of minority groups (beyond the perspective offered in Eurocentric textbooks), ethnic studies has been taught since the 1960s -- but only in a few districts. Now that's changing. California public schools, especially the Los Angeles Unified School District, the state's largest, have seen a significant push in ethnic studies courses in the past year.
Jose Lara is the coordinator for the nonprofit Ethnic Studies Now Coalition, and also the vice president of the El Rancho Unified School District, which was the first school district in California to make ethnic studies a graduation requirement (98 percent of the district's population are Latino). Lara said over 20 California districts in the past year have established ethnic studies programs -- a huge accomplishment.
A statewide ethnic studies program, Lara added, will "empower those who do not see themselves in textbooks." (In L.A., less than 11 percent of the district's 643,000 students are white, according to EdSource.) And California is out ahead on this; no other statewide initiatives pushing for similar academic requirements exist -- in fact, so few schools across the country offer ethnic studies courses, the National Association for Ethnic Studies maintains no official count.
"We have a multi-pronged way of looking at this," Lara continued. "We want to make sure that our current history and English courses have a wider range of voices that haven't been there in the past. At the same time, we want courses in the field of ethnic studies. It's not one specific course we're advocating for -- in one school, Chicano studies will be more relevant. In some schools, African-American studies would be more relevant. It just depends on the community."
2. 'Linked Learning' is helping more public school students to succeed in technical fields.
California expects to spend $900 million to improve career and technical education in high schools in the next three years -- on top of an extra $500 million that California will give to companies and community colleges that promise to prepare students for vocational careers.
The state's revamped vision for Career Technical Education (CTE) is called "Linked Learning"; it merges career development, direct contact with industry professionals and technical skills training. CTE students also take standard college prep classes, reflecting a growing understanding that to perpetuate an education funnel that prepares some students for college and others for vocational careers is not only old-fashioned, it risks compromising the financial futures of the students and the state as a whole.
In Antioch, California, a former mining and mill town 45 miles from San Francisco, the city's high school has developed a robust career education program.
"You actually get help from professionals that actually teach at other schools, so I think it's pretty cool," student Joshua Espinosa (17) told ABC News. "It makes me want to do it even more."
Students enrolled in Linked Learning earn on average 6.9 more credits in the 10th grade than peers who are enrolled in regular state curriculum do, and they are far less likely to drop out of school. According to The Hechinger Report, 19,000 students will be enrolled in Linked Learning in the state of California by the end of the year.
3. Students with dyslexia gain ground thanks to new statewide law.
Dyslexia is the most prevalent learning disability in the country and affects more than 1 million K–12 public school students in California, or roughly 20 percent of the population. Historically, it's been difficult for these students to gain access to the state's Individual Education Program (IEP) and other special-education benefits. But, as mounting evidence shows that early identification and intervention are key to helping these students better integrate and succeed within the public education system, California parents and educators have been on a mission to make assistance more available and intervention more aggressive, starting with teacher training and preparation programs. The California state PTA recently voted in favor of a statewide resolution entitled "Dyslexia: Addressing the Educational Implications in Public Schools," submitted by the San Ramon Valley Council of PTAs with help from Decoding Dyslexia CA (DDCA).
As a part of this resolution, the state will be adopting the definition for dyslexia previously outlined by the Board of Directors of the International Dyslexia Association and the National Institute of Child Health and Human Development (NICHD), and its public school districts will be responsible for offering necessary support and training for educators, so that teachers can better identify dyslexia and its warning signs. The goals are to better accommodate dyslexic students and provide early-stage screening (and earlier interventions) for symptoms of dyslexia in kindergarten through the third grade. In addition, the law requires the California Department of Education to post information on its website by the start of the 2017–18 school year that helps teachers find a proven, evidence-based approach for teaching reading to students with dyslexia.
Currently, less than half of U.S. states have statewide dyslexia legislation, with only three of these states providing educators with a dyslexia-specific handbook for identification and intervention.
4. Teaching personal finance early on gives students a head start on mastering money matters.
Financial literacy is key to fighting poverty: Studies indicate that early education on topics such as budgeting, spending, saving, goal setting, student loans and debt management helps young adults reach and maintain financial independence. And yet only 20 states currently require high school students to take a course in economics.

California has been making moves to join that pennywise minority. In 2013, West Covina Assemblyman Roger Hernandez authored a bill that that was eventually signed into law by Gov. Jerry Brown, mandating that financial literacy be taught as part of the official state curriculum. The law would "improve California students' financial literacy skills and help protect them from predatory lending, credit card fraud and other deceptive practices," Hernandez's office said in a statement.
State superintendent Tom Torlakson also believes that young people need to be equipped with the skills and knowledge that allow them to be savvy consumers and competent managers of their own finances. In addition to legislation aimed at public school curricula, the state has launched initiatives such as California Financial Literacy Month, offering free educational resources to residents.
But financial literacy doesn't end with mandatory classes. At Long Beach Polytechnic High School, economics teacher Dan Adler heads the Volunteer Income Tax Assistance group, a club dedicated to helping low-income residents fill out their tax returns. The club trains the students, who this year helped complete and file over 500 tax returns. According to Adler, taxes are one of the most efficient ways to become fluent in the language of finance. "There's just so much knowledge built around filling out a Schedule A for somebody, in terms of mortgage interest deductions, and which part of your motor vehicle fees are deductible, and your mortgage insurance premiums and your property taxes," Adler said in an interview with SCPR.
5. Derogatory names have no place in school sports.
As a part of its ever-progressive evolution and a testament to its diversity, California was the first state to ban "Redskins" as a team or mascot name in its schools. Home to the the largest Native American population in the U.S., including nearly 40,000 students enrolled in public schools, California's move marked a victory in a decades-long battle Native Americans have fought to remove the logo and name -- which many consider a racial slur -- from schools and athletic groups. The four schools currently using the name for sports teams will be forced to choose new names and mascots before January 2017 in accordance with the unprecedented new prohibition.
California State Lottery knows that education creates possibilities, which is why the mission of the California State Lottery is to maximize supplemental funding for public education.
Related