It was something about that face. 
A lucky dog named Scooter has a new life and a new set of wheels, thanks to a chance Facebook post, some generous strangers and a face you can't help but love. 
Willow Sullivan was scrolling through Facebook when she came across a photo of a badly injured pup that she just couldn't forget. So she contacted the organization that had posted the photo, Thailand-based dog rescue group SOI Dogs, and learned that the animal's spine was also broken and fused in the wrong shape. On top of all that, she suffered from severe incontinence.
"When I see something as horrific as ... that, I just want to take care of it. I just want to help it," Sullivan told The Huffington Post, "I saw that face and I said yes."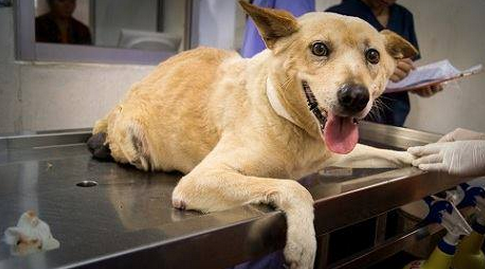 Sullivan wanted to adopt Scooter as soon as possible and get her the care she needed. As the founder of Willow's Wings, an animal rescue sanctuary in New York, she's no stranger to helping injured animals.
But Scooter was in such terrible condition that the adoption process took much longer than expected -- her wounds took weeks to fully heal before she could fly out of Thailand. Once she finally arrived at JFK airport, Scooter promptly bit Sullivan. But Sullivan says she was undeterred.
"When I make a commitment to an animal and there's no going back, whether it bites me or not," Sullivan said.
Happily, Scooter was resting in her lap by the time they drove home from the airport.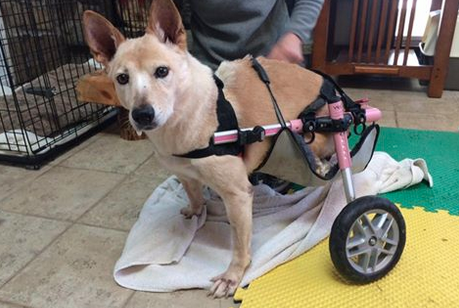 Then began the arduous process of having Scooter examined by vets at Cornell University. A CT Scan showed that Scooter had likely been the victim of a terrible car accident, and her unevenly amputated hind legs indicated that they were probably the work of a hack-job by a previous owner.
Because of this, she couldn't be fitted for proper prosthetic legs and an expensive custom-designed cart was her only option for mobility.
Luckily, there were other individuals out there who were moved by Scooter's story. A generous stranger named Jason Below read about Scooter online offered to pay for her cart. 
"I refer to him as 'Uncle Jason,'" Sullivan said, "He's a wonderful person and may even come visit me next year."
As a fervent dog lover and animal rescuer, it's no surprise that Sullivan was deeply committed to saving Scooter. 
"I'm a true believer that when you come across things in your life, you come across them for a reason," she said. "I guess I felt that Scooter was supposed to come to me."
PHOTO GALLERY
These Doggies Need Homes!
Calling all HuffPost superfans!
Sign up for membership to become a founding member and help shape HuffPost's next chapter