If you were standing beside me during just one of my ER shifts, you would see--up close and personal--how injuries and violence damage mothers, fathers, children, families, neighborhoods and communities. I see the faces behind the numbers: the grandfather wincing in pain with a broken hip from a fall, the distraught mother who just lost her teenage son to a stab wound, the confused young athlete with a terrible migraine and dizziness from a concussion. It can be devastating.
When I come to work at CDC, I see a different side of injury and violence. I see the numbers that describe the enormous toll this catastrophic, yet preventable, public health problem takes on America.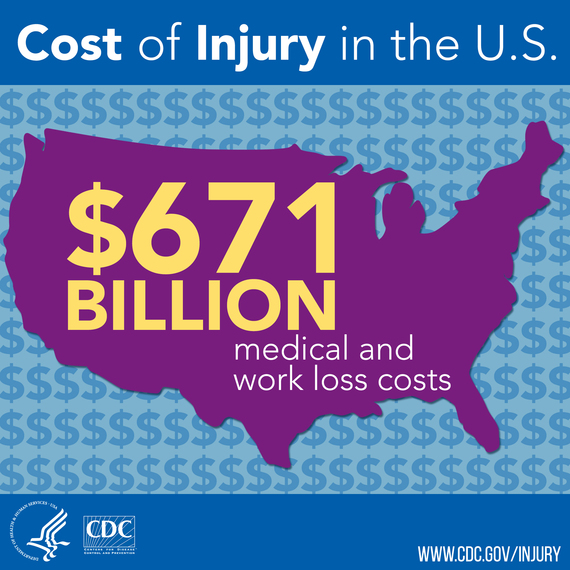 Just this week, CDC released a new study that shows the significant economic impact of injury and violence: $671 billion. This number is the lifetime costs of medical care as well as work lost because of injuries in 2013. Breaking that number down further: $457 billion is the cost of nonfatal injuries, $214 billion is the cost of injuries that kill.
At CDC, we use economics to identify, measure, and compare the costs and consequences of health problems and solutions. Using cost analyses, we can evaluate the real-life burden of injury and violence. This research helps us show the public how harmful injury and violence are and how they demand immediate attention.
And $671 billion is a colossal amount. To put this number in perspective, the U.S. spends about $585 billion each year on national defense and just under $600 billion each year on all elementary and secondary education in our country. Injuries and violence tax an economy that can hardly afford it. And, it's a cost that is largely preventable.
The solutions are varied and many. Some solutions are simple, such as always wearing a seat belt to prevent serious injuries in a car crash. Some are more complex, such as fostering safe, stable, nurturing relationships to prevent child abuse and neglect and other forms of violence. Some solutions call for people to make safer choices, such as wearing the right helmet when playing sports. Some solutions mean making structural changes to a community, like increasing green spaces or reducing the number of liquor stores in a neighborhood to prevent violence.
Beyond the economics, $671 billion represents a very real human cost. It accounts for more than 3 million people who are hospitalized, 27 million people who go to emergency departments, and more than 192,000 people who die--each year--all because of an injury, either unintentional or inflicted by violence.
As we often say at CDC, more can and should be done proactively to prevent injuries and violence in our country and keep people safe.
As a physician, I see first-hand how CDC's work and research are critical to the health and safety of each individual patient I treat. I also see how CDC's work can and does help save lives and protect Americans, communities and populations from injuries and violence. And as Benjamin Franklin said, "an ounce of prevention is worth a pound of cure." By focusing on preventing injuries before they occur, we can save our country a lot of money. More importantly, we can save many precious lives.
Calling all HuffPost superfans!
Sign up for membership to become a founding member and help shape HuffPost's next chapter