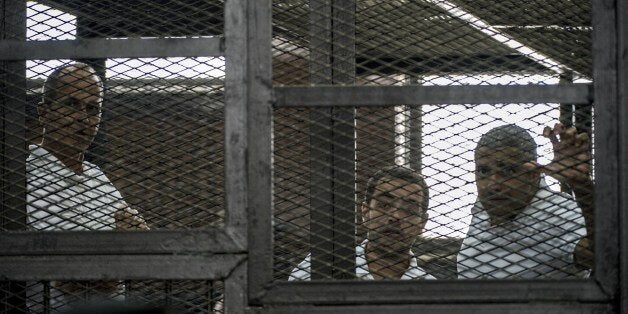 On June 23, after five months of a trial that made a travesty of its proceedings, three Al-Jazeera journalists -- Australian reporter Peter Greste, Canadian-Egyptian acting Bureau Chief Mohamed Fahmy and Egyptian producer Baher Mohammed -- were sentenced to seven to 10 years of prison on terrorism-related charges in Cairo, Egypt. In the spirit of free speech, it is incumbent upon each of us to speak out on their behalf.
During the trial, Egypt's foreign ministry insisted, "due process was adhered to" in their trial. According to Amnesty International, who also observed every session, noted: "The prosecution failed to produce a single shred of solid evidence."
What happened to these Al-Jazeera journalists could happen today to any journalist or editor in the U.S. or abroad. This type of action threatens to halt proper and independent news coverage across the world. Journalists need to have the press freedom to challenge the status quo, even if doing so is unpopular, and report on the news, as they see fit, not as the government censors deem fit. The images from Egypt, of journalists in cages, should make all of us recoil and react. And stand firm in our commitment to protecting the freedom of the press.
The Global Editors Network (GEN) a non-profit, non-governmental association, committed to the principles of quality journalism, innovation and information sharing in the newsroom, of which I am a board member, strongly condemned this verdict as an infringement on the principles of media freedom and asked for the release of these journalists.
"For freedom of speech everywhere, we cannot leave the Egyptian media reduced to silence, self-censorship and intimidation," said Ricardo Kirschbaum, GEN president. "It's our duty to help them find an ethical and practical solution to what is a direct threat to a healthy Egyptian media environment."
I believe that a threat to freedom of the press is a threat to the health of society itself -- to its citizens, to its journalists, to its change makers and its dreamers, and to the very state governments that infringe these freedoms.
The government of Egypt, in fact, seems to have acknowledged this fact. Egyptian President, Abdel Fatah al-Sisi, admitted to Egyptian media editors late Sunday that the harsh sentencing of the journalists has damaged the country's reputation. He says he wishes they had never been put on trial but been deported instead. His comments were published online in the Al-Masry Al-Youm newspaper.
As we've learned from the past, censorship serves only the privileged few. Those that seek to shield their privilege from reasoned debate and the evolution of societal progress.
Press freedom protects all freedom. Information flows on a global level promote transparency and accountability. News connects us -- to each other, to opportunities, to ideas to aspirations for a better world. And, news unites us against threats to values that are profoundly human. Those who read better, know better. And those who know better, do better. Engaged citizenship, not muzzled citizenship, should be the objective of every government on the planet. Diversity of thought and opinion should be encouraged, not restrained. For within their dynamic friction lie the seeds of breakthrough progress and truly stable society.
The judgment in Egypt can be appealed. But, this will be a long and messy process with an uncertain outcome. President al-Sisi has the power to pardon these journalists and in so doing, remove some of the tarnish from his country's standing in the world. I call upon him to exercise his Presidential power and pardon Mohamed Fahmy, Baher Mohamed and Peter Greste.
Popular in the Community