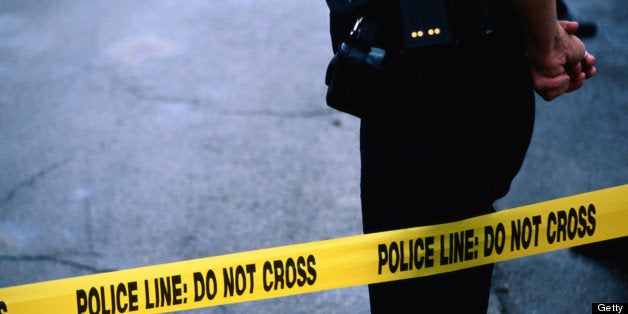 In reaction to George Zimmerman's acquittal in Florida this weekend, a handful of peaceful marches and demonstrations were organized along U Street NW, Malcolm X Park (Meridian Hill Park) and outside the Department of Justice. Meanwhile, the killer of a Howard University student remained at-large; additionally, in the 2800 block of Stanton Road SE, two men evaded police after offloading from a Metrobus and unloading a volley of gun shots into four people.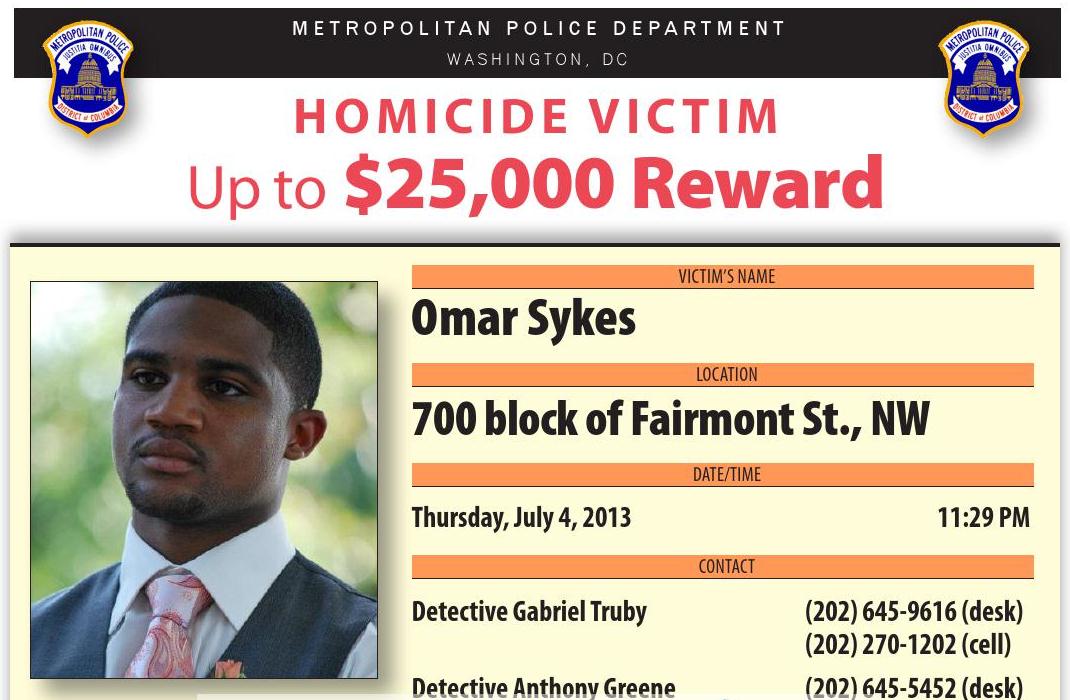 Police are seeking information in the July 4th murder of Howard University student Omar Sykes. Photo courtesy of MPD.
"It is far easier and more cathartic to become angry about an incident in another jurisdiction that has constant media attention, than it is to roll up our sleeves and get down to the long difficult business of repairing years of societal neglect here at home," Kristopher Baumann, head of the District's Fraternal Order of Police, wrote in an email.
Unfortunately, we have become numb to the levels of violence in the District. If we are ever going to turn the tide on the unacceptable amount of crime in the District -- we have to become outraged, become invested about violent crime in the District, no matter where it occurs and no matter who the victims are (or are not).
For native Washingtonian and self-described "Moorish-American" William Alston-El, the attention on George Zimmerman's acquittal in the death of 17-year-old Trayvon Martin is understandable but misdirected. "Everyone is jumping on the Trayvon bandwagon. Everyone is playing politics off that boy's life while no one is focusing on us killing each other."
Alston-El, a respect community activist east of the river, does not speak from a remote ivory tower. "I've had a grandson and four nephews killed over this drug and street crime," he says, looking over a recent edition of the Washington Post. "No Reverends ever marched for my nephews or my grandson who never grew up to twenty-five."
Turning to a blurb about a spate of violence this past weekend, Alston-El says, "The people who got shot over here; no one's politicizing that because there's no money to be made and no TV cameras in sight."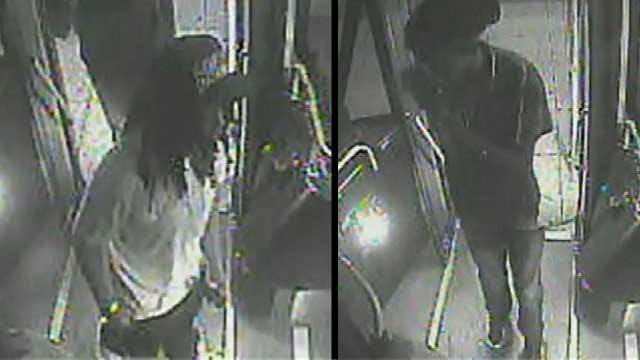 Police are seeking information on suspects in a recent shooting on Stanton Road SE that wounded four people. Photo courtesy of MPD.
Manon Matchett, a resident of the Hillsdale neighborhood, wrote in a Facebook posting, "This shooting was literally on my block. I heard a helicopter and police sirens, saw lights flashing but was so engrossed in commentary regarding the [Zimmerman] verdict I did not pay attention."
Matchett continued to write, "I am ready to boycott Florida and yet I have major trouble brewing in my own neighborhood. Just a few months ago, there were discussions about eliminating bus service to my community because of acts like these."
Death of Howard student Omar Sykes remains unsolved

After attending Independence Day activities, two Howard University students were minding their own business as they walked along Georgia Avenue and Fairmont Street NW around 11:30 p.m. According to police, they were approached by two black males brandishing handguns in an attempted robbery.
The Howard University students were beaten with "blunt impact injuries," according to Metropolitan Police Captain Robert Alder. One student, 22-year-old Omar Sykes, was shot and later died at Howard University Hospital.
A memorial service for Sykes was held at Rankin Chapel, attended by friends, family, university officials and Mayor Gray. Local media reported that Sykes was, by all accounts, a "community service-oriented young man."
His killer has not been brought to justice. As the MPD seeks the public's assistance in gathering information, it has issued its standard $25,000 reward.
Before being so quick to fixate on injustice elsewhere, let us take care of injustices at home first.
REAL LIFE. REAL NEWS. REAL VOICES.
Help us tell more of the stories that matter from voices that too often remain unheard.