Inmates interviewed by the Times described "a strikingly similar litany of abuses," saying they were choked, beaten while handcuffed and slammed against cell bars and walls.
One inmate said that three guards who weren't wearing name badges interrogated him in a broom closet on June 6, the day inmates Richard Matt and David Sweat escaped, demanding information about how they had gotten out. At one point, the inmate said, a guard threatened to waterboard him.
In response to the investigation, the New York Department of Corrections And Community Supervision issued a statement to The Huffington Post, a version of which was also sent to the Times. The statement read:
These allegations have been under investigation by the DOCCS Office of Special Investigations for several weeks and have also been referred to the State Inspector General. Any findings of misconduct or abuse against inmates will be punished to the full extent of the law.
Since the escape, the Times reports, more than 60 inmates have filed complaints with Prisoners' Legal Services, a group that assists low-income inmates in civil and human rights complaints.
In addition to the alleged physical abuse, after the escape inmates lost a number of privileges they had earned in the prison. On the so-called "honor block," the unit from which Matt and Sweat escaped, inmates with long records of good behavior were allowed to wear regular clothing, cook their own meals and move around in a slightly less restricted setting. After the escape, the honor block was dismantled and its residents were returned to standard housing, moved to new prisons or even kept in solitary confinement.
Despite the guards' efforts to extract information from inmates who lived on the honor block, thus far only prison staff -- not inmates -- have been linked to the prison break.
The escape has been embarrassing to the prison's staff -- and costly for taxpayers.
The nearly monthlong manhunt triggered by the escape cost an estimated $20 million. The hunt ended roughly 50 miles from the prison on June 26 when Matt, 49, was shot dead by border patrol agents. Sweat, 35, was shot by a state trooper two days later and taken into custody.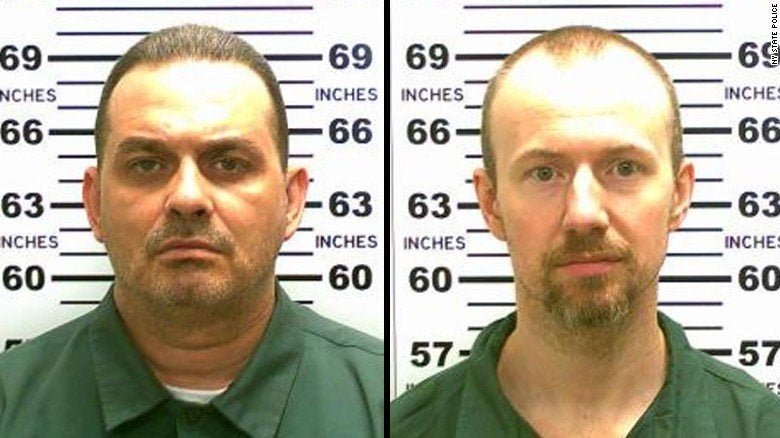 Prison break
Related
Popular in the Community