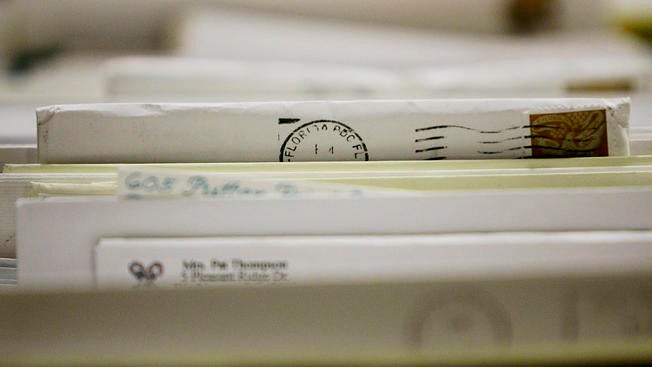 Who doesn't enjoy getting mail from home when you're away? For prison and jail inmates, who may have few other ways to stay in touch, that's even more the case.
But according to the sheriff's office and narcotics task force in San Mateo County in northern California, five female inmates in their 20s and 30s at the Maple Street Correctional Center were looking forward to receiving some postal communications just a little bit too much.
Instead of the anticipated mail, the sheriff's office delivered arrest warrants to four of them, charging them with attempting to bring a controlled substance into a correctional institution, attempting to possess that same controlled substance, and participating in a conspiracy to accomplish the two other crimes. One of the five inmates had been released before the charges were filed, and is currently being sought by local law enforcement. The other four have all pleaded not guilty, and are awaiting a preliminary hearing.
It wasn't just ordinary mail the county jail inmates were waiting to receive. San Mateo County takes considerable pride in its new jail, opened less than two years ago. It replaced a crumbling women's facility on the same street, and relieved overcrowding in a men's facility that's still in operation. And county law enforcers doubtless also take pride in one keen-eyed jail staffer who, about a month before the charges were brought, noticed something unusual about some of the cards and letters being sent to a handful of inmates there. Mail is of course routinely checked to make sure it doesn't contain any concealed contraband. The jail staffer didn't discover any secret enclosures in the incoming pieces of mail, but did notice that some cards and letters appeared to be somewhat discolored.
An investigation soon determined the cause of the mail's odd appearance: it had been dipped in liquid methamphetamine, then dried, before being sent to the inmates, giving an entirely new meaning to the term "junk mail." A later-issued press release from the sheriff's office claimed the tampered-with letters had been "immediately detected" by corrections staff. That led the sheriff's office to start what it called an extensive month-long probe, which identified a 54-year-old man on the outside as a ringleader. A search of his home turned up more than 10 ounces of methamphetamine, as well as thousands in cash that law enforcement suspected of being proceeds from the contraband smuggling operation. He's currently being held in custody because he couldn't post $700,000 in bail money, as he faces charges of drug possession and transportation, bringing a controlled substance into a correctional facility, and conspiracy.
Local law enforcers say that while contraband smuggling attempts are not unusual, the size and complexity of the San Mateo operation are notable. Still being sought are four other non-inmate suspects thought to be connected with sending the mail or procuring the inmate recipients, who apparently agreed to sell the drug-laced mail inside the county jail. A jail official says the investigation is continuing, and local law enforcers will act against any criminal activity endangering the safety of staff or the safety of inmates in its custody.
Christopher Zoukis is the author of Federal Prison Handbook: The Definitive Guide to Surviving the Federal Bureau of Prisons, College for Convicts: The Case for Higher Education in American Prisons (McFarland & Co., 2014) and Prison Education Guide (Prison Legal News Publishing, 2016). He can be found online at ChristopherZoukis.com and PrisonerResource.com.
Related
Popular in the Community