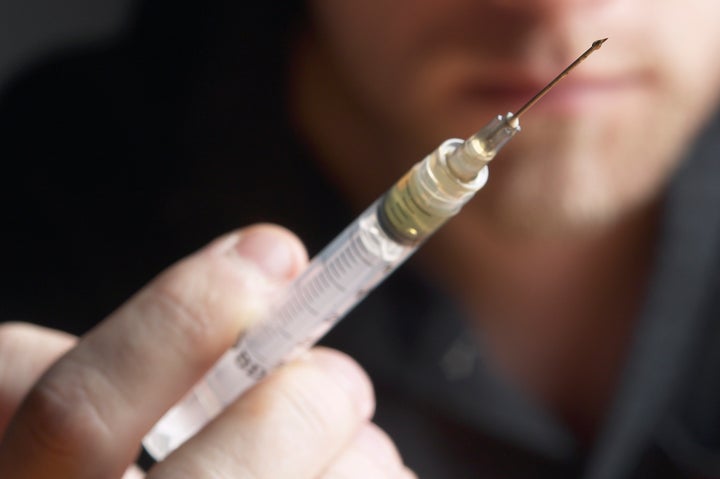 BUZZARDS BAY, Mass. — A week before 22-year-old Joe White was slated for release from the Barnstable County Correctional Facility, 26 law enforcement officials and social workers huddled around a table to discuss his prospects on the outside.
For substance abusers like White, they aren't good.
In the first two weeks after a drug user is released from jail, the risk of a fatal overdose is much higher than at any other time in his addiction. After months or years in confinement, theoretically without access to illicit drugs, an addict's tolerance for drugs is low but his craving to get high can be as strong as ever.
Most inmates start using drugs again immediately upon release. If they don't die of an overdose, they often end up getting arrested again for drug-related crimes. Without help, very few are able to put their lives back together while battling obsessive drug cravings.
Barnstable, on Cape Cod about 70 miles from Boston, has broken that cycle with the help of a relatively new addiction medication, Vivitrol, which blocks the euphoric effects of opioids and reduces cravings. Such medications have been shown to be far more effective at helping people quit drugs than counseling and group therapy programs that do not include medication.
But even as the nation grapples with an epidemic of opioid overdoses, the use of medication to treat opioid addiction has faced stiff resistance: Only about a fifth of the people who would benefit from the medications are getting them.
The opposition is especially strong in prisons and jails. About two-thirds of the nation's 2.3 million inmates are addicted to drugs or alcohol, compared to 9 percent of the general population, according to a study by the National Center on Addiction and Substance Abuse at Columbia University. Yet only 11 percent of addicted inmates receive any treatment.
White, whose story was relayed by Barnstable officials and who asked that his real name not be used, was a homeless substance abuser when he began a yearlong stint for stealing credit cards. He was set to receive a Vivitrol injection two days before he walked out — improving his chances of surviving long enough to get a second 30-day injection and some counseling.
Barnstable has been offering the medication to departing inmates for nearly four years. During that period, the recidivism rate among Vivitrol recipients has been 9 percent. That's compared to a national re-arrest rate for drug offenders of 77 percentwithin five years of release, according to the Bureau of Justice Statistics. (Like many jails, Barnstable does not track its own recidivism rate.)
Beyond Barnstable
Since 2014, nine Massachusetts prisons and 10 jails have added Vivitrol to their drug treatment arsenals. About 50 state prisons in Colorado, Kentucky, Missouri, Pennsylvania, Tennessee, Utah and West Virginia now dispense the medication. And at least 30 jails in California, Illinois, Indiana, Kentucky, Maryland, Michigan, Missouri, New York, Ohio, Utah, Wisconsin and Wyoming also are offering it to departing inmates, according to the drug's manufacturer, Alkermes.
The nation's nearly 200,000 federal prisoners have not been offered any addiction medicines, though the Federal Bureau of Prisons is considering changing that policy this year.
Addiction experts argue medication-assisted drug treatment is not spreading fast enough in U.S. prisons and jails.
One of three medications approved for opioid treatment, Vivitrol is not a narcotic and therefore not a controlled substance. The other two medications, buprenorphine and methadone, are narcotics, which are anathema to most criminal justice systems.
The downside to Vivitrol is that patients must be off of all opioids for at least seven days before receiving an injection, a painful and sometimes costly proposition. Being behind bars obviates that problem, since most addicts do not have access to drugs while incarcerated.
Addiction specialist Dr. Kevin Fiscella said the failure to offer medication to more incarcerated addicts is "a missed opportunity" to treat inmates, many of whom are motivated to beat the disease that put them in prison, in a controlled environment. "There is no better place to intervene in an individual's addiction than in corrections," he said.
For one inmate at a Massachusetts prison, opting for Vivitrol was easy. In a video provided by corrections officials, he said he injured his shoulder playing lacrosse in high school and was prescribed Percocet, an opioid painkiller. He said he fell in love with the way it made him feel and quickly moved to heroin, a cheaper, more available alternative. Right after he graduated, he was arrested for breaking and entering and theft, and was sent to prison.
"I have friends that have sworn up and down about Vivitrol and how good it is and how it takes away the urge. They all have jobs now. They've been out of trouble forever. So when I got offered it, I said, 'Don't even finish the sentence, I'll sign up right now,' " the inmate said.
Not a 'Magic Cape'
Vivitrol is an injectable form of naltrexone, an oral medication that has been used to treat opioid addiction since 1984. It is similar to naloxone or Narcan, which reverse the effects of an opioid overdose.
Vivitrol and related medications, called antagonists, block the brain's opioid receptors, making it nearly impossible to get high from opioids. Although scientists are not exactly sure how, antagonists reduce the addicted brain's obsessive cravings for drugs.
Approved for opioid treatment by the U.S. Food and Drug Administration in 2010, Vivitrol was added to Barnstable's longstanding re-entry drug treatment program in 2012.
Inmates who enter the program are told about the potential benefits of the medication and given the option of receiving their first injection a few days before being released.
"No matter how long they've been drug-free, inmates tell us they start actively dreaming about getting high in the last few weeks before they're released," Barnstable Sheriff James Cummings said.
Of the nearly 200 inmates who have chosen to receive the injection, about half have remained sober. Only one has died of an overdose.
"It's not a magic cape," said Andrew Klein, a corrections expert who is working with prisons and jails — including Barnstable — on medication-assisted treatment programs.
The biggest challenge, Klein said, is getting inmates to continue taking the medication once they leave the facility. "The physical symptoms of their addiction clear up pretty quickly and they feel like they've licked it, so they stop showing up for the monthly injections," Klein said. "That's when they tend to relapse."
Experts agree that medications should be combined with behavioral counseling.
But the precise amount and type of counseling hasn't been established. "At the very least, they need to be reminded to keep taking the medicine," said Klein, a consultant with Advocates for Human Potential, which specializes in behavioral health.
Although Vivitrol's efficacy at dampening drug cravings has been shown, the drug is relatively new and no definitive study has proven its long-term effectiveness at preventing relapse.
Dosing and Counseling
At Barnstable, only 34 of the inmates who took Vivitrol completed an intensive six-month rehabilitation program before release. Despite agreement on the effectiveness of combining counseling and other types of therapy with the medicine, Barnstable does not require it.
"We're seeing Vivitrol as a lifesaving medication," said Jessica Burgess, the jail's health services director. "We're not going to deny it to anyone."
Inmates interested in receiving it are given a physical exam. They also receive a short-acting oral form of the drug to check for potentially severe adverse reactions such as gastrointestinal disorders or dizziness. Inmates are also warned that once they are released, the long-acting medication will prevent them from getting high on opioids or alcohol.
On average, participants in the Barnstable program received five shots, including the injection they received before being released. Some stopped taking the injections after two or three months and relapsed. But according to Cummings, the sheriff, most were eager to get back on the medication.
Most ex-prisoners can't afford to continue on the medication — which costs $1,000 per injection — without insurance coverage of some kind. In Massachusetts, prisons and jails enroll departing inmates in the state's Medicaid program, which covers the cost.
Word of Mouth
Nearly half of the inmates in Barnstable's 588-bed facility are addicted to opioids when they arrive. But in the nearly four years Vivitrol has been offered, fewer than 200 have opted to take it.
Their reasons for declining it vary. Most are in denial that they have an addiction. Many are unwilling to give up drugs and alcohol. Some don't want to make the monthlong commitment that comes with receiving the injection.
But officials here say resistance is starting to diminish.
"The number of requests we're receiving from inmates asking for Vivitrol has been steadily increasing since the start of the program," Burgess said. "We attribute this to word of mouth and increased awareness."
In the first year of the program, 37 inmates received the shot, followed by 51 the second year and 53 the third year. Since May 2015, 50 have signed up.
People outside of corrections who seek treatment for opioid and heroin addiction also have reservations about Vivitrol. Abstaining from opioids for seven days can be painful and dangerous. If patients relapse, they are at high risk for an overdose.
At Gosnold, a treatment center in nearby Falmouth, CEO Raymond Tamasi said the most common objection is fear of using drugs while on the medication and overdosing. That's despite clear evidence that people who try to abstain from drugs without the help of medications are far more likely to die from an overdose, he said.
"Advances are coming in pharmacology," Tamasi said. "Someday soon I expect we'll view Vivitrol like the early days of penicillin."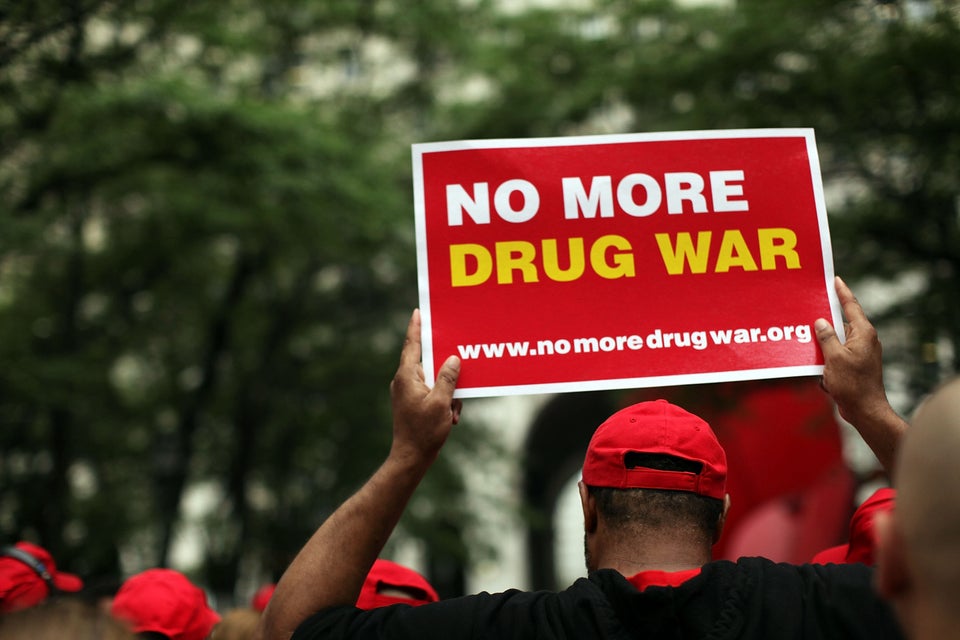 27 Reasons Why U.S. Shouldn't Lead War On Drugs
Popular in the Community