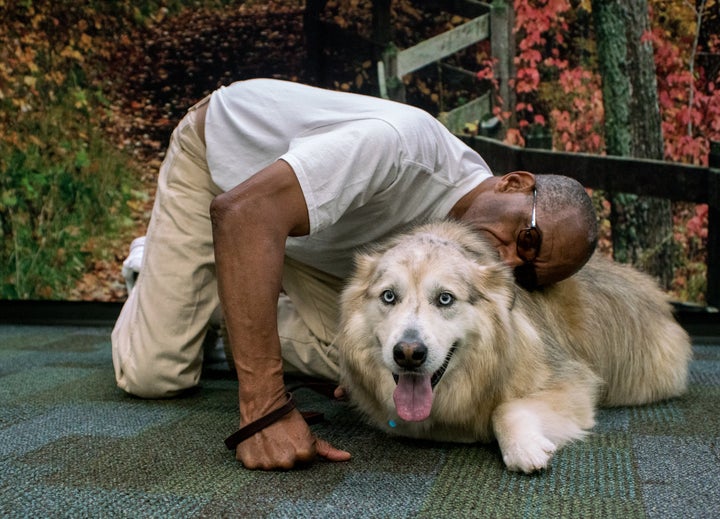 A group of inmates who were part of a dog-training program have been reunited with their furry friends.
Since 2012, the Clallam Bay Corrections Center in Washington State has offered prisoners a chance to rehabilitate rescue dogs with behavioral problems. Thanks to the program, 160 dogs and 73 puppies from the Welfare for Animals Guild rescue group in Sequim have found permanent homes.
On Sept. 28, the incarcerated trainers gathered in a visitors' room at the prison for a reunion with some of the rehabilitated pups, who were accompanied by their owners and volunteers from WAG. They ate cake, cuddled with the canines, posed for pictures and enjoyed plenty of tail wagging.
"[The handlers] love to see that the dogs they trained are being successful in their families," Barbara Brabant from WAG told The Huffington Post. "It really makes them feel like they are making a difference."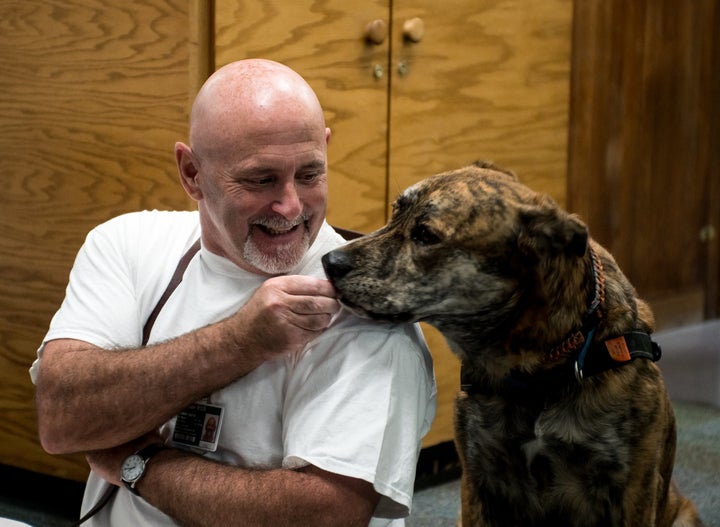 Over the years inmates have received random updates about how the dogs they've helped are thriving in their new homes, typically through photos their families send to the prison.
Occasionally a dog was brought to the prison for a day trip, which inspired Tanja Cain, CBCC's prison offender program coordinator, to organize a reunion. WAG loved the idea and got in touch with the dogs' families.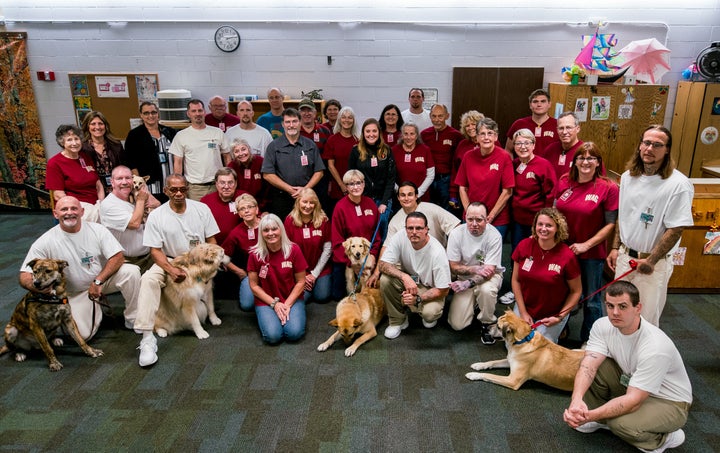 "It was a very successful event that we plan on continuing in the future," said Brabant.
During the reunion, prisoners also spoke about the impact that the program has had on them and the prison.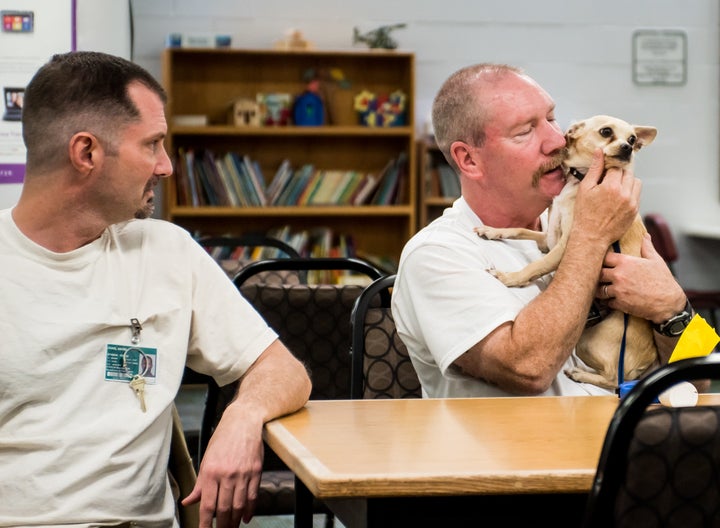 "I feel that through this program, I am being able to top the scales by doing so much more good," William Friedrichs, a 33-year-old inmate serving 28 years for armed robbery, told The Associated Press. "I'm finally creating positive stuff instead of just negative, destructive things."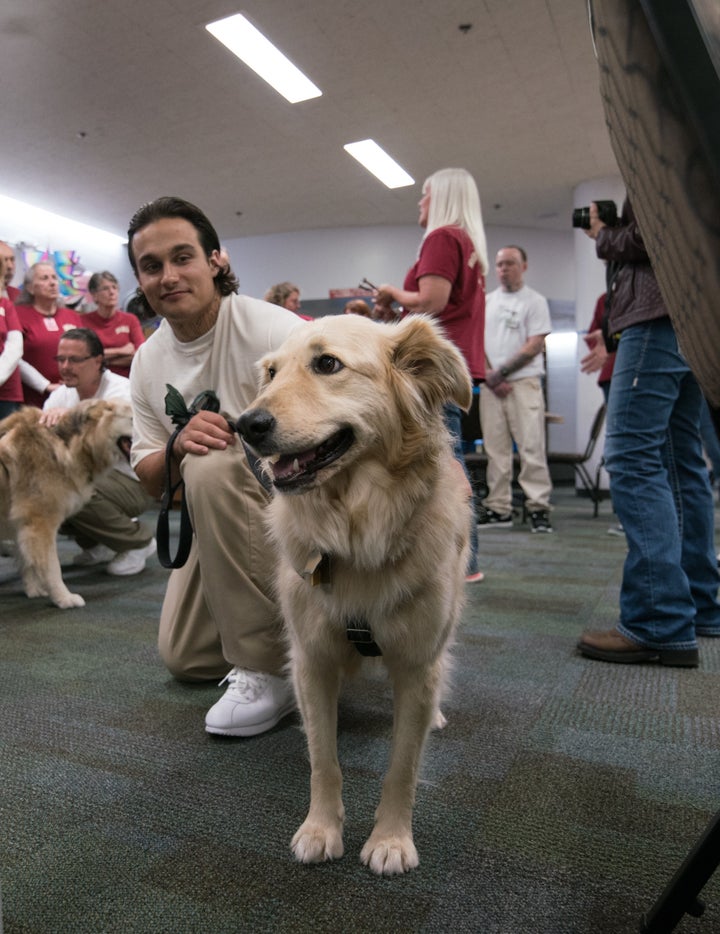 The dogs that have gone through the program have ranged from canines that didn't know how to meet other dogs without barking and lunging, to pups that were abused and needed to learn to trust again.
The animals sleep in the inmates' cells and get taken on regular walks in a special prison yard, where their handlers clean up after them.
Each pooch has to pass an American Kennel Club obedience test before they leave, so most stay for a minimum of seven weeks.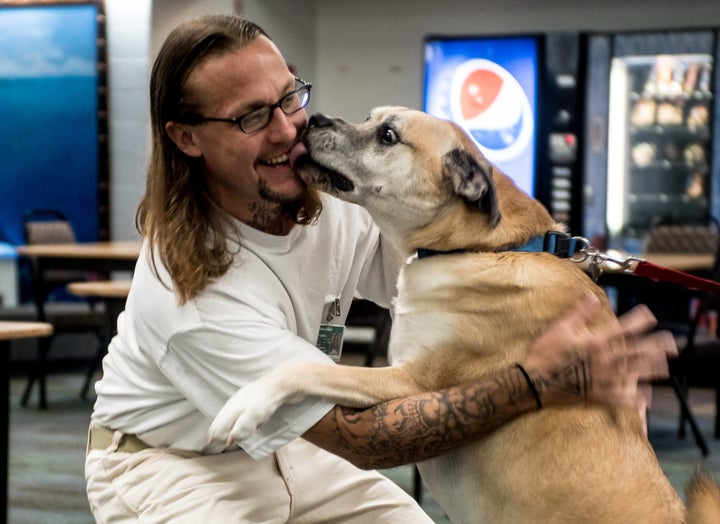 "Each dog is different, like each person," Brabant told HuffPost. "Some need longer [to heal], either emotionally or physically."
The inmates who attended the reunion were enrolled into the program due to good behavior, which means they had no infractions for one year.
Brabant says that the men who participate in the program benefit by learning patience and empathy. Friedrichs agrees.
"It's helped with my ability to communicate with others, and I've become more compassionate," he told the AP. "There are not a lot of jobs in here that have that."
REAL LIFE. REAL NEWS. REAL VOICES.
Help us tell more of the stories that matter from voices that too often remain unheard.
BEFORE YOU GO
PHOTO GALLERY
Heartwarming Photo Series Captures The Bond Between Dogs And Their Humans