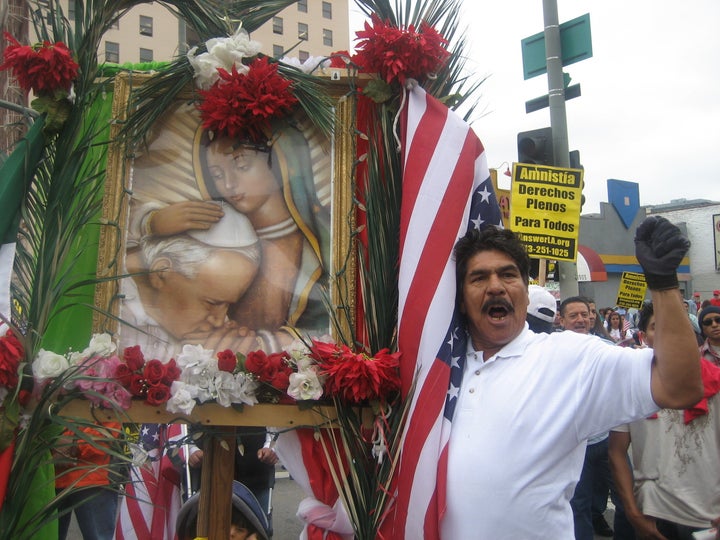 LOS ANGELES, California.- Al menos unos 5,000 inmigrantes de diferentes grupos multirraciales marcharon por las céntricas calles de esta metrópoli para recordar al Presidente Barack Obama su incumplida promesa de reforma migratoria y reprochar su política de deportación masiva y separación de familias.
En el marco del Día Internacional del Trabajo, La demostración de miles de inmigrantes, en su mayoría hispanos, filipinos, coreanos y anglosajones fue pacífica de principio a fin, desde su salida en la esquina de las calles Olympic y Broadway.
"¡Legalización Ahora! Reforma de Inmigración, Buenos Trabajos y Educación para Todos", rezaba la enorme manta desplegada por la Coalición "May Day", "Esperanza, Respeto y Reforma" decía la pancarta de la Coalición Pro-Derehos de los Inmigrantes de Los Angeles (CHIRLA).
"La esperanza está en el pueblo, no en la Administración [de Obama]", dijo Angélica Salas, directora ejecutiva de CHIRLA a HuffPost Voces. "Las bases del poder las podemos desmantelar cuando salgamos a votar, porque sabemos que el voto latino decidirá el futuro de esta nación".
Enarbolando banderas estadounidenses, de México y países de Centroamérica familias enteras reclamaron al presidente que cumpla su palabra de una reforma migratoria.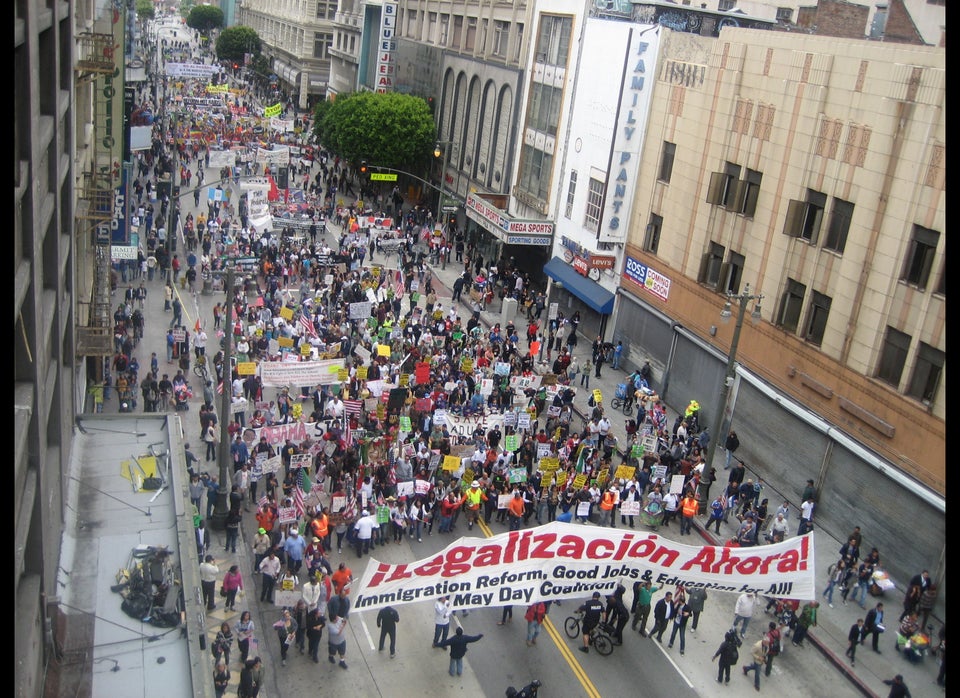 Reforma migratoria
"Alto a la hipocresía; todos somos inmigrantes", declaró Edwin Avelino, estudiante de origen filipino. "Este gobierno debe parar la separación de familias y abolir la esclavitud social".
"Obama, escucha, estamos en la lucha", "Trabajos sí, migra no", "Se ve, se siente, el pueblo está presente", "Nosotros hacemos la diferencia" o "La lucha obrera no tiene fronteras", "Sin justicia no hay paz", fueron sólo algunos de los cánticos entonados por la muchedumbre.
"Estoy cansada de tantas deportaciones crueles", opinó María Campos, empresaria de El Salvador y dueña de un taller de ropa en Los Angeles. "Pedimos a Obama que cumpla o de lo contrario no voy a votar por él".
Francisco Moreno, director de comunidades del Consejo de Federaciones Mexicanas (COFEM) dijo que la clave para una solución migratoria en beneficio de los latinos sería salir a votar en grandes números en la elección presidencial de noviembre próximo.
"Nuestro tema principal es la legalización", dijo Moreno. "La gente ya está cansada de palabras y promesas que se llevó el viento y sabe que este año es crucial; sabemos que están parejos [Mitt] Rommey y [Barack] Obama, por lo que queremos seguridad de un compromiso de reforma migratoria con Obama o si no, le vamos a dar un jalón de orejas".
Ian Thompson de la Coalición "Actúa ahora para acabar con la guerra y terminar el racismo/ Act Now to Stop War and End Racism o ANSWER Coalition) expuso que la comunidad inmigrante de Estados Unidos tiene derecho a vivir con dignidad y no víctima de la represión gubernamental.
"El Congreso y el Presidente deben tomar acción para una legalización de 11 millones de personas", indicó Thompson. "Es lamentable que no quieran entender lo importante que son para la economía de Estados Unidos todos estos seres humanos trabajadores".
'OCCUPY LA' ARMA CONATO DE VIOLENCIA
Una segunda manifestación de por lo menos un millar de integrantes del movimiento "Occupy LA" terminó en violencia. Uno de sus participantes golpeó en la cabeza a una mujer policía con su monopatín. El casco protector resultó abollado.
El hecho aconteció a las 4:00 de la tarde, en la esquina de las calles 4th. y Hill. Los "ocupantes" se dirigían a Pershing Square y trasladaban su protesta –ajena a la marcha de inmigrantes- hacia los edificios de Bank of America y Wells Fargo Bank.
"Ella fue transportada a un hospital", dijo Karen Rayner, portavoz del LAPD, a HuffPost Voces. "Sus lesiones no son mortales; creemos que no es nada grave."
Rayner dijo que detectives del LAPD han iniciado una investigación sobre la agresión y la consideraron como asalto con un arma mortal contra un policía. Ningún sospechoso ha sido arrestado.
Los "Ocupantes" que se manifestaron contra la avaricia de los ricos de Wall Street y las ejecuciones de hipotecas por parte de los bancos también pretendieron infiltrarse en la marcha de los inmigrantes. La acción fue impedida por centenares de policías.
"El LAPD vino directamente al enfrentamiento", justificó Carlos Marroquín, integrante de Occupy LA. "El muchacho tiene problemas con la policía y los dos se provocaron mutuamente. Ese fue el origen del problema".
La zona céntrica de Los Angeles quedó sitiada literalmente y miles de policías se mantuvieron en alerta táctica hasta altas horas de la noche. Los "indignados" trasladarían su protesta a las afueras del Staples Center, antes del partido de basquetbol entre los Lakers y Nuggets de la NBA.
Popular in the Community