It's no secret that Airbnb has faced issues with discrimination over the past several months. One guest even filed a lawsuit against the company after he alleged that a host didn't allow him to book because of his race.
In recent months, more and more black Airbnb guests complained of dealing with prejudice hosts and #AirbnbWhileBlack became a hashtag for voicing their concerns.
Speaking out wasn't enough for the founders of two start-up companies, Innclusive and Noirbnb, however. Though two separate entities, Innclusive and Noirbnb have a similar mission: to make their guests feel at home without worrying about being denied or judged for who they are.
"Our vision is to make sure we can provide awesome service but also to just connect our people, not just on a national level, but on a global level," Noirbnb co-founder Stefan Grant told The Huffington Post.
Grant knows the frustrations of #AirbnbWhileBlack. Atlanta police showed up to a house Grant was renting with their guns drawn after a neighbor told the cops that he broke in. Airbnb reached out to Grant after the tweets he sent about the incident went viral.
Grant and co-founder Ronnia Cherry met with the company a few times in hopes of partnering to combat the issues people of color faced on the platform but they hit a brick wall and decided to build their own platform.
"We just really wanted to make sure what happened to us didn't happen to anybody else" Grant told HuffPost. "They're not gonna solve this so it's pretty much up to us to make this thing happen."
Innclusive's birth also stemmed from a racially charged incident. Co-founder Rohan Gilkes told HuffPost that a host didn't allow him to book but his white friend was able to book the exact days he requested. He said when he brought the issue to Airbnb immediately, they didn't call him back in the timeframe they promised. After waiting two weeks, Gilkes shared his experience on Medium. He told HuffPost that Airbnb reached out to him shortly after the post went viral but Gilkes said he thought their efforts were too little and too late.
"If we had to achieve one single goal and nothing else came of anything from this project," Gilkes said, "that mission would be to create a space where users can connect with hosts, hosts can connect with users and have amazing experiences without the weight and the insecurity and the fear and all the things that are associated with discrimination and prejudice."
Along with his business partner Zakiyyah Myers, Gilkes created what was then named Noirebnb, coincidentally similar to Noirbnb which already existed. With the help of Nomadness Travel Tribe member Nyke Walker, Grant and Myers decided to change the name to Innclusive to distinguish them apart from their competitor.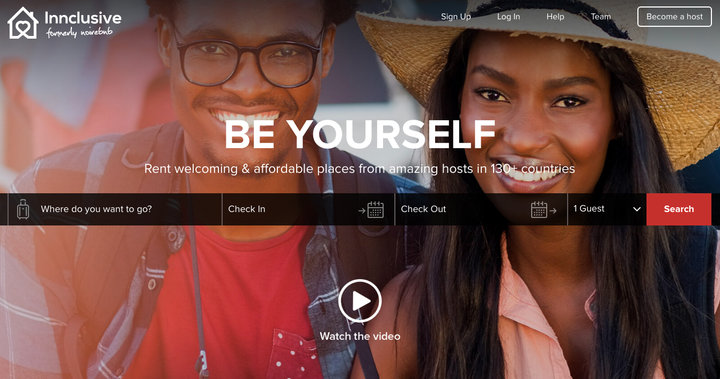 Though Myers told HuffPost that the two start-ups probably won't be working together, both groups agree there is more than enough room in the black travel industry for Innclusive and Noirbnb to thrive. Rooted in making home sharing a more welcoming industry, Innclusive and Noirbnb have different paths to reach this goal.
Each platform has unique features to make a welcoming experience for the user. Gilkes said that Innclusive will collect data to prevent hosts from denying one guest a chance to book certain dates but allowing those same dates for another. Though Cherry doesn't give specifics, she said Noirbnb will "cater to the black experience," making safety a priority.
Response to both companies has been overwhelmingly positive on social media:
Both Grant and Gilkes told HuffPost that people from different background have been flooding their inboxes inquiring about how they can become a host. They said they hope that their respective platforms can bring black travelers a peace of mind.
"I really think it's making sure that we have, beyond policy, that we're enforcing zero tolerance, not just releasing a statement and saying we don't want this to happen again," Cherry said. "We want to educate and empower people. I think people forget there's a lot of economic power we share."
Gilkes said these alternative platforms are a "necessity."
"There's nothing we're doing now that's unprecedented. Even if you go back to times where minorities felt like they did not have inclusion in regular colleges and universities, we built HBCUs and they fulfilled a role," he told HuffPost. "There is an opportunity for us to make our own space and solve our own needs and still be inclusive as well. There's a way to do it and there's a way to have people treated with dignity and allowed to be themselves."
Gilkes and Myers said Innclusive will launch in about eight weeks. Grant and Cherry said Noirbnb's launch date is tentative.