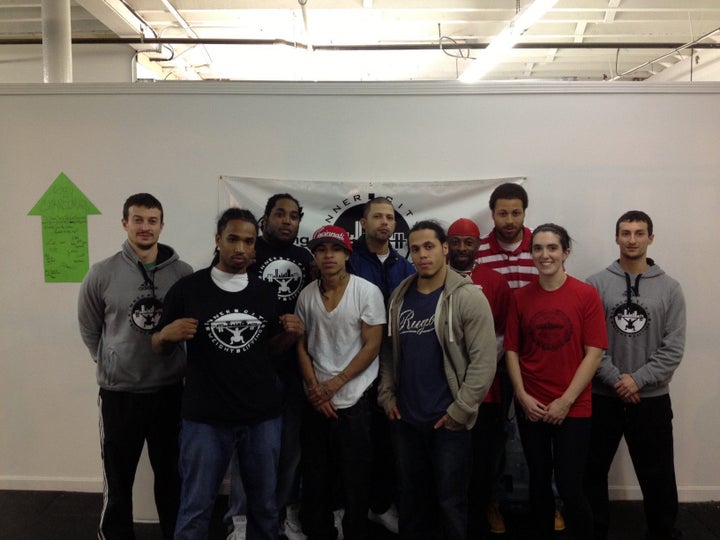 You'd never guess there's a gym on the second floor of the nondescript building Boston's historic Dorchester neighborhood -- and that's exactly how everyone involved plans to keep it. Driving to the address -- kept private for security reasons -- I'm not even sure I am in the right place, and, already 10 minutes late, rush up the stairs.
InnerCity Weightlifting's equipment is in decent shape. A few well-worn mats lie under squat machines, emblazoned with fading Northeastern University logos. The walls are nearly bare, except for workout steps written on a whiteboard, and a makeshift neon green holiday card given to the staff minutes before my arrival.
The young men who wrote and decorated the card are some of Boston's most likely to perpetrate acts of gang violence.
Just 1 percent of Bostonians aged 24 or younger are responsible for over half of the city's murders and more than 70 percent of the gun violence, according to Harvard University research. Among the young people arrested in the city, 44 percent are rearrested less than a year after their release.
"When they're in the gym, they'll have a conversation with you, smile," said Jon Feinman, executive director and founder of InnerCity Weightlifiting, or ICW. "But outside the gym, they have no positive outlets."
I couldn't quite get a smile out of my trainer during my December workout, although he had much to celebrate: A year had passed since his last time behind bars -- his first jail-free year since he was 13. A month earlier, he celebrated his 24th birthday -- his first out of prison in a decade. Feinman asked that none of the participants in the program be named, for fear of their safety. I'll call my trainer Jason, not his real name.
After a warmup, Jason took me through Olympic weightlifting exercises, including trap bar squats and cleans. Program director and coach Josh Feinman, Jon Feinman's brother, stood by, suggesting ways for Jason to help me get the moves right. Jason demonstrated, and re-demonstrated, with more weight on the bar than I could ever even imagine lifting -- and in jeans, no less.
After two 14-year-old boys were shot to death in Boston in 2010, local groups formed an initiative called Partnerships Advancing Communities Together, or Boston PACT, with the aim of stopping "random, senseless" gang violence. PACT identified more than 200 juveniles most likely to be involved in gang violence, and distributed their names to law enforcement and select social services agencies.
One such group is StreetSafe, which sends outreach teams to the streets to meet these young people to "interrupt violence, mediate and resolve conflicts and influence individuals to engage in pro-social programs and services." StreetSafe also connects the youths with ICW.
Physical fitness as an alternative to violence is nothing new. Programs include Steve's Club, a nationwide crossfit chain; The Circus Project, a circus arts studio in Portland, Ore.; and the 6th Street Gym for boxing in Tucson, Ariz.
Thomas R. Collingwood has been researching the idea for decades. The "semi-retired" founder of the First Choice physical fitness program for at-risk youths wrote "Helping At-Risk Youth Through Physical Fitness Programming" and a number of studies on the subject. He's worked with at-risk youth in environments as varied as wilderness survival camps and urban probation departments. "These kids lack three important values: respect, responsibility and self-discipline," he told HuffPost from Texas. "We know you'll be healthier if you exercise, but how do you structure the process to teach values and life skills?"
Partnerships with organizations like StreetSafe aren't always successful. "Harder-core" youth are more resistant to fitness programs, said Collingwood. "If you have a program they like or maybe someone they know is involved, they may be willing to try it out," he said. But it often takes the firm hand of a school official or probation officer to require participation.

"I think it's not really reaching the kids we want to reach," Carol Finkle, a program coordinator for a California gym that opened for midnight basketball for at-risk youth but quickly had to reduce its hours, told the Los Angeles Times.
But at ICW, kids keep coming back. If students make it through three sessions, 95 percent are hooked, according to ICW. During any given week, 40 to 60 of the 104 students in the database are in the gym. Some days, more use the computers in the study room. Most range in age from 16 to 24, but some are as young as 5 and as old as 36.
On the day I visited, about eight students staged an impromptu dance party in the corner. "It's like a club in here!" Josh Feinman shouted over the music. "It's not a club without girls," mumbled Jason, as he stepped back into squat position.
On the days when the streets are particularly hostile, ICW transports students from home or school to the gym. On the days when the students are particularly hostile, ICW still has their back. "We don't take them off our list" if they get arrested, said Jon Feinman. "The street is what's always been there for them. We make sure we're there for them."
That means, in part, assigning more responsibility to each student as they gain experience, culminating in the chance to coach clients who want to try Olympic weightlifting -- or simply support the cause. The public pays $20 for a workout, and the student pockets the cash.
This employment opportunity is a strong motivating factor for keeping the guys out of trouble. "Every kid wants to be an expert," said Collingwood.
And a built-in sense of responsibility means the gym doesn't face vandalism and burglary that plague similar organizations. A Phoenix boxing gym was broken into in March 2012. T-shirts, punching bags, ropes and posters were destroyed, the local CBS affiliate reported. "What I'm trying to do is to prevent them from the same thing I went through. Bad neighborhoods, single-parent homes and the gangs," owner Pete Chavez said at the time.
Of course, personal training isn't for everyone. At ICW, "each young person determines their own goals," said Feinman, and the client connections can be just as beneficial as the workout. Jason said he wants to go to culinary school, so he was purposely paired with a client who works in a restaurant. A couple weeks later, he shadowed his trainee in the kitchen.
An exercise program may start with a change in just one habit, said Collingwood. That can lead to a whole new lifestyle. "I call it the chain of change," he said. "If, through involvement in an exercise program, I feel better about myself, I start to see things differently ... Maybe I'm going to change certain negative behaviors."
At the end of my workout, the guys make it clear ICW has done just that for them. "Structure," someone says. "Friends." "I'm getting my GED."
Maybe one day, the old way of life won't "fit anymore," said Collingwood. When young people see themselves in a more positive light, they often find drugs or violence no longer make sense.
As the audience grows, so too must the gym (and the funding). But even with more space and money, ICW can't reach everyone. In 2012, four men on the waiting list were "lost to the streets," said Feinman. "We didn't have time or space to get involved on the level we need to be there for each student."
And the streets will always be there. Feinman said he hopes the atmosphere of fear will change, even if it's only a few kids at a time. "We want to shift community perception so people start to realize the positive side of who these young people are and what they do," he said. "Everyone wants them to do well -- just not anywhere near them."
Related