The opportunity of these times is calling us all to remember the power of inner silence-not a silence that condones hate, injustice, or lies, but a silence that speaks loud enough to find solutions that return us to values and virtues. These times are reminding us of our pure potential, even in the face of ALGAE (Anger, Lust, Greed, Attachment, and Ego). We must remember that our interior world records every thought, word and deed done upon ourselves or another. The recording, whether loud or quiet, sits inside of us and if it is driven by ALGAE, our inner silence is lost.
This year has certainly prompted many of us to wake up feeling challenged to protect one of our greatest powers, silence. Silence, at the deepest level, is not simply a physical absence of sound, but when a person inwardly holds the highest reverence of themselves with noble thoughts and deeds. If waste thoughts, commonly known as negative thinking, or impure motives are mixed in our thinking, it will deplete our greatest asset, silence.
One must ask the self as we approach the new year, 'Am I at peace with myself? Are others at peace with me? Is our world better because of me?' The highest achievement for these times isn't another zero at the end of your balance, nor is it taking advantage of others who you might deem weak or less than. Rather, the highest achievement for these times is to emanate a deep, living, profound presence of inner silence that mirrors to anyone who sees it. When others are so moved by your story, that they make a change for the better in their own lives, inner silence is at work.
It is a struggle at times to maintain such a noble presence, but it is not impossible. These times ask us to lean into the ALGAE and be the sample you wish to see in the world. However tough that might be, it is a must for the coming year. We must remember who we really are at the core or suffer the demise of our future. If we do not remember what is at the base of our character, virtues such as honesty, peace, purity, love, kindness, cooperation, understanding, and dignity, we cannot begin to change the culture in which we now find ourselves. It is a culture that pays tribute to ALGAE and drowns the person who does good for our planet.
There is a silent, persistent call, asking us to listen to conscience and decide for ourselves if we are at peace with our lives and with those around us. Our soul needs pure energy. The soul needs pure silence. The soul needs love. The soul needs life! And, when we serve it with thoughts rooted in values and virtues, it regains its natural energy to move life with grace and beauty.
Each and every one of us has been gifted with the power of inner silence. Our choices can either add to it or diminish it. When we listen to peacelessness, when we act peaceless, or when we speak peaceless, we not only refuse ourselves of the ability to appreciate the power of inner silence, but we also refuse ourselves to find solutions to life's greatest tests. So, for the new year let's lessen our chatter, judgements, criticism, dislike, greed and fear and let's listen to our greatest gift from God: Silence. Remember, inner silence refuses no one. That means we ALL hold the key to every solution in life.
https://twitter.com/americameditate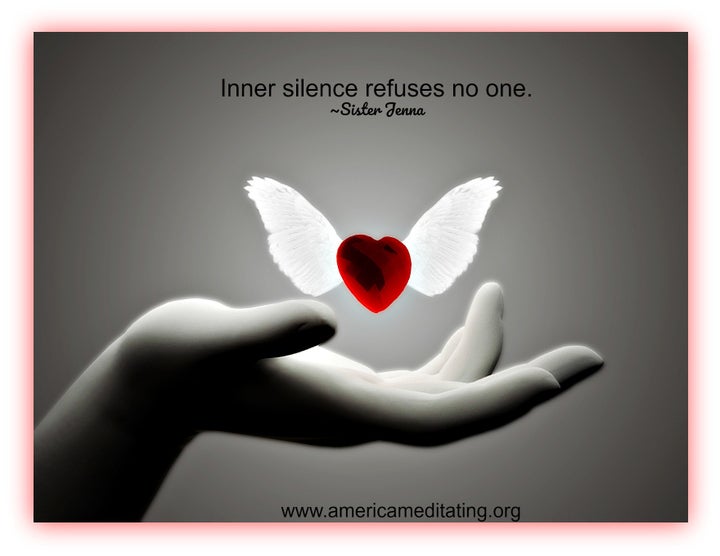 Support HuffPost
The Stakes Have Never Been Higher
Related
Popular in the Community