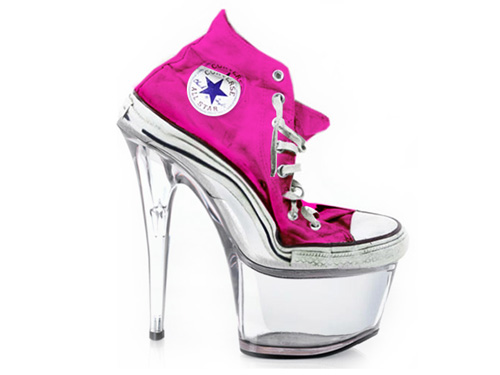 There's something satisfying about those extra five inches...
Which must be why from Lucite platforms to Louboutin pumps, strippers and socialites alike lust after high heels.
Damnfly.com must understand that exceedingly well. The retail site, which describes itself as "a partnership between some of the biggest fashion, shoes, accessories and jewelry factories" stocks a mix an eccentric mix of accessories that range from innovative originals to re-worked replicas of mass and luxury brands.
We're talking seemingly authentic YSL cocktail rings, clear replica Chanel earrings that appear to be melting and blinged-out vintage Casio watches. Their most cartoonish offering is what stirred my imagination -- and my inner stripper: custom footwear based on popular sneakers like Nike Dunks, Air Jordans and Converses.
Through whatever magic methods, they sprinkled sexy pixie dust on sporty sneakers and created sultry stilettos better suited for pop stars in concert (Ciara is one of many celeb fans who wore the Lucite Converse in her latest video, "Gimme Dat") than the average woman on the go.
And yet... upon first sight, I dutifully rearranged my bills and shelled out $299 for a hot pink pair. Check these out and tell me, are you following my lead?
HH--236SLIDEPOLLAJAX--26212--HH
Popular in the Community