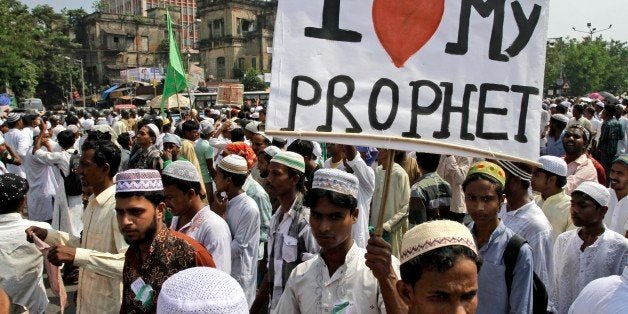 An anti-Islam film trailer that a court ordered be removed from YouTube last year was reposted to the video-sharing site on Tuesday -- and several prominent Muslim voices are encouraging the public to pay it no attention.
"We're doing what the promoters hate most, which is to ignore it and urge other people to ignore it as well," Ibrahim Hooper, spokesman for the Council on American-Islamic Relations, told The Huffington Post on Wednesday.
A U.S. appeals court ruled that Google, which owns YouTube, had to remove a roughly 14-minute trailer for a film called "Innocence of Muslims." The trailer, which depicts a bumbling and morally questionable prophet Muhammad, was taken down on the basis of a copyright claim raised by actress Cindy Lee Garcia. She said she was tricked into appearing in a five-second scene in the film and that her voice had been dubbed over so that her character asked Muhammad if he was a child molester.
An appeals court reversed the decision on Monday in what some have called a victory for free speech.
"Every non-Muslim is an infidel. Their lands, their women, their children are our spoils," the Muhammad character says in the trailer, which incited protests around the world when it went online in 2012.
Imam Zia Sheikh, who heads the Islamic Center of Irving in Texas, told HuffPost he's asking Muslims to ignore the film. "We are just being baited, and we shouldn't fall for it," he said.
"All these kinds of inflammatory materials are just designed to gain cheap publicity for the producers, and we're not buying into their game," Hooper said.
Riham Osman, communications coordinator for the Muslim Public Affairs Council, said in a statement to HuffPost: "Hate speech is constitutionally protected, but with free speech comes civic and social responsibility to overcome bigotry. Islamic teachings ... uphold the importance of the freedom to express one's own thoughts, even when they may be seen as disrespectful by others."
"We cannot stop anti-Muslim bigotry and hate speech," she added, "but we can take leadership by educating others."
Hooper said he had not watched the film or its trailer, and encouraged others not to watch it either. "[Bigotry is] not going to go away," he said. "The best thing to do is just promote a positive message of your own and marginalize the extremists."
REAL LIFE. REAL NEWS. REAL VOICES.
Help us tell more of the stories that matter from voices that too often remain unheard.
BEFORE YOU GO
PHOTO GALLERY
Amazing Mosques