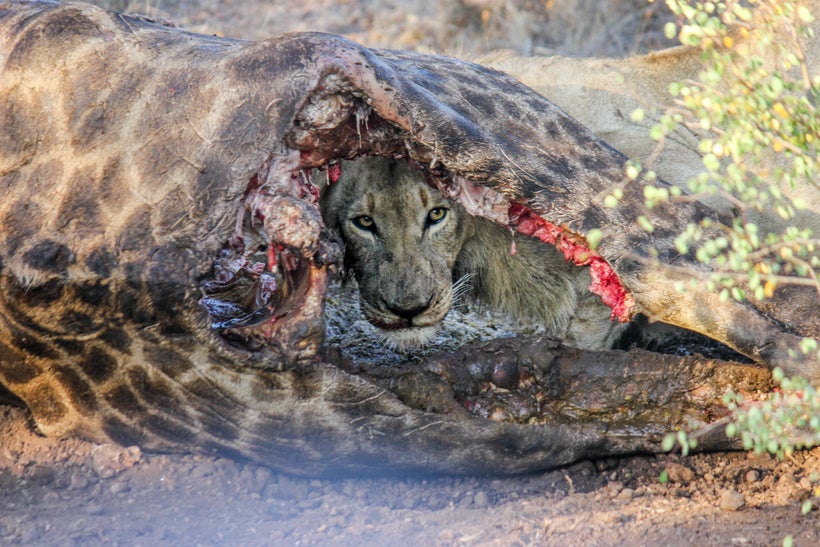 I.
The skins hung on a rack in front of the Doritos remind me that I've entered the South African Bush. Wildebeest R1350, Kudu R1000, Gemsbok R1000, Springbuck R650, Blesbusk R600, Hartbeest R900, Zebra R9750, Impala R650, Nguni R3900 — each draped such that their now missing back bones are replaced by black metal bars.
Deflated ghosts, I decide, absentmindedly petting the zebra skin. It is soft, coated in short coarse hair that demands to be petted front to back. I could buy the once-animal-now-rug for about $650, although the better deal would be the impala for $43 —about $20 less than my new neutral colored shirts from REI.
As I trail my fingers away, I consider purchasing a latte or power smoothie from the cafe, where two black baristas work in unison filling the orders of predominately white customers in khaki pants. At the end of the aisle at chest height is packaged Biltong — A Game Snack Pack. The only ingredient is game meat. Perhaps the impala skin's uncle is dried up in the biltong bag.
Before checking out, I fidget with a pair of shades from the line — Orange visors. I am nervous to pay, afraid the black lady behind the counter will judge me by the color of my skin. I wonder how she will understand me — a relatively affluent African American in Smart Wool and hiking boots.
Unlike most patrons I doubt she has ever seen a lion. I read before departing that black South Africans do not visit the bush as frequently as whites, even though they are the majority. Apartheid prevented blacks from visiting most game parks until 1994.
Once again I suppress the grimy feeling worming up my throat. Sometime between accepting my South African bush adventure and my plane ride to Johannesburg I was infected with a cold sticky guilt that flares up whenever my privilege renders itself starkly visible.
When the cashier repeats the price, I hand over a crisp R200 fresh from the Johannesburg airport ATM.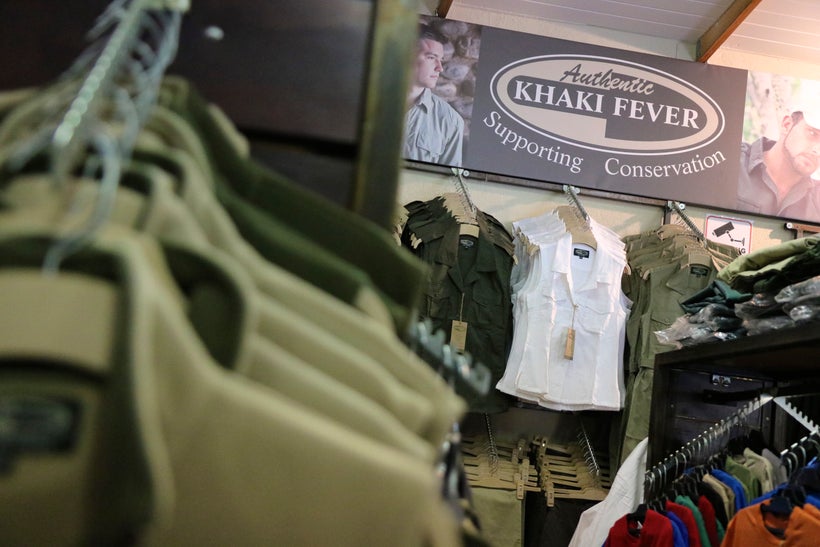 II.
We bounce through Welverdiend — a town that translates to "rightfully earned." As we pass by one room cement shacks our driver, Jurie tells us that this was one of the communities displaced by Kruger Park. A 5th generation white Afrikaner, Jurie has led 378 bush walks and worked as a Kruger ranger for the past 18 years.
Dark brown girls wave to us, some carrying water buckets on their heads. Cracked dirt lawns with an occasional tree are visible behind scattered wire fences. I want to take photos to later write with pristine detail the exact feeling of rolling through the village, but I am afraid of capturing what is not mine to take and giving what is not mine to share. I record with only my eyes as our tires grip loose gravel, trailing plumes of dust.
Our goal is an educational exchange. As Stanford journalists we will impart our storytelling wisdom on local 12th graders. In return we will hear their stories on conservation and wildlife. They will receive printed versions of their work, glossy photos of themselves and a certificate of completion of the still unnamed course — we will use their stories for journalism and share them with the world.
"… I went to Kruger National Park with my Mom, Dad and my younger brother. It was on the 22nd of June 2012 and I was little bit young because I was 11 years old… Since then I started respecting the animals because they help make us more special because we are living in a very poor village situated in the south east of South Africa, it is the last place in the country [for this wildlife]… Our parents are working there so they get money to put food on the table. So please guys I beg with due respect lets protect and not hunt them."
They have difficulty writing their stories, first relating their lives to conservation and then forming thoughts into grammatically correct English. When the period ends I feel both relief and disappointment. The girls look exhausted. Their second plate of biscuits have already shrunk to crumbs. And the soda the local program organizer insisted we buy — instead of water or juice —has dwindled to florescent orange and brown droplets clinging to the walls of their styrofoam cups.
"… When I told my mom that the game drive was boring, my mom told me the reason why I didn't see rhino. She said that it's because our uncles are busy killing rhinos because they are not educated. She said again that I must keep my mind reading books because when I don't I will become a thieve like killing rhinos. So I feel sorry for me and said, 'I will see rhinos when our uncle stop killing rhinos.'"
Before leaving the girls take selfies with me on their smart phones. Devices angled over head, they suck in their cheeks and puff out their lips. I follow their lead trying not to ruin the photos by smiling. Three students then volunteer to share their stories, including Rio, the school president. He stands confidently in a San Francisco T-shirt with sun soaked palm trees that remind me of back home. His voice is slow, paced like a politician.
"… My reasons why I want to study history are based and encouraged by the social effects I'm experiencing which vastly leads to environmental effects. That's why I can't absolutely blame the villains of the nature, because they are making a living… Poor infrastructure limited my choices as highly impossible … I want the next generation to live better."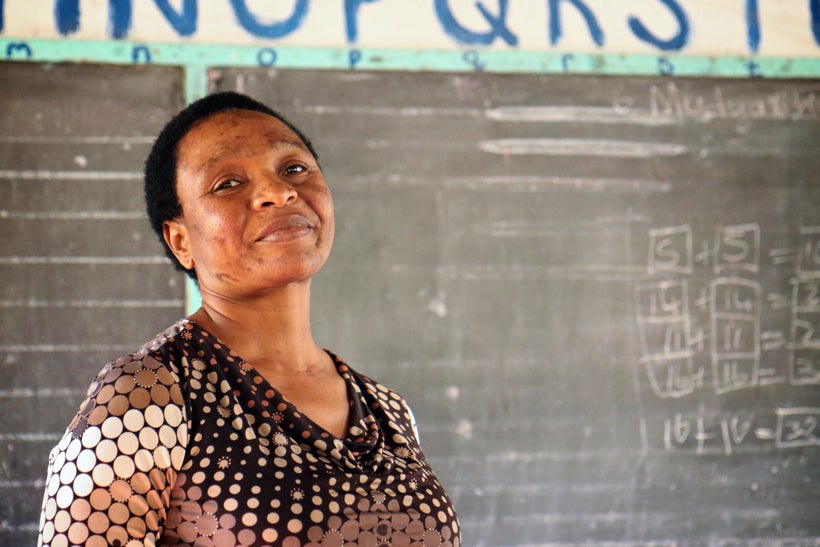 III.
Trotting in the back row of the three tiered pickup truck, I clutch my phone hoping an animal appears before we reach camp. Empty trees and bare bush engulf land not plowed into roadway. I feel like I am in Jurassic Park. Any moment a dinosaur could rip through the trees and launch in front of our vehicle and I will be ready to snap a selfie, grinning with my back turned to the giant reptilian.
I think back to when our van first pulled into Sefapane, the hotel in the bush. Laughing at the oddly familiar landscape, a fellow traveler said, "Isn't it funny that this is what Disney was trying to recreate?" I tried convincing myself that this African wild was more authentic than my childhood representations. The crunch of imported stone beneath my unnecessary hiking boots. Our guide Donald telling us his real name is too difficult to pronounce. These were all elements of the real South African wild. The Lion King was the lie.
From the front of the car Donald shouts "Buffalo!" And we all bobble towards the left in unison. Two muscular black creatures with curved horns tilting up out of their heads tense, staring at us. "Buffalo are the most dangerous creatures in the bush," Donald says. "Unlike others they give no warning signs before attacking."
Suddenly, the vehicle has more cameras than passengers. Everyone is eager to photograph our first Big Five sighting. Buffalos are one of the five infamous animals that will track and kill those who miss their shot — a fact popularized by European and white trophy hunters after Johannesburg's gold rush in the early 1800s. The remaining four are elephant, rhino, lion, and leopard.
I try to compose artistic photos of the buffalo. Each picture is blurry and grainy because the bulls are too far away and the day is swiftly transitioning to dusk, but I have no interest in giving up.
I want to shoot each beast.
I want to share on Facebook the endangered species I find in the wild.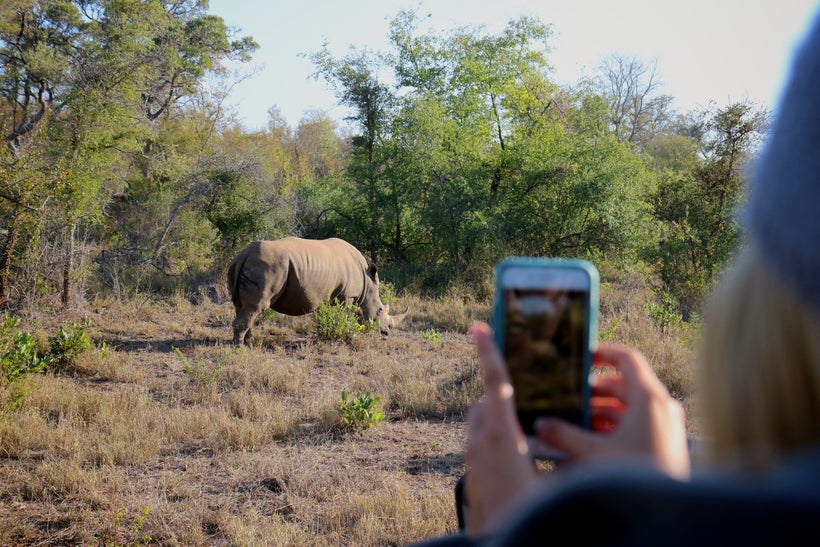 IV.
The sculpted villager flips through the air as a snot nosed toddler in a dusty pink flower top squeezes her way to my side. Plumes of dirt kick up into my camera lens. At first I am hesitant to take pictures even though Donald assured us it is okay. Smart phones outstretched, friends and family of the dancers weave their way between our low wooden benches. I grow braver with my borrowed Canon — trying to capture the men as they fly.
Drummers in synthetic leopard print shirts beat against skin covered drums, tapping their bare feet into dry dirt. Men and boys leap and land seat first, bracing their falls on ready hands. I swing between guilt and awe. Sefapane is sponsoring the cultural tour — likely the troupe's main source of income. Nonetheless, I'm angry that these traditional dances are performed for my entertainment. My program is pouring money into lodges and accommodations so that I can see wild animals on land taken from their ancestors.
When the show ends, a shallow woven basket appears and we all go back to the safari vehicles to grab our wallets. I contribute R20, a little over a dollar. We wave goodbye to the children and performers and climb back into the trucks, where our two guides are smiling — we are going to visit the spiritual healer.
"Normally when you visit the healer you take off your shoes, but you guys can just go in," Houston, the other Sefapane ranger announces. Half of the group nods and walks into the herb scented den while the rest of us bend to the side and pry off our hiking boots and walking shoes.
We crowd onto the shiny paved floor, some sit on straw mats and others stand in the back, journals, recorders and cameras in hand. The back of the room is lined with jars and bottles — none containing the original ingredients inscribed on the packaging. The healer sits in a plastic green chair with a towel draped across the back and patiently waits for Houston to translate our questions.
"Can you ask her what she thinks of us?" someone asks. I wait nervously, pen ready to record her response. She talks for a while — words none of us visitors can understand. Finally, Houston nods, "She is saying that you are the same. You find a black person who comes in, then when his ancestors come out, you'd be surprised that the person speaking will be talking English."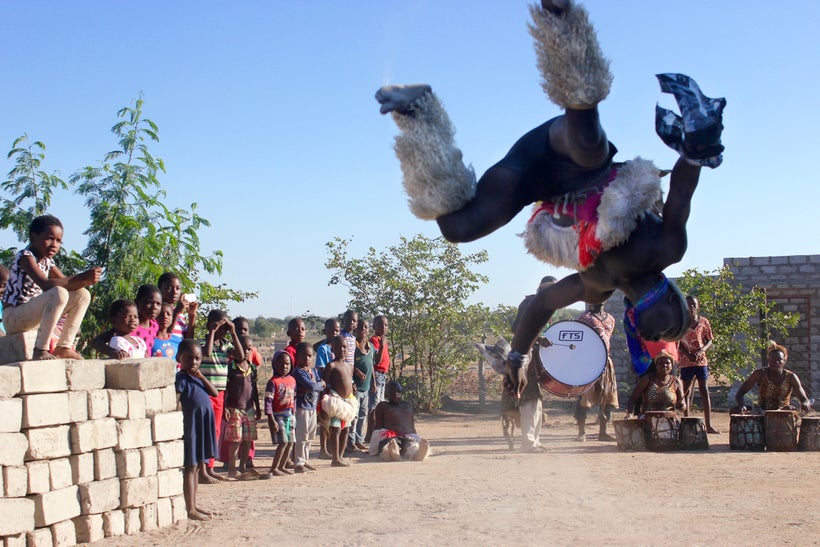 V.
"We didn't take the land from anyone, we bought it," John Job the owner of Siyafunda lodge tells us before lunch after our morning game drive. "No one lived on this land until 1850. So if you tell me you're black and your great great great grandfather owned this land, I won't believe you." He also explains that he is a partner of the Makalali Private Game Reserve — a recently government recognized Nature Reserve that spans twenty-five square kilometers and has seven owners — one being black South African.
I feel special, meeting the wealthy land owner after only staying three nights on his property. John Job is a self proclaimed former entrepreneur who, according to Ross Kettles, the Makalali game warden "was a very successful business man …[who] sees [his contribution to Makalali] as giving back because he worked for a big timber company and a big chemical company." He is tall and thick — one of those white men who make my heart instinctually beat faster out of self defense.
While on a wild bush walk I see Job's private lodge — a wooden mansion on stilts and stones, spanning the width of its adjacent manmade watering hole. Bush is cleared across the water so that animals can be spotted from a distance — a move that, our ranger informs us, will likely cause erosion. Meanwhile, graceful decade old trees are rung with rocks and branches in a feeble attempt to prevent bored elephants from ramming them down.
John Jobs also tells us that the two majestic male lions I witnessed eating a giraffe on my first day in Seyafunda will soon be shot by trophy hunters. "In a competitive environment, they would have been chased off or beaten up by their superiors," he says. "To put it crudely they are copulating with their granddaughters. So there's a genetic problem as well…With the fence around us we have to manage what's inside."
Days before departing Makalali for Kruger, Ross Kettles lets us know that the whole property used to be cattle farms before he arrived 22 years ago to help set up electric fences.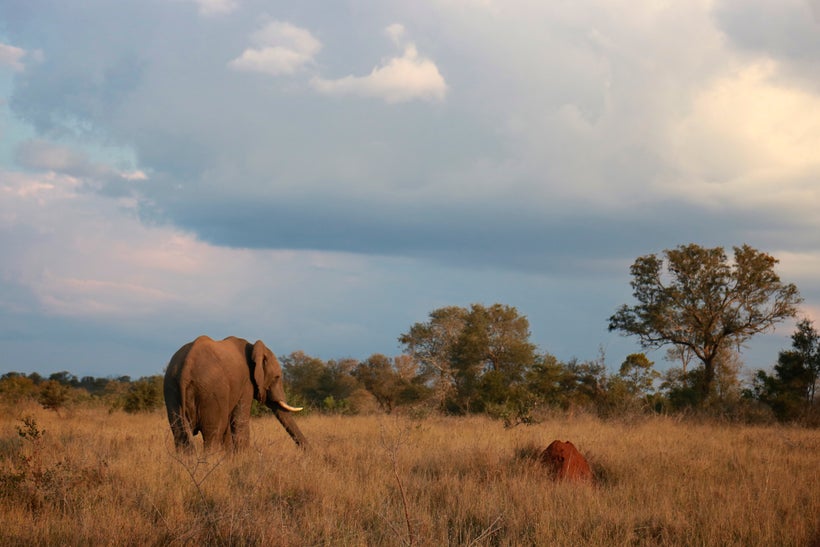 VI.
"Hi," I say softly, unsure if I want to engage the man sitting on the wooden railing between his rondavel and mine or just politely walk past.
"Hi," he returns with warmth.
"Hi," I say again as his child zooms past with a stuffed toy monkey. The boy and the man look similar, both dark with buzzed hair and friendly faces. The man wears athletic shorts, sandals and a t-shirt. He looks like a once athletic youth aged into a slightly more rounded father. I learn his name, Cedric Raganya. He is finishing his certificate in Nature Conservation at the University of South Africa and works with the South African Department of Environment. Every year his family visits Kruger from their hometown near Johannesburg.
Raganya tells me that "Paul Kruger saw the onslaught of a lot of wildlife" and "realized that [wildlife] will be depleted and future generations may not be able to see these things." He gestures to his son who bounces on the railing, monkey in lap. "Most of the farms were donated by white people… but these areas were areas that a lot of black people or indigenous people were living in." I nod looking past Raganya at the Pretoriuskop campground. In the distance I can see the restrooms.
He continues, "they colonized the Kruger in creating that national park." I don't know what to say, so I scribble in my notebook and make an "mmm" noise to assure him that I agree. "You go to the other areas, Kenya, Congo, there is no fence, people live side by side with these animals. They still manage the conflict between people and animals." My scribbling stops. In nearly three weeks in South Africa this was the first time I ever considered how other parts of Africa managed wildlife.
Raganya keeps talking and I begin to feel like a vessel. I think he has been waiting to drop his collected wisdom on an interested body. He believes that closed reserves are "already a norm in South Africa." He tells me that "the fence thing it is something that is already there and there is nothing we can do." It is the first time that fences are so clearly described to me as not a problem, but instead the problem — isolating both animals and people.
"There is an outcry amongst black people to get their land back, but the manner in which they are going to use it is another story, maybe they just want to build houses there." Raganya chuckles as I struggle to laugh along too. A car pulls into the parking lot behind me. The son looks up from his monkey and squeals, "My cousins!" He runs up to join two identical looking boys dragging children suitcases.
We both look at the boys. "Also the indigenous knowledge…most of them they don't know," Raganya says, nodding toward the youth. "Now the focus is technology, technology, technology. But white people are learning all these things that we used to know as indigenous knowledge because they know it is money, tourists are coming. They'll take you on a game drive."
Raganya struggles to find the right words. "There is a saying in an African language," he finally says. "A medicine for a black person is a white man." I laugh uncomfortably and ask him what he thinks it means.
Again, he pauses. "It's only white people that can manage black people, it's very ironic… On our own we cannot manage ourselves." My throat closes. I am confused. I wait for him to continue.
"I think it is a mental doctrine that has been there for ages…Slowly but surely black people are getting into [conservation], but it is colonized."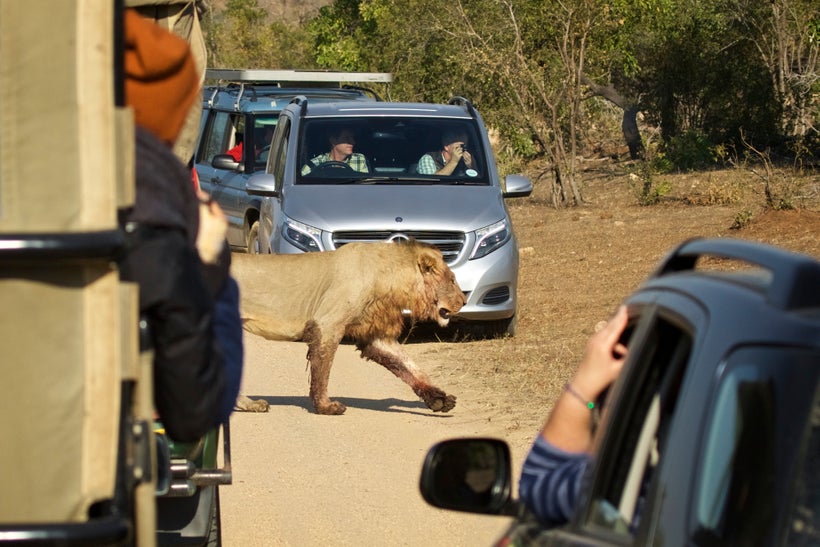 VIII.
I feel like an accomplished explorer even though I only succeeded in walking across Pretoriuskop camp to the gated entrance of the pool. In front of the fence a sign reads, "The Human Watering Hole: built in 1954, the first and only swimming pool in the park for many years. It was donated by the Rembrandt Tobacco Corporation." Underneath the explanation is the Afrikaans translation.
A couple of Afrikaners walk by without stopping and open the gate. When the door swings shut I reopen the latch and follow. The pool is a beautiful organic shape, just big enough for three people to awkwardly swim laps. Water slides down from a kiddie pool disguised as a rock fountain.
Just before the pool a 60 foot tall tree sprawls into the sky. Its thick limbs explode from its roots and green leaves decorate its branches. It looks like the perfect tree to climb. Beneath the tree is another sign like the one outside the fence. It reads, "An Innocent Strangler: The lowveld fig (ficus stuhlmannii) is seldom encountered as an independent tree, it's seeds are dropped by birds in the fork of host trees where they germinate and send down roots which eventually thicken until they strangle the host tree. Here is one strangling a silver cluster leaf which will eventually die."
I try to distinguish the strangler from the strangled — both trees grow from one spot in the ground. One branch appears to be a little darker. It curves out from the center of the low bark like a worm peering out of an apple. Its bark is less smooth, fewer leaves grace its branches and it bends out from the rest of the tree like a thumb next to fingers. It looks estranged, but I do not think it is dying.
My mom always told me to blossom where I am planted… but what do you do when something is planted on top of you?
In many ways South Africa's history mirrors my own — both the United States and South Africa faced long periods of racial segregation and poor treatment to people of color. Yet — luckily — my family rose out of turmoil. I could visit the South African bush as a tourist and see both sides of the fence.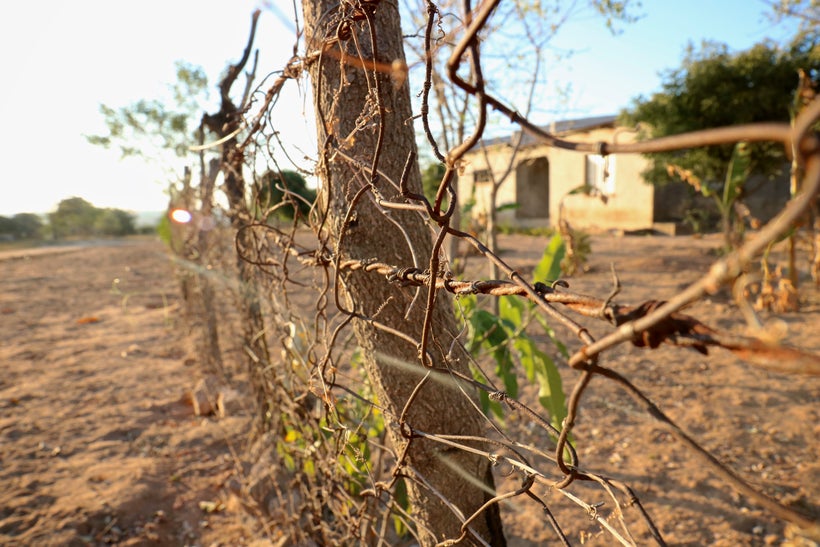 Sometimes it's hard to know if you are the strangler or the strangled.
Calling all HuffPost superfans!
Sign up for membership to become a founding member and help shape HuffPost's next chapter
This post was published on the now-closed HuffPost Contributor platform. Contributors control their own work and posted freely to our site. If you need to flag this entry as abusive,
send us an email
.