Trendy: ecological art is all the rage. But ecological art wasn't born yesterday. It didn't start with Drowning Rooms, or Rain Rooms, or Olafur Eliasson. Just ask the Green Man.
Early in the morning of June 19, 1968, on the eve of the Venice Biennale, a young Argentine artist named Nicolás García Uriburu stunned the art world by dyeing the Grand Canal bright green to protest its pollution. He was arrested by the police, but was released when he demonstrated that the fluorescein he had used was not toxic. From Venice, Uriburu toured the world's great cities and its polluted waterways, coloring the East River in New York, the Seine in Paris, the Riachuelo in Buenos Aires. In Germany, Joseph Beuys joined him in coloring the Rhine. In London, he was fined £25 for "offending the British Empire" when he colored the fountains of Trafalgar Square.
It might have been expected that Uriburu's colorations would have triggered the creation of an environmental art movement, adding a visual wing to the environmental movement that had arisen after Rachel Carson's Silent Spring (1962). But evidently other artists were not interested in ecology: ironically, an art movement that did begin in the late '60s was Earth Art, which tended to damage the environment. According to Klaus Biesenbach, of MoMA PS1, it wasn't until Hurricane Sandy flooded New York galleries that the art world became aware of the environment. Better late than never. But the rest of the art world has some catching up to do -- the Green Man has been making innovative environmental art for 45 years.
Today, at the age of 76, the innovator of ecological art lives in Buenos Aires, where he continues to make art defending the ecology of South America. On World Water Day -- March 22, 2010 -- he colored the dirty Riachuelo green, just as he had done 40 years earlier, in 1970. He knows that ecological art wasn't born yesterday. As he told The New York Times in 1992, "Every time I color water, it's a baptism for me. It's a rite of water purification, to make everyone think about defending rivers and oceans."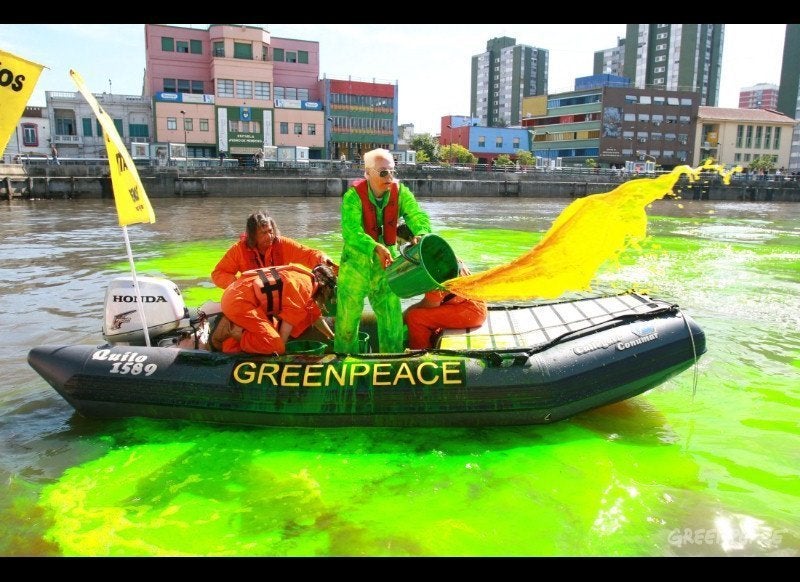 Nicolas Garcia Uriburu's Ecological Art [Some Graphic Images]
Related
Popular in the Community