Next Tuesday, it will have been one year since the monstrous Hurricane Sandy struck the East Coast, killing 117 people in the U.S., destroying thousands of homes and wreaking $65 billion in damage. And while this year's hurricane season has been thankfully quiet so far, it does have some now questioning global warming's role in all of this; that is, whether climate change will actually increase, or decrease, the likelihood of Superstorm Sandy-type storms.
I say forget all that. Now would be a good time to revisit a recent study led by Katie Arkema at Stanford and co-authored by Peter Kareiva, provocative chief scientist for The Nature Conservancy (read his essay on how conservationists need to change their tune, here), that highlights the real problem when it comes to hurricanes: our coastline, increasingly being made more vulnerable to any tropical storm, thanks to sea level rise and habitat loss.
According to the study, 16 percent of U.S coastline -- home to 1.3 million people and $300 billion in residential property -- can now be qualified as "high-hazard." But this number will increase anywhere from 30 to 60 percent by the end of the century, depending on the level of sea rise as a result of climate change -- putting an additional 1.7 to 2.1 million people at risk, along with $400 to $500 billion in residential property. Loss of protective natural habitat like sand dunes and coral reefs compounds the risk even further, most especially for poor families and the elderly.
In the world as it could be, we would be doing everything in our power to protect that coastline (preserving natural habitat being more effective than any solution we could engineer, the study says) so that we wouldn't have to face a Hurricane Sandy scenario every season. But reality check time: We're already losing habitat worldwide at an alarming rate. Federal disaster relief costs have risen astronomically in the past three decades. We are going to have to find an efficient way to deal with the aftermath of these storms.
Enter Veterans Green Bus. Started by Gordon Soderberg, a U.S. Navy veteran with over 30 years of disaster response experience, his Crown Coach conversion can run 3,500 miles on a single fill-up of biodiesel or waste veggie oil (WVO, not to be confused with EVOO) and is equipped with solar windows that power its refrigeration. In the works: A satellite internet system that can run through the evening via solar-charged batteries.
Conceived by Soderberg while serving as a volunteer post-Hurricane Katrina (he built a small-scale biodiesel plant there to run equipment to keep lots cleared), the bus was purchased in 2010 and deployed for the first time during Hurricane Sandy at the behest of veterans service organization Team Rubicon, for which Soderberg served as a volunteer.
For the response to Sandy, the Green Bus (lovingly nicknamed Large Marge) transported volunteers to Rockaway Beach, Queens from Detroit and Chicago, as well as delivered much-needed tool donations from Home Depot. And while the bus may have appeared stripped down, the work inside was high-tech. In Rockaway, volunteer veterans used military grade geo-mapping and analysis software to assess Sandy's damage and keep track of the relief efforts.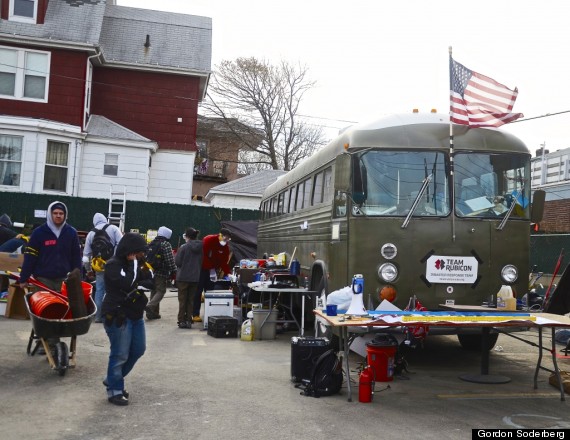 Soderberg and the Green Bus also worked alongside FEMA, the Red Cross, and other government aid and nonprofit agencies, powering communication equipment and serving as office space for logistical staff -- most notably hosting former President Clinton for a briefing.
Those bigger organizations, however, seem to have missed out on something obvious to Soderberg: That a huge portion of any organization's disaster relief budget is spent (nay, wasted) on fuel. Fuel to transport volunteers to the disaster site and truck in supplies, fuel to run Bobcats to clear debris, fuel to run the generators. With diesel fuel close to $4 a gallon, those costs add up pretty quickly. "In the 30 years I've done disaster relief, I've never seen a fuel company donate fuel," Soderberg quips.
Converting vehicles to run on WVO may seem quaint in an era of hybrid and electric vehicles, but electricity isn't usually readily available in the aftermath of a disaster like Sandy. Neither is conventional fuel. After Sandy, dry pumps left volunteers waiting hours for a fill-up at one of New York City's few working gas stations. Using a fuel source that's free, abundant and located close to relief workers -- like used cooking oil from local restaurants happy to contribute to relief efforts -- just makes sense.
In the future, one imagines a whole fleet of these high-tech sustainable response vehicles on hand to deploy to any natural disaster. But first, Soderberg needs your help. He's trying to secure a permanent home for the Green Bus in Detroit, in a shuttered fire station now up for auction. There, the plan is to convert the building to house more disaster response vehicles, as well as the veterans who are going through the organization's training program. You can send Soderberg a donation here.
Got a great idea for my next Innovation Earth column? Send tips, thoughts and suggestions to jennifer@jennifergrayson.com.
Related