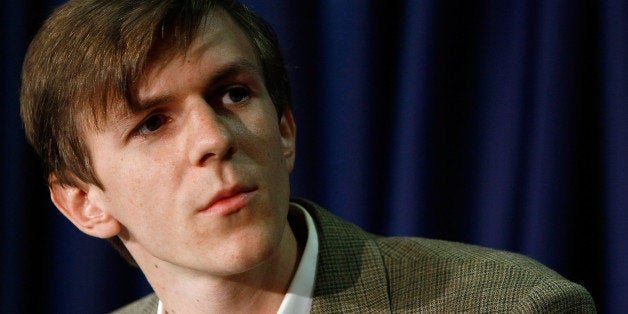 Here's a dose of irony for you: For the past several weeks, I've been working on a story about how cleaner technologies might revolutionize the hydraulic fracturing industry. (Hydraulic fracturing, or fracking, is the controversial method of drilling and injecting fluid into rock underground at high pressure in order to force out the natural gas or oil within.) From an innovation standpoint, fracking is a do-or-die proposition: The evidence is high that the process is polluting groundwater and sickening Americans.
And then yesterday, someone decided he had a brilliant solution to offer the world: target Hollywood environmentalists working on an anti-fracking film and mire them in the controversy of an undercover video sting.
In case you haven't heard, that someone is James O'Keefe, the conservative activist who has been revealed to have used trickery, staged meetings and hidden cameras to tear down his liberal targets. In 2011, O'Keefe's video targeting NPR led to the resignation of its CEO, Vivian Schiller.
And in his latest video, released yesterday at the Cannes Film Festival, O'Keefe claims he caught enviro-documentary filmmakers Josh and Rebecca Tickell (of the Sundance Award-winning film Fuel) agreeing to fund their new anti-fracking film with oil money. Actors/environmentalists Ed Begley Jr. and Mariel Hemingway, who lent their support to the Tickells at the meeting (upon request by the phony funder), are also in the video.
"In the video... actors Ed Begley Jr. and Mariel Hemingway are duped by a man named 'Muhammad,' who is looking to make an anti-fracking movie while hiding that its funding is coming from Middle Eastern oil interests.

Muhammad, accompanied by a man pretending to be an ad executive, seemingly has the two actors agreeing to participate in the scheme, even after he acknowledges that his goal is to keep America from becoming energy independent. The meeting, which appears to have been secretly recorded, took place a few months ago at the Beverly Hills Hotel.

But the real target of the sting operation appears to be Josh and Rebecca Tickell, a husband and wife team known for their environmental movies, such as 2008's Fuel, which won an award at Sundance and was later screened at the White House for members of President Obama's administration.

The video also includes some audio from phone conversations between the fake Muhammad's representatives and the Tickells. 'We're confident that we can keep this zip-locked. You know, tight. Tight. Air-tight forever,' Josh Tickell is heard saying. 'If we don't protect who is kind of funding this thing... if we have to disclose that or that becomes a necessary part of it, the whole enterprise will not work.'"
After watching the O'Keefe video, which appears to be heavily edited (you can watch for yourself here), I spoke with a distraught Rebecca Tickell on Tuesday night via phone (disclosure: I have personally known the Tickells for years). She had this to say:
"Our memory of all of these conversations was very different from how the video comes across. We would never make a pro-Middle Eastern oil film. I mean, we've done three tours across the country, we've made three films about the impacts of Middle Eastern oil. So we would never give creative control to quote unquote 'Mohammed.' It was always a way to take this money and do something really important with it."
As for O'Keefe's motivation for making the original video, he told THR that "We've suspected one of Hollywood's motives was to destroy energy independence. We wanted to know who else was funding them and how Hollywood might be covering up the source of these funds."
I'm not here to defend the Tickells' decision that had "Muhammad's" offer been real, they would have considered using oil money to fund an anti-fracking film, as well as keep that information a secret. On one hand, I can understand the Tickells' rationale, which Josh Tickell stated in a response video he and his wife released yesterday along with an IndieGoGo crowdfunding campaign to help complete their movie, Fracked.
"It was understood that the investor would have no control over the content of the film and that we the directors would have final cut," says Tickell. "We thought to ourselves: Oh, the irony. We'll use the funding from an oil company to make a film that promotes green energy."
I do wonder, though, if the money would have hurt the message, had the deal been real and had the information somehow been leaked. After all, Matt Damon's 2012 film on fracking, Promised Land, drew flack for being partially financed by OPEC member United Arab Emirates' state-owned media company.
But as for O'Keefe's claim that the Tickells are somehow out to destroy energy independence? I personally have a difficult time believing that. Josh Tickell once drove across the United States for two years in a fast food fryer oil-fueled "Veggie Van" to mobilize the American public around alternative fuels.
More than anything, though, my feeling about this whole debacle is just a giant sigh. Hemingway and Begley are devoted environmentalists; the Tickells are filmmakers who have dedicated most of their adult lives to promoting clean energy. Does a petty and possibly illegal scheme to entrap them accomplish anything?
Ice sheets are melting, people. We need solutions for, not distraction from, the monumental challenges of our time: a warming planet, rampant pollution, finding food and clean energy for seven billion people and counting. Let's get away from this "gotcha" culture and get to work.
REAL LIFE. REAL NEWS. REAL VOICES.
Help us tell more of the stories that matter from voices that too often remain unheard.