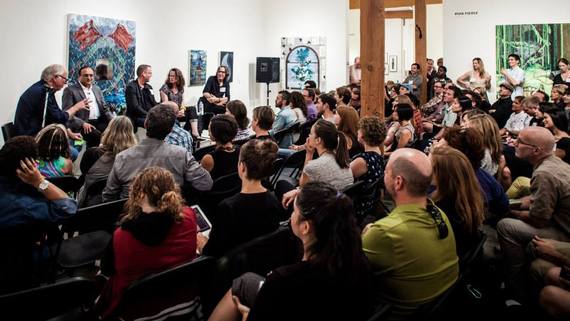 "I only came for the sushi," joked the dapper young man in the plaid shirt, popping a roll into his mouth. His friend turned his gaze away from the paintings on display at Portland's Elizabeth Leach Gallery and said, "He's lying. He's got 'innovate' tattooed on his arm."
That turned out to be a lie, too. But just because he didn't ink it doesn't mean he doesn't believe in it. The two friends were part of the hundred-odd designers, students, leaders, and entrepreneurs who attended a panel discussion on innovation hosted by Liquid Agency in Portland, Oregon.

What drives innovation? What stops it in its tracks? As part of Design Week Portland, a multidisciplinary exploration of the process, craft, and practice of design, I got to pose those questions to four business innovators: Jeff Faulkner, Creative Director for Analog at Microsoft; Micheael Shea, former creative director at Nike's Innovation Kitchen and cofounder of School+Jackson; Mohan Nair, Chief Innovation Officer at Cambia Health Solutions; and Genevieve Bell, Intel Vice President & Fellow.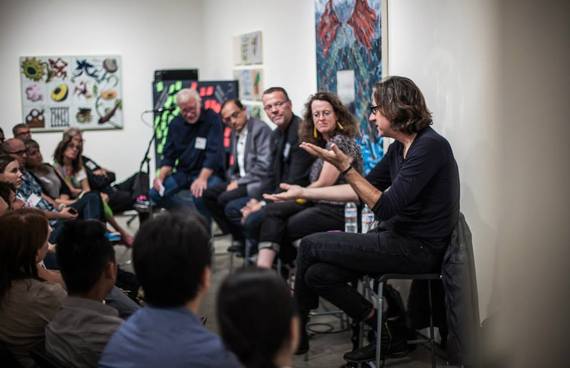 The discussion was a heady one. Instead of focusing on the practicalities and modes of encouraging innovation, the panelists dove into dissecting the concept itself.
I suggested that an innovation is any invention that makes the world change around it. Mohan, too, invoked the idea of transformation: "it transforms the persons I seek to transform, and it also transforms me."
Michael noted the importance of execution. "If you can't put it out there, nothing's going to happen," he reminded the room. "You have to execute on creative insights." In other words, you can be as creative as you want to be and still not be innovative if you don't get your product to market.
Genevieve Bell pointed out that innovation doesn't always change things for the better. "The 20th century is littered with innovations that changed our lives that aren't necessarily good." She, for one, does not want an internet-connected toothbrush.
The Internet of Things became a bit of a punching bag for these tech-savvy thinkers. "Is it cool to get in an accident because you're turning off your washing machine at a stop light?" Michael asked, while Jeff wondered what exactly Facebook and its ilk are "doing to us."
The consensus, rather quickly reached, was that true innovation must aim for a larger societal good. Technological progress for the sake of technological progress was just more "noise," Jeff suggested. Mohan argued that we "should be worried about the health of our country and our world" broadly--and, mores specifically, things like cost of health care and education.
Taking it a step farther, one could argue that narrowly defined goals like shareholder value are damaging to society, since they tend to encourage irresponsibility in the name of a single group, causing other groups and future generations to pay for collateral damage.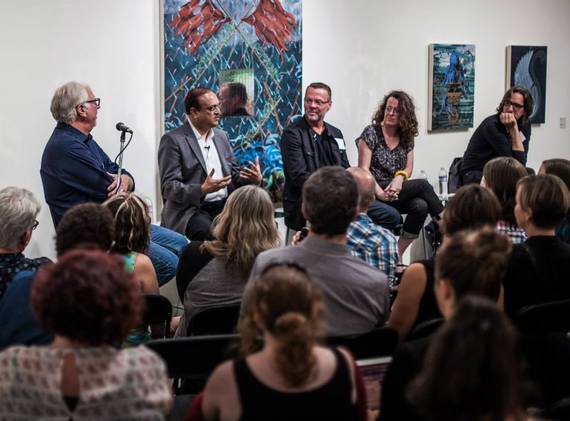 It's a powerful thought. What if we put our energies toward creating broad-based, long-term value instead of mere shareholder value or corporate profits? What if we picked higher goals, as Mohan urged: "Aim for things you think you cannot reach and that will transform you"?

We still need a community of thinkers and makers and designers and funders who will spur innovation onwards, whether it's an internet-connected gadget that improves our morning routines or a novel way to produce clean energy. As Michael reminded the room, "It's not a matter of 'if there's a will, there's a way.' You need a way... You need partners, teammates, experts.... You also need resources. And resources don't always mean cash. It means thought leaders, for example, and the alchemy of your team."

I think we provided a little alchemy of innovation that night. Not to mention free sushi.
Support HuffPost
The Stakes Have Never Been Higher
Related
Popular in the Community