The program was created to raise awareness of the value of integrating the arts, including media arts, into STEM curricula and to highlight existing K-12 public schools across the country that have developed successful, measurable and replicable STEAM programs which could serve as national models. The innOVATION STEAM Grant Awards Program represents the first funding program of its kind for STEAM education.
The award recipients, were:
• BOSTON ARTS ACADEMY Boston, MA

• DAYTON REGIONAL STEM SCHOOL Kettering, OH

• HIGH TECH HIGH MEDIA ARTS San Diego, CA

• HIGHLAND PARK MIDDLE SCHOOL Beaverton, OR

• KENNEDY ELEMENTARY SCHOOL Janesville, WI

• NATIONAL INVENTORS HALL OF FAME CENTER FOR STEM LEARNING Akron, OH

• QUATAMA ELEMENTARY SCHOOL Hillsboro, OR

• RENAISSANCE ARTS ACADEMY Los Angeles, CA

The Ovation Foundation's panel of experts found that the highest-ranking schools, listed above, shared some similarities, or best practices. The panel found that high-quality STEAM education:
• Incorporates the expertise of both STEM and arts educators to create an authentic interdisciplinary experience for students: co-teaching model / co-planning is strong & replicable;
• Is thoroughly planned, including the identification of state or national standards in each subject area, balancing standards offered from each subject equally;
• Borrows from scientific method, the iterative artistic and creative processes, and artistic production and exhibition as critical milestones in the experience;
• Has the buy-in of school administrators;
• Leverages local artists, artisans, scientists, area nonprofits and other experts, as appropriate;
• Is well-documented through photography, lesson plans and other means, as a method of advocacy and to ensure partnership longevity for STEAM as a new instructional method;
• Has a tangible outcome, such as an artistic product, scientific experiment, architectural or design specs or other artifacts;
• Allows students to direct their own learning through experimentation, positioning teachers as guides and personalizing learning;
• Leverages real-world connections wherever possible and highlights the nexus of career and technical education and the arts;
• Includes built-in, tailored assessments that help students and teachers understand what students have learned and what they have not;
• Includes solid, clear and well-constructed rubrics that integrate the arts.

In a foreword to a publication produced for the ceremony, Charles Segars, CEO, Ovation, Rachel Goslins, Executive Director, President's Committee on the Arts and the Humanities, and Robert Lynch, President and CEO, Americans for the Arts, said :
"The benefits of arts education have been proven time and time again by various studies and research spanning decades. From students improving their reading, writing and math skills, to preparing a 21st Century workforce, to curbing drop out rates among at-risk youth, the advantages of investing in arts education are numerous ... Taught in tandem with traditional STEM subjects, the arts build skills of creativity, improvisation and open-ended thinking that are critical to innovation."
Also attending the ceremony in Washington, D.C. were Suzanne Bonamici (D-OR) and Elise Stefanik (R-NY), co-Chairs of the Congressional STEAM Caucus. Representative Bonamici said "I am working to advance the innovative approach to education that these eight schools embody,"
The innOVATION STEAM Grant Awards aim to provide the education field with national models. We believe the moment is now for the arts to be incorporated into STEM education.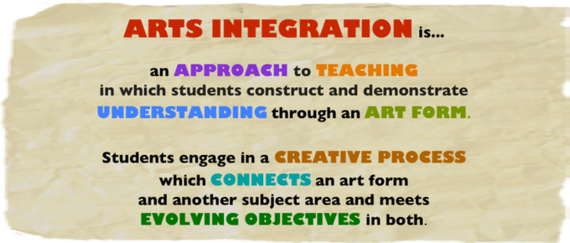 The Ovation Foundation has provided further information including a resulting publication, information about the recipients, model lesson plans, resources, and more at a site dedicated to the innovation program.
Calling all HuffPost superfans!
Sign up for membership to become a founding member and help shape HuffPost's next chapter