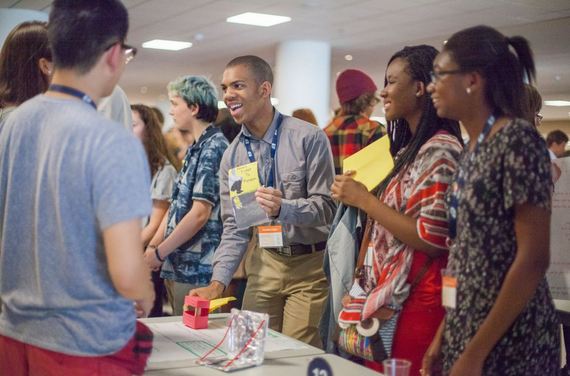 EF Summit attendees pitch their solutions to global human rights challenges at the Innovation Village
Anyone who stepped outside onto the streets of the Dutch parliamentary city of The Hague on Friday June 24th could tell that it would be no ordinary weekend. The city center was filled with enormous white tour buses and bright orange EF staff t-shirts, but most importantly, it burst with thousands of high school students from around the world who had come together to attend the EF Global Student Leaders Summit.
A multitude of languages drifted through the air, filling the streets with discussions focused on the topic of human rights, and icebreaker conversations building connections between the different states and countries represented at the conference. However, the mission of these students, including myself, was not just to foster global connections and recognize the array of human rights issues facing our world today. Our task ran much deeper than this. After hearing from the inspiring keynote speaker Ndaba Mandela that "the power to change the world lies in [our] hands," we realized that as future leaders and change-makers, our job is to generate solutions.
A daunting responsibility to undertake, the question that immediately came to mind was, "but what can I do?" In fact, in a haunting and powerful demonstration to kick off the second day of the Summit, students illuminated by spotlights rose out of the darkness of the World Forum's auditorium, asking that very question. "My grandmother grew up eating only one bowl of rice a day, while my grandfather was imprisoned in his own country just for calling for democracy," one girl cried out. "But what can I do?" "I have heard of girls around the world being raped and sold for marriage," lamented another. "But what can I do?" What could we as students not yet even enrolled in university do to solve some of the most widespread and glaring human rights issues facing our world today? Luckily, in the form of innovation sessions spread out over the course of the three-day summit, EF gave us the tools to begin to craft our own solutions, to go beyond just a discussion about human rights and make a larger impact.
The Global Student Leaders Summit innovation sessions presented small, organized groups of students with a simple goal: identify a human rights issue faced by a specific user, and design a prototype of a product or an idea that could be used to help this person. Employing the design thinking process, students read articles about individuals affected by human rights issues, created persona profiles to understand the wants and needs of their subjects, and with basic materials such as tape, markers, cardboard, and construction paper, teams had two days to create a project representing a real-life solution that would be presented to the summit participants and judges at the culminating Innovation Village. "What I enjoyed most about the innovation sessions was being able to work together with people from all around the world, focusing on an issue we are all interested in," says Sarra Mechri, a German student who attended the summit. "I was able to not only meet people and build a project we are all proud of, but I also made friends."
Teamwork did play an important role, and as my fellow students and I put our heads together, racing to find the best solution possible to our chosen human rights issue, another solution began to take shape, one that would provide answers to the very question we had asked ourselves at the beginning of the conference: "But what can I do?" Stepping out into the boundless foyer of the World Forum, which housed the highly anticipated Innovation Village on the final day of the summit, the answer seemed to gleam from every corner of the room. It turns out, we could do a lot.
We could help a working Indian woman who overcame the traditional gender roles imposed on her spread her message of empowerment to young girls around the world, representing her as a doll complete with interchangeable professional outfits, a book with information to contact real life working women with these professions, and an audio message of the woman's voice telling her own inspiring story. We could help a construction worker from Mexico finish his high school education by building a local hostel specifically geared towards educators, providing them with cheap housing and the opportunity to hold classes for workers after hours or when they would have free time. Other projects presented in the village included an app to connect local farmers with residents in their area, making it easier to find and sell food in rural, impoverished areas, and these are only some of the hundreds of solutions generated in just three days.

Out of all of these innovative solutions, the judges could only pick one winner, but for the first time in summit history, there was a tie. Fitting with Mandela's message that "education is the key tool in being able to change the world," both projects attempted to help a refugee prosper in his new country by providing him with access to a classroom-like environment. "Sixty-five million people are displaced in the world today, without access to the education they deserve," says Anne Staff, a member of one of the winning groups.
In order to provide this basic human right to people in refugee camps, the first group designed an organization called Educators Without Borders. Similar to Doctors Without Borders, it would send teachers to refugee camps around the world, giving millions of people access to higher education in their new countries. The program would also provide educators with global knowledge and foster deep teacher-student connections, so that the educators may return to their communities and share their understanding of the refugees' situations.
Keeping the same issue in mind, the second group outlined a refugee care package program called Education 2 Go, which involves sending boxes with pencils, notebooks, and a solar-powered tablet that stores different types of textbooks to refugee camps. The boxes are customizable, providing refugees of any age or level with an education specific to their needs, and by allowing supporters to sponsor a box and learn about the refugee who will be receiving it, the program will establish human connections across the globe. "Throughout the summit, we learned that education is the right that allows for the freedom of all other rights," says Anne, about the incentive behind her project. "Our hope is that the Education 2 Go box will help these refugees by giving them the opportunity to continue learning on their way."
The initiative of Anne and her team to take what they have learned about human rights from the summit and use it as inspiration for change truly embodies the spirit of the Global Students Leaders Summit Innovation Village, and the winning projects, along with all the others presented at the village, showcase the unique characteristics of our generation when it comes to large-scale problem solving. Not only do we recognize issues pertaining to individuals from different backgrounds and cultures other than our own, but our solutions are designed to link people from different countries and establish a sense of community across borders, creating a network of global citizens that recognize the importance of an interconnected world. Additionally, our incorporation of things like social networking, virtual textbooks, and solar power into our solutions shows how much further we are able to reach for solutions when we live in an age with so much technology at our fingertips.
The solutions showcased at the Innovation Village have truly brought to light a generation of young thinkers who, using the technology, knowledge, and global mentality put in their reach, have the power to speak out rather than just observe, to do rather than just dream. Ndaba Mandela told us that once we "understand the power and potential we have, nothing can stop us from achieving our dream."
The Innovation Village unearthed the immense power and potential that we students hold in our hands: the power to go beyond the question, "but what can I do," and start realizing that when it comes to human rights, social justice, or any other global issue, we have the ability to bring about change. It is up to us now, as future community, country, and world leaders, to strive for the impact we know we can make, to put our dreams into action and carry out the innovative solutions that will brighten the future of people around the globe.
Samie Freedman is a student at EF Academy in Thornwood, New York
This post is part of a series produced by The Huffington Post and EF Educational Tours about the recent EF Global Student Leaders Summit, which explored human rights in the Netherlands. The Summit Series combines educational travel with a two-day leadership conference, and asks students to tackle global challenges in places where those challenges are notably present or well-addressed. To view all posts in the series, visit here.
REAL LIFE. REAL NEWS. REAL VOICES.
Help us tell more of the stories that matter from voices that too often remain unheard.