Each year, nearly 50,000 new products are introduced into the marketplace. With so many new products hitting the store shelves, not only do consumers face an overwhelming number of choices when making everyday household purchases, but brands also face greater challenges in making sure their products stand out against a rising sea of competition.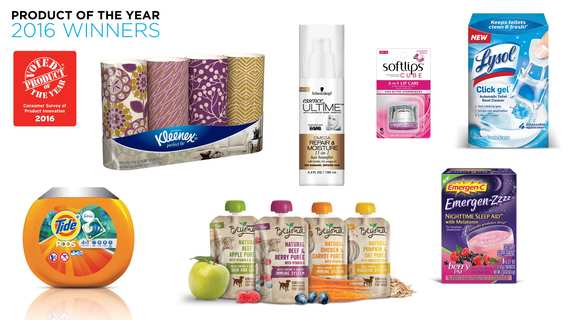 "Innovation" is not only one of the most popular buzzwords among companies, but it is also becoming a top business priority among Consumer Packaged Goods (CPG) manufacturers as they look to achieve both short and long term advantage over the competition and win consumers.
Change is the only constant in today's marketplace, and consumers are growing more accustomed to a breakneck pace of change. Innovation becomes the driving strategy among companies focusing change that is unique, relevant and exciting.
Effective Innovation Need Not Require Huge Changes
First, the 2016 Product of the Year Award winners debunk the myth that a brand can only innovate through a complete product overhaul or by introducing the next iPad. Rather, product innovation can be as simple as changing one element of, or introducing a new attribute to, an existing product.
From home products to pet food and even personal electronics, a key driver behind this year's newest product innovations is increasing consumer convenience through a design tweak of an existing product rather than introducing a totally new product.
The 2016 Product of the Year winners have shown major innovation in package design. In this way, brands have been thinking beyond the box, with packaging now serving as an integral component of the product in many cases.
For example, while parents have become familiar with pouches for baby food, Nestle Purina PetCare has introduced the pouch to the pet food market with the launch of the new Beyond Purees. With just the squeeze of a pouch, pet owners are able to deliver extra nutrients to a dog's dry meals, without the hassle of opening a can.
In the beauty space, the new Softlips Cube not only provides antioxidant vitamins A, C, and E, plus SPF 15, but its package has also been reimagined with a sleek glass-like cube, combining multi-functionality and aesthetic appeal.
Perhaps one of the biggest packaging innovations this year is from the Kleenex brand. We have seen tissues in rectangular boxes and even small pouches for years, but now Kleenex has revolutionized the way that consumers can use and store their tissues. The new Kleenex Perfect Fit* Facial Tissues have been reimagined with a cylindrical box that fits perfectly into the cup-holder of a car. Not only does this new package design utilize vertical space rather than surface area, but the product also comes in a variety of design options, thereby offering consumers a greater choice in store.
Product Innovation for Consumer Products

Innovations in a brand's core product(s) are also being achieved through the introduction of multi-functionality and improved efficiency in the CPG space. 2016 Product of the Year winners include cross-category multi-tasking products designed to improve value to customers through greater performance and time savings, led by the beauty category. For example, the Schwarzkopf essence Ultime Omega Repair 11-IN-1 Leave-In softens and smooths hair, while also preventing split ends.

The concept of all-in-one is not exclusive to the beauty industry, however. Launched by the team behind Emergen-C, the new Emergen-Zzzz helps users fall asleep naturally while also serving as supplement for necessary vitamins and minerals like vitamins C and D, zinc, and manganese.

This approach has extended to some of the most trusted names in household cleaning products as well. For example, the new Lysol Click Gel cleans toilets immediately with each flush. The new press and click application addresses convenience and enables the consumer to accomplish everyday chores more quickly.
Change is a Delicate Balance
A key takeaway from the innovations seen this year is that brands understand it is critical to innovate but not alienate, and that innovation is an evolution, not a revolution. It is, therefore, extremely important to weigh the fact that consumers constantly crave something new, against the fact that consumers can be creatures of habit. As an example, while laundry pacs have saved users time since their introduction, the new Tide PODS Plus Febreze are utilizing a 4-in-1 technology that combines detergent, stain remover, brightener, and long-lasting freshness for laundry. This combination brings an innovation that saves both time and money, while still delivering the benefits of Tide that consumers have come to rely on.

What we've seen consistently in all of the 2016 Product of the Year winners are successful brands that are able to address the delicate balance of taking what consumers love about a product and a brand, and evolve incrementally from there. This is a development path that places consumer trust as the foundation to build and grow. With that in mind, consumer trust is the equity bedrock that gives brands permission to make innovation a core strategy designed to excite and delight its consumers.
Popular in the Community