When we think of the subscription business model, we think Neflix, and how easy it is to gain access to tons of movies, especially the latest and the greatest, at an unbeatable price.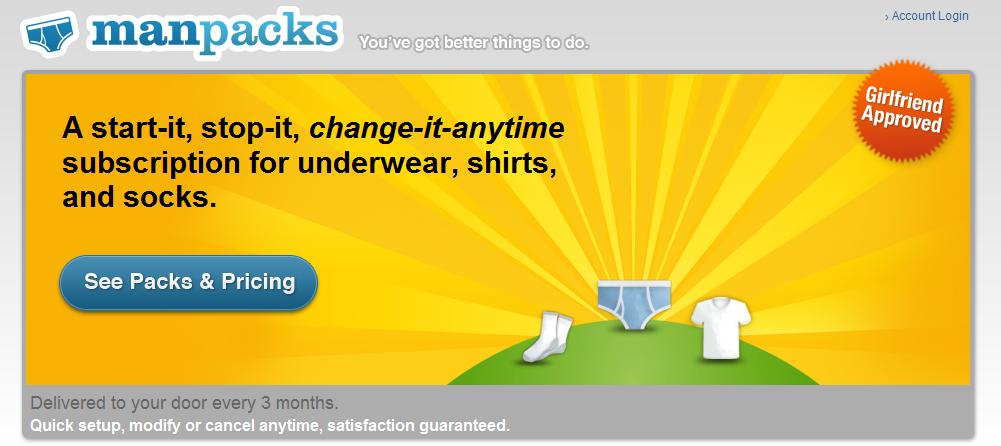 Today, we present, ManPacks, a new way for men to get the undies they need, when they need it.
You subscribe to their service and get new socks, shirts and underwear every quarter, so as your older articles of clothing start staining, getting holes, disappearing in the laundry, or god-knows-what, you get your new set of under-clothing in the mail.
This service is more for the guy that doesn't want to bother with the small details in life. You can simplify your life by not having to shop at Target or Walmart when you need underwear because ManPacks works with you to fulfill your underwear needs, since they check in every quarter before they ship your order out to see what your needs might be for your underwear drawer.
Many people are saying that this business is laughable because it seems like it is best suited for the super lazy male, but it definitely has legs because simplicity is something we crave, especially in today's age where men just want things done for them. ... Someone to deliver you your undies so you don't have to stand in line, embarrassed by the fact that you really love your white briefs? That's a service some guys would die for.
ManPacks isn't for the super lazy male -- although the super lazy male still might be drawn to the service. ManPacks was created to "give men (and the people who love them) more time to build empires, climb mountains, slay dragons... to achieve the goals they aspire to."
So why waste 10 minutes traveling to the store (each way), 5 minutes picking out the undies you need, and 15 minutes standing in line because you've got the new cashier who's a bit slow on the uptake, when you can be conquering kingdoms, running a marathon, or, well... sleeping?
Anything that increases your efficiency, or gives you more time in the day to sleep is good in my book.
P.S. ManPacks is girlfriend approved!
Danny Wong is an e-commerce entrepreneur, specializing in co-created custom dress shirts, making it easy for men to shop and design their own dress shirts online. Feel free to reach out if you have a business that is innovative and in the e-commerce space.