While icons like Newsweek may have stumbled in recent years, only to merge with The Daily Beast, other magazines have thrived thanks to innovative management, flexibility and a willingness to experiment with new models.
Shrinking advertising revenue, fewer pages, slashed payrolls and dropping circulations haven't deterred traditional and new titles from capitalizing on fast-paced changes in the media.
"Good news never makes for blaring news headlines, but there is an abundance of creativity in our industry as technology, out-of-the-box thinking, and old-fashioned hard work are enabling innovation that is delivering new readers, revenues and relevance to magazines around the world," wrote John Wilpers and Juan Senor, editors of Innovations in Magazines 2010 World Report.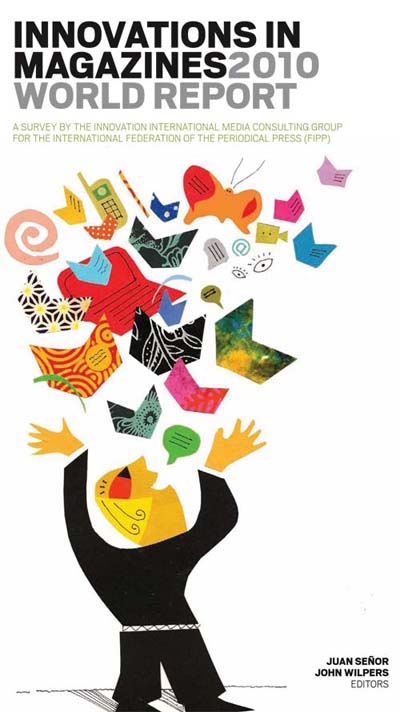 Survey cover (Innovation International)
The 99-page booklet, in its first edition, is a companion piece to the older Innovations in Newspapers surveys that cover trends in print media.
The magazine edition is chock-full of useful information -- some new, some familiar -- about an industry trying to find its balance in a wobbly landscape threatened by convergence and economic hard times.
To their credit, the authors dissected the magazine business in an easy-to-follow sequence of chapters with catchy titles like tablets, 2D tags, augmented reality, vertical branding, mobile, fusion journalism, ezines, blogazines, mooks (magazines-books) and social media, to name a few.
Despite various magazine failures, the survey starts on an upbeat note, citing the Meredith National Media Group as an example of success in a tight market where cutbacks have become the norm.
It attributed the group's survivability to a strategy blending old and new: an old- fashioned commitment to top-quality, highly focused content aimed at a clearly defined target audience and a new, integrated marketing approach, to Jack Griffin, the firm's president's relationship with his other clients, the advertisers, as well as a grounded, realistic online strategy that complements and balances the print products.
"We develop high-value content in affinity areas that represent passion groups," Griffin said of Meredith's digital strategy, adding that the group was building digital brands online in ways that allows it to connect with the organized consumer to find like-minded people, specifically in the context of one of its brands.
A chapter on the tablet explosion focuses on how this new platform offers unprecedented opportunities for magazines, noting: "When Apple's Steve Jobs announced the iPad in January (2010), the e-world changed forever."
Other mobile platforms benefiting readers and publishers are "mobizines," where magazine "apps" for cell phones are mushrooming at break-neck speed.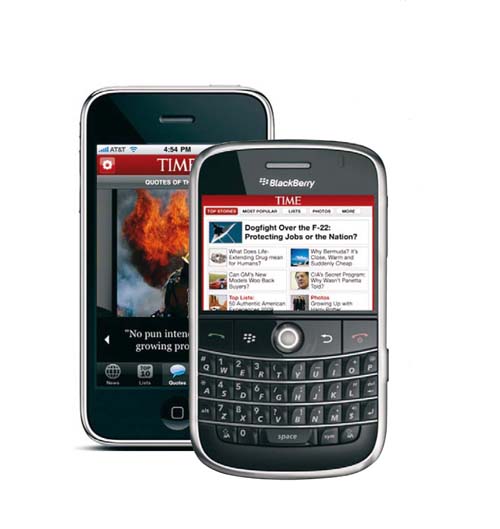 "Mobizines" for a mobile world (Innovation International)
Here's how publishers are cashing in, according to Innovations:
Beyond app sales and ad revenues, some publishers are getting creative. Magazines like Seventeen (extremely popular on the mobile front due to the time teen girls spend with their cell phones) and Runner's World have links next to each of the products they feature -- a 'buy now' and 'find near me' link. It allows mobile users to become interactive in a new way while enabling the publications to generate a completely new revenue path.
It also lists Forbes magazine's strategy for mobile business:
FORBES ON-THE-GO
For doing business on-the-go, the mobile version of Forbes.com includes a personalizeable 'My Stocks' section, and an offline function which downloads selected articles to the phone for reading without an internet connection.
Embedded video that makes pages come alive are part of magazines' innovative marketing strategies that involve readers in a very dynamic and interactive process, taking them well beyond the traditional experience of just buying a paper product and flipping through its pages.
According to the survey, this fusion of media was achieved by inserting a thin monitor (2.7 millimeters thick), a speaker, and a lithium battery directly into the pages of the magazine and could be recharged or even reprogrammed using a computer USB port to play advertising and preview messages.
Perhaps of great interest to editors, content publishers and owners is how Innovation International advises clients on how to transform their working spaces into integrated information engines.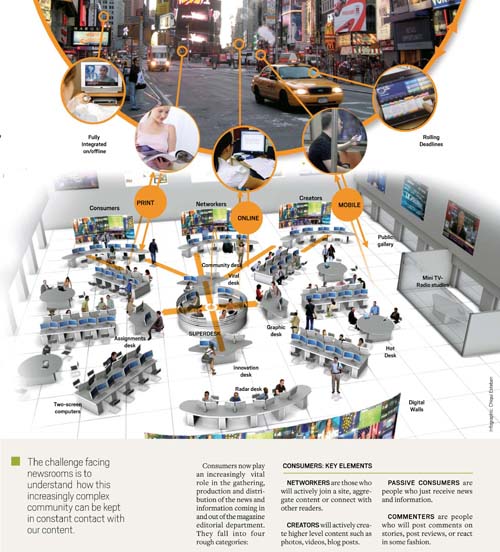 Working space (Innovation International)
It urges magazine editorial departments to think outside the box by avoiding the use of linear workflows "where all they produce is text and pictures, but embrace the full experience of interactive digital narratives by combining a fusion of text, photos, infographics, video and audio."
An interesting twist is magazines breaking an old taboo of printing ads on their covers, or under the folds and in fake covers, to generate sorely needed revenue, despite opposition from more traditional editors and publishers.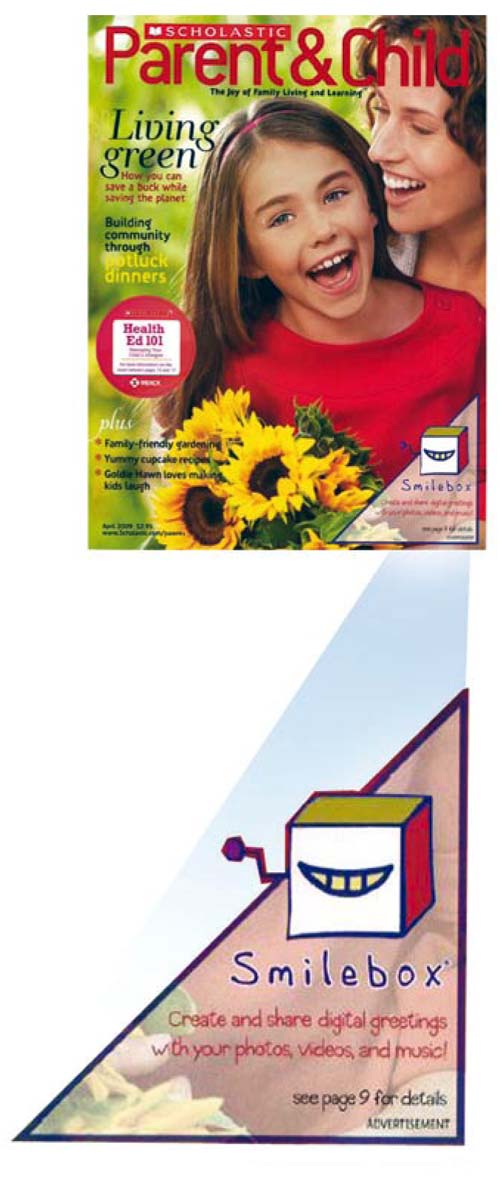 Cover ads (Innovation International)
Another catchy concept is fusion journalism described in a sidebar as such:
"READ, WATCH, LISTEN, INTERACT. FUSION JOURNALISM IN A VIRTUAL WORLD

Fusion journalism is more than a just a buzzword for print media, The concept can also be applied online. Digital magazine Flyp is "the first fully integrated multi-media publication".

When the reader enters the, site the invitation to read, watch, listen and interact seems to be no different from a myriad of other online media sites, but what sets Flyp apart is the quality of content that it offers, both above and below the fold. Clicking on what looks like a traditional magazine page layout, the reader is able to access content, which is not limited to words and pictures. For example, a piece about the release of the guitar-friendly film It Might Get Loud is enhanced by clips from the movie, information about the director and the chance to hear a signature riff. As digital media still strives for an identity, fusion journalism may be what separates the wheat from the chaff."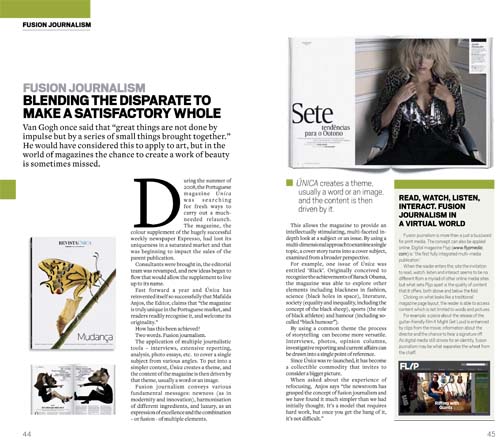 Fusion journalism (Innovation International)
The survey offers a wealth of details about magazines in North America and Europe in its maiden publication.
It would be invaluable if it also focuses on other regions of the world in subsequent editions, given the thriving magazine market in countries further afield.

Related
Popular in the Community