Newspapers aren't dead and still have much to offer - in different shapes, sizes, and via various platforms - provided they think outside the box.
Enter the "Seashell Newsroom" that interacts with readers, audiences and communities in a non-stop process where a succession of different formats and reporting styles replaces "the article" as the final output.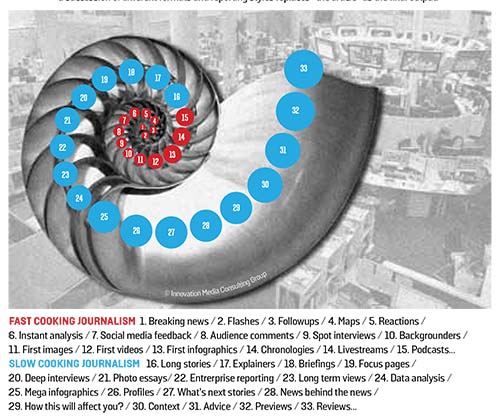 The Seashell Newsroom (courtesy Innovation International)
1. Fast cooking journalism with its breaking news, flashes, follow-ups, maps, reactions, instant analysis, social media feedback, audience comments, spot interviews, backgrounders, first images, first videos, first infographics, chronologies, livestreams, and podcasts.
2. Slow cooking journalism based on long stories, explainers, briefings, focus pages, deep interviews, photo essays, enterprise reporting, long term views, data analysis, mega infographics, profiles, what's next stories, news behind the news, how this will affect you, context, advice, previews, and reviews.
With that in mind, the best is yet to come but good newspapers must still disseminate news, vividly tell stories, rely on critical research and provide clear positions and intelligent comments by professional journalists, said Mathias Döpfner, CEO of German media giant Axel Springer AG.
"Journalism does not depend on paper as a delivery medium," he noted in the foreword to Innovations In Newspapers World Report 2013. "It is the spirit that determines the nature of matter, not the other way around."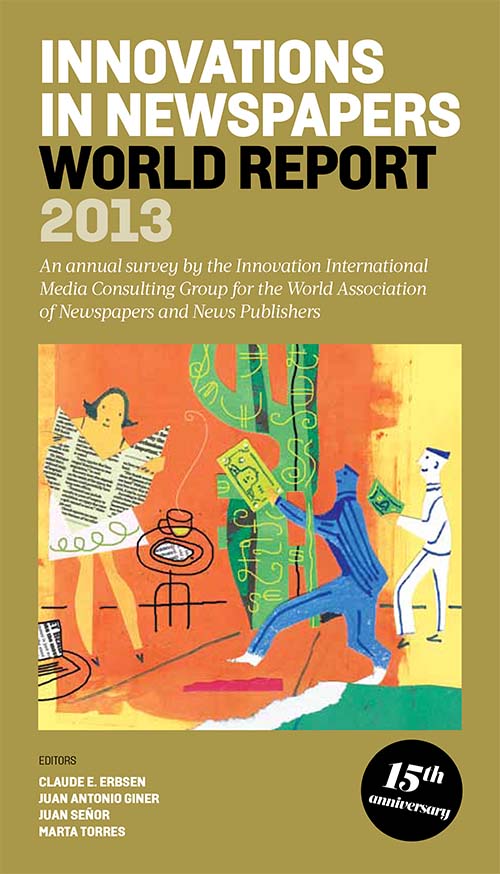 Innovations In Newspapers World Report 2013 Cover (courtesy
Innovation International)
To remain viable in the slumping print world, newspapers must turn more to innovation, synergies, integration, and apps to make up for revenue losses, he explained.
It developed an in-house app called "Snap" that mines the photo/video sharing site Instagram's postings for local user-generated content (UGC).


The Boston Globe searches Instagram for local content (courtesy
Innovation International)
Images coupled with audio clips of interviews add depth to many of the Globe's stories. But images can also be misleading.
Innovations in Newspapers cautioned against fake photos and footage in an interview with social media and UGC editor-international Fergus Bell of The Associated Press.
Bell said his news agency verifies the source and content of each item separately via a forensic deconstruction process.

The Innovations report, an annual survey produced for the World Association of Newspapers and News Publishers, also sheds light on imaginative startups, paywalls and big data journalism.
One original startup featuring investigative reports, France's Mediapart (so named to be a voice "apart"), is a subscriber-only website serving a specific niche at 9 Euros (US$ 11.78) per month.
According to the report, Mediapart rakes in 95% of its revenue from subscriptions.
The site broke the famous Bettencourt scandal that tied wealthy French tax-evading heiress Liliane Bettencourt with then President Nicolas Sarkozy who purportedly took a juicy amount from her for his re-election campaign.
Thousands of miles to the west a number of incubators have drawn major media into the funding fray in a bid to expand their strategies and diversify their revenue streams.
"One of the oddest incubators on the horizon - literally - is Blueseed, which plans to station a ship 12 nautical miles from the coast of San Francisco, in international waters," Innovations reported. "The location will allow startup entrepreneurs from anywhere in the world to start or grow their company near Silicon Valley, but without the need for a U.S. work visa."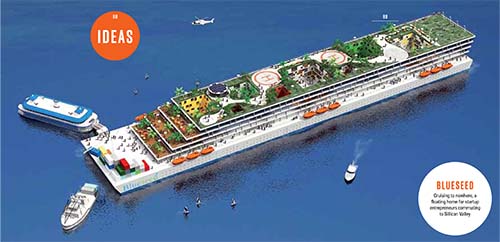 Blueseed Incubator (courtesy Innovation International)
The report highlighted an example of synergy from a broadcast medium turned multimedia provider, the venerable BBC, which it suggested could be a model for newspapers.
"It is the largest newsroom in Europe but also one of the most open, with members of the public able to enjoy a cup of coffee in the new Broadcasting House café with a view of one of the busiest news factories in the world as it churns out news across multiple platforms and channels," it said.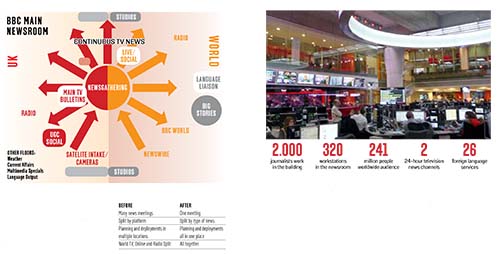 BBC Newsroom (courtesy Innovation International)
The BBC has had its share of financial woes and has suffered from operations scattered over several locales, with its domestic and international newsrooms operating separately.
The current integrated, multilingual, multimedia newsroom relies on a hub at the center of the room that coordinates all its newsgathering - staff deployments, incoming copy, video and audio - while juggling UK and world news for its two 24-hour TV news channels and 26 foreign language radio services.
Globalization and localization have become synonymous in small markets, as the report shows in its example of Costa Rica's Al Dia that serves print, online and radio audiences.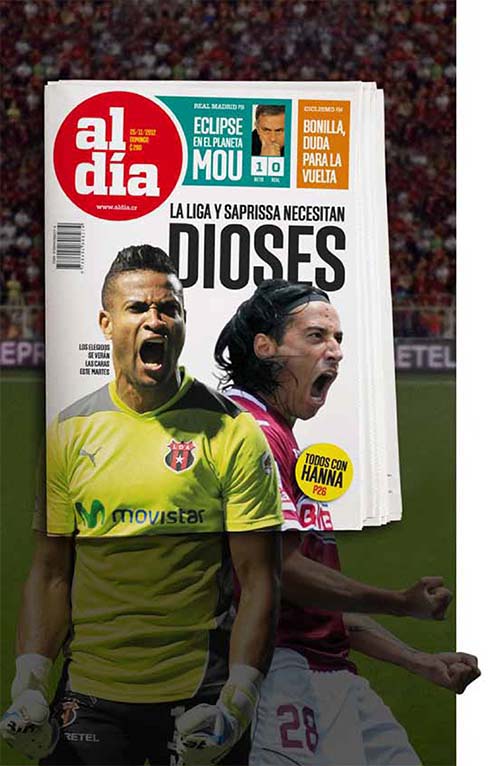 Globalized Sports Drive Growth of Local Sports Papers (courtesy
Innovation International)
How so? Costa Rica has fielded 62 "legionnaires" who play in football leagues in Europe, Asia, Oceania and other parts of the Americas.
"And it not only covers the performance of its athletes abroad, but also strives to service the thousands of Costa Ricans who live and work in other countries, but want to keep abreast of what's happening at home," the report said.
It added that Al Dia was one of the best put-together sports newspapers, with individually designed pages to maximize flexibility and creativity. The once general interest popular paper was replaced with the current product that has seen sales go up and an online audience grow rapidly.

The 124-page survey marks Innovation International's 15th anniversary of producing its world report on the newspaper industry.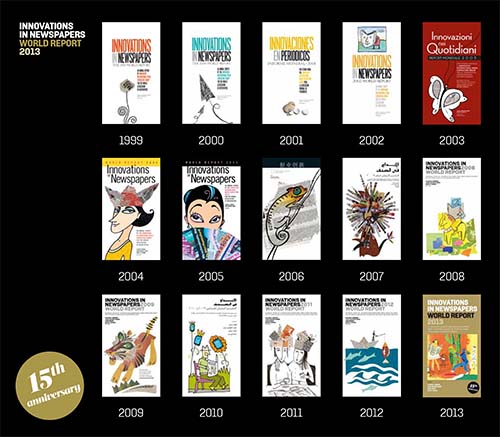 Innovations in Newspapers' 15th anniversary (courtesy Innovation
International)