Amid all the gloom and doom of newspapers limping or folding, there's a ray of hope in the print media landscape, thanks to innovative thinking and risk taking by publishers and editors who recognize opportunities to be seized at the right time.
"What we need to do is think in terms of a multitude of products, summarized under a brand, in a brand world, or even better in a brand experience world," writes Horst Piker, group CEO of the Austrian Styria Media Group
Using multimedia, multi-channels and multi-platforms, Piker says in the foreword of a 73-page gem called "Innovations in Newspapers 2010 World Report," ensures the target group feels it simply can't live without a newspaper.
Esteban's elements to the new narrative formats: the ability to organize large amounts of information, interactivity that challenges the reader, and involving the reader in creating information.
That may seem elementary. But what's often overlooked are marketing and ad sales in a multimedia world, to which the book's publisher dedicates a juicy chapter.
A case study of business side integration at Columbia's Casa Editorial El Tiempo focuses on how the company and its commercial arm Media 24 broadened its reach by marketing all its properties in a coordinated manner.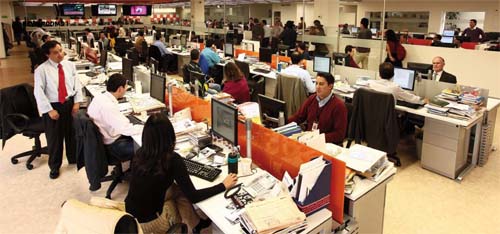 El Tiempo newsroom (Innovation International)
Chapter authors Carlo Campos and Javier Ramirez Bañares propose three models to organize ad sales: media platform centric (with teams handling newspaper, TV, radio, online, events, magazine, etc.) and branching into brands; brand centric (with teams organized by brands, which are then sold on all platforms); and, client centric (with teams for each client).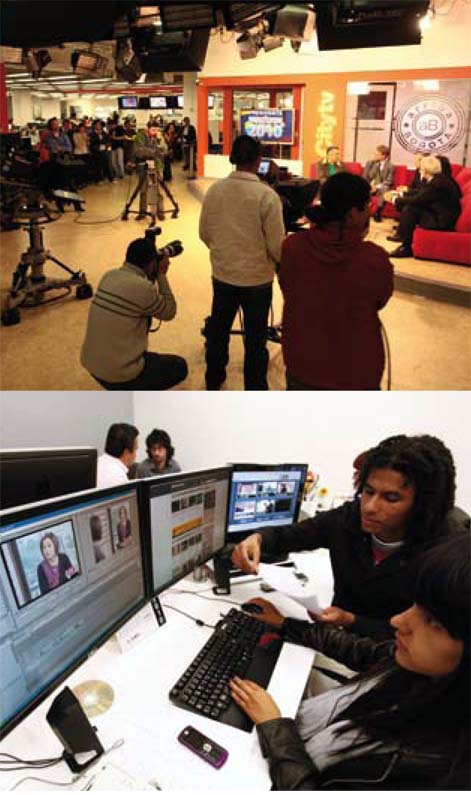 Columbia's El Tiempo leads multimedia march (Innovation International)
They also place great value in brands, market intelligence and the importance of collaboration between areas, with a cautionary note that radical transformation from traditional models can only come from top management sold on the idea.
Juan Senor, partner at Innovation International Media Consulting Group, is the book's guru on integrated newsrooms.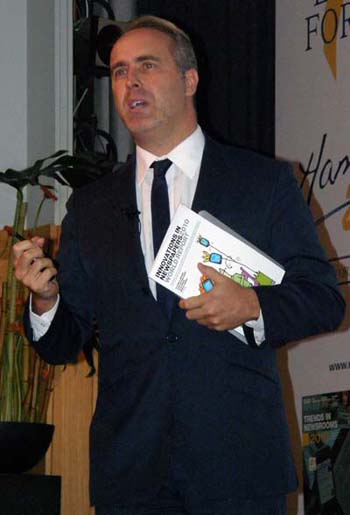 Juan Senor (Abu-Fadil)
He guides readers through the intricacies of newsroom workflows and management with a design aimed at what he calls "profit communities."
"The challenge facing newsroom managers is to figure out how these increasingly complex communities can be kept in constant contact with their content, and newsrooms must be reorganized to produce more for those who pay and less for those who do not pay," he said.
Senor explained that newsrooms could no longer use linear workflows of text and photos only, but must instead embrace the full experience of interactive digital narratives by combining text, photos, infographics, audio and video.
He added that the most effective newsrooms today were "those that remain in a permanent state of flux, constantly changing, adapting and adopting the latest digital platforms and devices that news consumers follow and adopt."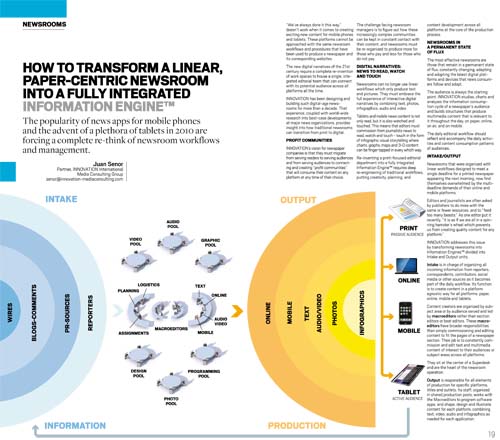 Integrated converged newsrooms are de rigueur (Innovation International)
An interesting twist is the introduction of "i" the Portuguese newbie that became a hit in under nine months from its launch when competitors were fading at best.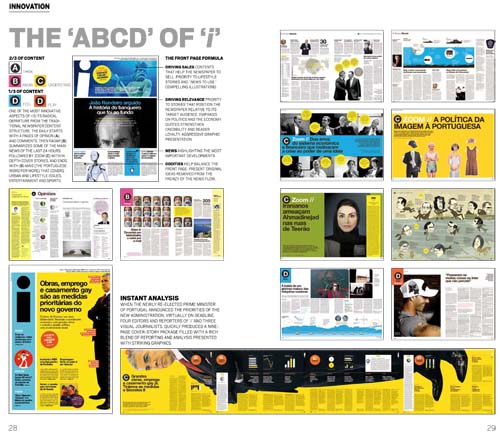 Portugal's upstart i newspaper (Innovation International)
The paper, with its avant garde approach and punchy manifesto, relied on "considerable viral marketing" rather than much advance promotion and managed to attract and retain a new generation of young readers, 25% of whom had not been newspaper regulars, the book said.
Another bright spot is the area of sports newspapers that seem to be growing audiences in print and online, in addition to sponsorships, stand-alone magazines, special editions, digests, readers' clubs, and more.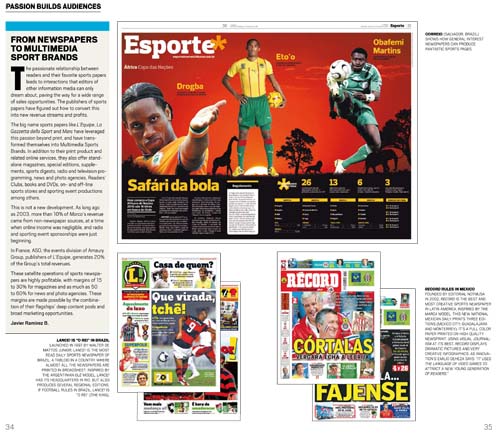 Newspapers to multimedia sports brands (Innovation International)
Passion fuels their success, opined Innovation International consultant Antonio Martin, noting that such publications appeal across social classes and economic divides, particularly in a country like Brazil where soccer is akin to a religious experience.
"They share readers with tabloids and quality papers," wrote Martin. "They offer journalism with impact in easy-to-read form, with strong visual impact."
Across the pond, where newspapers have been licking their wounds of late, all is not lost. American papers are still winning Pulitzer prizes despite deep cutbacks and red ink galore.
Social media are readily stepping in to fill the gap, but not entirely replace reportorial and editorial teams.
"Having a newsroom social media director has become a must," wrote Gabriel Sama, a 2010 Knight Fellow at Stanford University.
For newspapers to keep up with the mobile revolution, Diego Cenzano recommends: adopting easy to implement tools; organizing staff for daily chores and hiring outside help for the rest; picking the best available technology, but quickly changing it when something better comes up; letting technology contribute to new forms of storytelling; enhancing the user experience; and becoming application creators.
The cornucopia of information packed into "Innovations in Newspapers 2010 World Report" also highlights concepts for designing for the iPad and examines the vast new world of tablets.
It further strikes a positive note with a chapter on how to develop new revenue streams and increase customer loyalty during hard times with e-commerce and readers' clubs.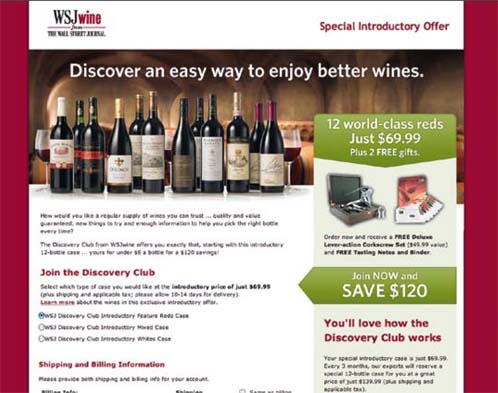 New revenue streams (Innovation International)
It cites the Wall Street Journal's Wine Discovery Club launched in 2009 through which readers can purchase discounted wines.
A recurring theme in the book that newspaper publishers and editors should keep on hand is how to turn media companies into information engines because it's no longer a luxury, it's a necessity to survive.

Popular in the Community