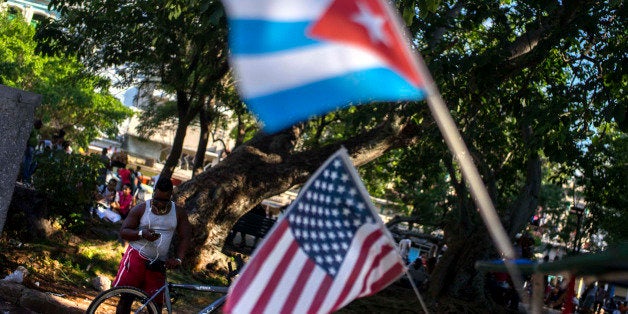 On July 20, 2015 the governments of the United States and Cuba officially re-established diplomatic ties by opening embassies in Washington DC and Havana, after a 55 year embargo initiated by the Kennedy Administration in 1960. The full impact of US re-engagement with Cuba has yet to be determined, but two business sectors have been quick to take advantage of this nascent relationship: travel and academia.
While there are still travel restrictions between the two countries, direct US to Cuba flights are already being offered through JetBlue and others will no doubt follow suit, as will the major hotel chains. It's also good news for the academic community who have been quick to reach out to their Cuban counterparts. A recent article in The Washington Post cited several examples of US universities eager to develop relationships with universities in Havana. According to the article Auburn University, Johns Hopkins, Columbia and Brown have all initiated collaborative arrangements and the leadership of Florida International University are discussing the idea of a Cuban campus.
Scientists the world over are typically quick to embrace relationships with like-minded colleagues in other countries regardless of international politics, so it's worth taking a look at what the collaborative opportunities might be for US/Cuban research.
According to Scopus publication data, Cuban research is heavily focused on medicine and the related disciplines of heath, pharmacology, immunology and genetic and biological sciences. Nearly half of all the research papers published from 2010 to 2014 fall into one of these categories. The US by comparison shows about one-third of its research is in similar disciplines. Within the medical/health sciences category, general medicine, infectious diseases and public and environmental and occupational healthcare account for about half of the Cuban research output. Scopus data also show that Cuba has a strong international collaboration rate - 52.3 percent of Cuban publications are co-authored with institutions in other countries, most notably Spain, Mexico and Brazil.
While the United States is the unquestioned global leader in overall research output, it's clear that Cuban medical science has something to share with its northern neighbor and indeed the rest of the world. Recent stories about a lung cancer vaccine developed by Cuba's Center for Molecular Immunology is just one example. The Roswell Park Cancer Institute in Buffalo has apparently been quick to take advantage of this medical breakthrough by obtaining permission from the Food and Drug Administration to conduct clinical trials in the U.S.
All that said there are areas where Cuban researchers will benefit tremendously from collaborative relationships with their American colleagues. Cuba is by no means the poorest country in the world, but it's fair to say that its investment in research is modest. According to the new book World of Research, Cuba invests 0.42 percent of its GDP of $78,694 million. Consequently the country's research output, when compared to others of comparative size (in terms of population) such as Belgium, is low. Cuba's research output for the period of 2004 to 2014 was 20,593 publications -- Belgium's output was 270,232 publications during the same period.
Clearly Cuban research would benefit from an infusion of capital from U.S. sources. Additionally, America's leadership in engineering, computer science and physics may prove to be an opportunity for Cuban researchers to bolster their research output in these disciplines, which are currently only about 25 percent of its total research output. It may also help to improve Cuban research citation impact in the top journals - a rather modest 6.8 percent as compared to 26.9 percent by the United States -- as well as its academic-corporate collaboration rates which are less than half that of US universities.
Cuba's tight travel restrictions have also prevented researchers from being able to travel abroad to attend conferences or work in overseas universities, a fairly standard process by which researchers get to know others working in their discipline. The exception to this may be Cuba's highly esteemed medical professionals who are often found working in some of the world's trouble-spots during outbreaks of disease - the most recent being the Ebola crisis in West Africa. Given the country's geopolitical position, it is not surprising that it experiences a net outflow of researchers (-6.4 percent).
For those who remain, there are technical hurdles to get past that have, and will continue, to impact Cuba's research professionals ability to collaborate in today's world of cloud computing and social science networks -- the most important one being Internet access which is severely limited. Cuba's scientists are often not able to download and share the massive data sets that are common in research today or use cloud-based collaborative platforms. Additionally because of the previous trade embargo they cannot access the textbooks and journals they need for reference, as well as order lab equipment or badly needed parts to repair existing technology. Information cannot be freely transferred as the government still maintains tight controls over what can and cannot be said and published, but science still remains one of the great ways that former adversaries can work together for the betterment of society.
Science is the search for knowledge and scientific publishing is the conduit by which that knowledge is shared to the research community at large. Through the very earliest discoveries, scientists have used their shared passion for discovery to break down the walls that stand between us. If new collaborations between US and Cuban researchers bring the world breakthrough medicines and treatments, then perhaps it will teach the politicians of this world a thing or two about the benefits of collaboration.
Calling all HuffPost superfans!
Sign up for membership to become a founding member and help shape HuffPost's next chapter