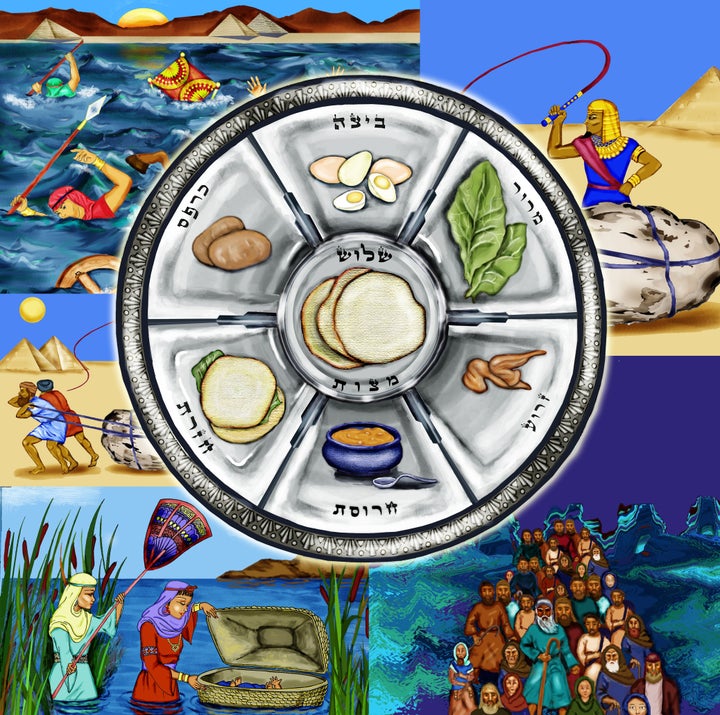 Passover, which begins on March 25, is one of the most widely observed Jewish holidays. Each year during the Passover seder, Jewish people attempt to integrate the old traditions of the holiday with innovations. Mostly, these innovations are meant to keep the children (and many of the adults too!) alert and engaged during the seder.
Innovations in the Haggadah are certainly valuable for keeping things fresh at the seder while still sticking to the centuries-old script. However, for young children it can be a frustrating and kvetchy experience as they watch each adult at the table take a turn reading the midrashic commentary of our ancestors' exodus from Egyptian slavery -- no matter how lovely the artwork is in the newly published Haggadah.
Rabbi Vicki Tuckman, on the ReformJudaism.org website, writes that the "most important thing in leading a Passover seder is feeling that you have the freedom (pun intended) to be as creative as possible." These days many families -- especially those with young children -- are scrapping the traditional seder symposium and opting for fun activities that keep everyone participating. Some families I spoke with pitch tents in their living room and tell the Passover story while pretending to be the Israelites camped out in the desert.
In the weeks leading up to Passover, which arrives quite early this year, I had the opportunity to review a few games and activities that I plan to use to keep my kids having fun at the seder this year. Some of them I've been using for years and others I've only discovered this year.
Tamara Pester, a Denver lawyer, sent me this game back in January and my kids started playing it right away. They enjoy playing Bingo and I was thrilled to see them using Bingo cards with some educational value rather than a bunch of numbers. Pester came up with the idea for Passover Bingo when she saw her niece and nephew getting restless during the family seder. "Instead of drudging through the Hagaddah, wondering when it's time to eat," she explains, "people will be motivated to follow along with the story of Exodus. Guests at your traditional Seder will be participating and paying rapt attention to the pages, thanks to this easy-to-play game."
The game retails for $24.99 and features six colorful game boards with Passover keywords such as Egypt and Elijah. The game also includes 96 foam markers, and is recommended for children ages 3 and up. To help fund the project, Pester turned to Jewcer.com, which offers crowd-sourced funding for Jewish projects. "Actually, the Jewcer people contacted me because they'd never done a promotion with a product before," she said. The Jewcer site waived fees and helped Pester raise nearly $3,000 for the game. Pester's sold more than 150 of the games through Jewcer, the Passover Bingo website, and several synagogue gift stores.
I first discovered the Plagues Bags back in the late 1990s when I saw an ad for them in Moment Magazine. I ordered one and began to use it at my family's seder which I started leading after my grandfather passed away in 1994. It became a custom at our seder for my young cousins Jeff and Ben to put on the hand puppets of Moses and Pharaoh respectively and act out the dialogue between the two. The two cousins are now in their mid-20s and, while their hands no longer fit in the plastic puppets, they're good sports and still play along.
Rabbi Alan Silverstein thought so highly of the Plagues Bags that he decided his synagogue would take over the sale of them each year. In 2001 my wife and I moved to Caldwell, N.J., where I served an internship at Congregation Agudath Israel with Rabbi Silverstein. He put my wife in charge of the Plagues Bags and that year she reported to me that they had sold several thousand in the week before Passover.
What's so great about the Plagues Bags? They encourage the seder participants to have fun during what could otherwise be a very tense time during the seder. The horrible plagues God brought upon the Egyptians, including the death of the firstborn children, can be difficult to explain to children. It's also getting close to the festive meal and everyone is hungry at this point in the seder. The "toys" inside the Plagues Bags help the seder leader keep everyone's attention and bring some levity to the "talk-feast."
Resources For Innovative And Fun Seders
Two books I recommend to help seder leaders enliven the seder each year are David Arnow's "Creating Lively Passover Seders" and Ron Wolfson's "The Passover Seder: The Art of Jewish Living." Danielle Dardashti and Roni Sarig also have a great chapter with some fun Passover seder projects for children in their book "The Jewish Family Fun Book." All three books are published by Jewish Lights Publishers. This year the Foundation for Jewish Camp has published an activity book for the seder to promote its "One Happy Camper" program. The activity book includes games, Madlibs and even Capture the Flag using the afikomen.
Many families perform skits during their seder, which is a great way to observe the commandment that we should all act as though we were actually part of the exodus from Egyptian bondage. Behrman House, a wonderful educational publishing house, has a couple scripts on their website. "Seder Time" is a skit by Stan Beiner, a well known Jewish educator who created Sedra Scenes. Meredith Shaw Patera's "The Courage of Nachshon" is another good skit available on the Behrman House Passover activity website. Aish Hatorah lists ways for participants to act out the 10 plagues on their website.
I wish everyone a Chag Sameach: May your seders be educational, innovative and memorable!
Rabbi Jason Miller is a blogger, educator and entrepreneur. He is president of Access Computer Technology in Michigan, a full-scale IT, website design/build, and social media marketing company. Follow him on Facebook and Twitter at @RabbiJason.
Support HuffPost
The Stakes Have Never Been Higher
Related
Popular in the Community