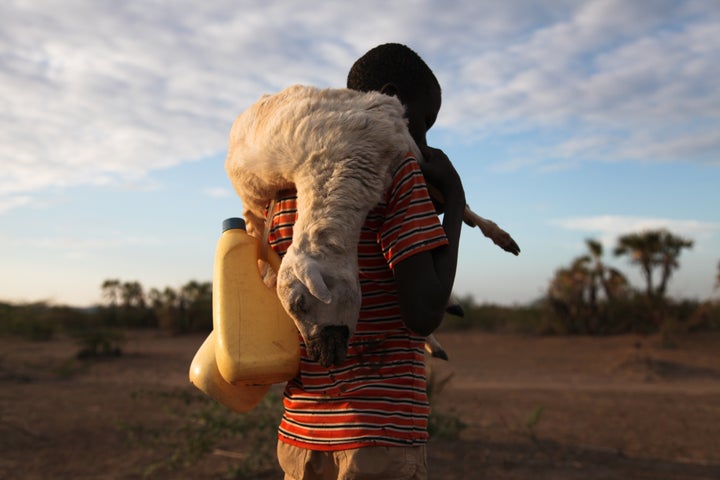 MAKUENI, Kenya, July 11 (Thomson Reuters Foundation) - Even after the heavy rains that drenched East Africa in April, Makueni County in eastern Kenya remains dry - and it's not clear when increasingly elusive rainfall will come again.
But the women of Kikumbulyu village are not worried. Last November, they built a rock catchment system to harvest rainwater. Now, despite dry weather, the village still has plenty of water.
"Apart from the gift of life from God, this is the other biggest blessing that has come to us," said villager Mary Mwikali Kiminza, a mother of five and a member of the village's Ithine Self Help Group.
"My feet are now rested without endless trips to (fetch water), and my children can now concentrate in school because I no longer ask them to follow me to the river," she said.
Kibwezi sub-county, where Kikumbulyu village is located, is hilly with huge rocks - not the kind of environment that supports traditional methods of water conservation such as water pans or "sand dams," which use wet sand to hold water.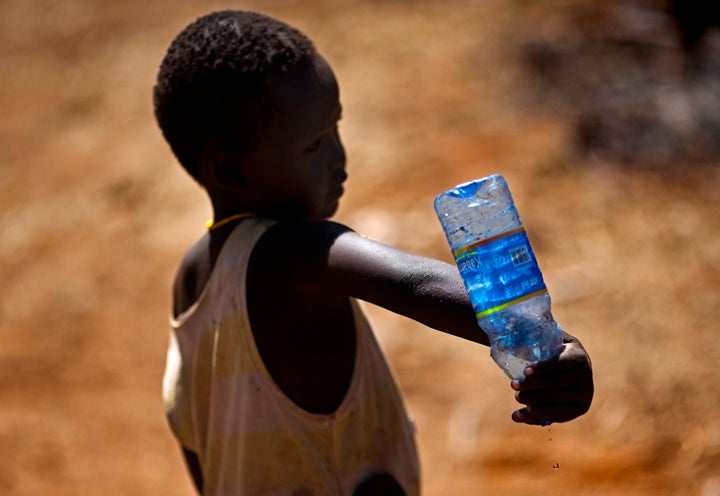 But since 2010, the Africa Sand Dam Foundation (ASDF), a Kenyan non-governmental organization, has worked with villagers in the Makueni area to build rock catchment systems, taking advantage of the local geography to make themselves more water secure.
Rock catchment systems use naturally occurring rock outcrops to divert rainwater to a central collection area. A concrete wall is built to direct the water that trickles down the rock surface into a sand and gravel filter, then down pipes into covered storage tanks.
"The main idea is to build resilience to climate extremes among the worst-hit areas, using locally acceptable techniques and making them as sustainable as possible," Matheka Cornelius Kyalo, ASDF's executive director, told the Thomson Reuters Foundation.
According to data from the Kenya Agricultural and Livestock Research Organisation, annual rainfall in Makueni County ranges between 150mm during a dry spell and 650mm in years of heavy rainfall.
But, even in a good year, Makueni is thirsty compared with regions in western Kenya such as Kitale, which receives an average of 1,260 mm of rainfall annually.
The ASDF project aims to help villagers work together to adapt to the area's increasingly dry climate. So far, the organization has built 10 rock catchment units in as many Makueni villages, feeding rainfall runoff from the rocks to a total of 26 concrete tanks. Each tank can hold up to 190,000 liters of water.
To construct a catchment as part of the project, residents must form a community group and provide the labor as well as locally available materials, such as sand and pebbles. The foundation then provides other needed building materials, such as cement and pipes, and experts to help guide the construction.
A rock catchment unit with two tanks costs 2.5 million Kenyan shillings ($25,000) to build, with the money raised from donor organizations including Kenyan banks.
The project also generates an income for the community groups who build the systems. The groups sell 20 liters of water for 10 Kenyan shillings (10 cents), even to their own members.
Back in 2014, during a period of heavy rainfall, members of Ithine Self Help Group made Sh. 16,000 ($160) selling harvested water, which they put in a bank. Early this year, after some deliberation, they withdrew the money and bought 10 goats which have since been given to various members for breeding.
In Songeni village, in Makueni County's Mbooni East constituency, villagers are finding watersecurity with another water harvesting project, this one focusing on sand dams.
By constructing barriers made of sand at different points across the area's rivers, villagers can catch and hold the water that rushes down during seasonal flooding.
Using the water stored in a sand dam they constructed, members of Songeni's Mukaso Self Help Group are now growing and exporting green beans to European markets. According to chairman Harison Kitaa, the group expects to collect its first check in a few weeks' time.
"This is a lasting solution to a problem that has rocked us for several years," said Kitaa. "Even without the export market, we cannot go hungry as has been the case in the past."
The Africa Sand Dam Foundation has been working with local groups to construct 256 sand dams across different rivers in Eastern Kenya, with the aim of supporting more than 12,700 households who use the water for domestic and irrigation purposes.
According to Kyalo, the foundation's director, the sand dam that the Mukaso Self Help Group uses can hold millions of liters of water.
Meanwhile, in Isiolo County, in the arid northeast, and Embu and Kitui counties in the east, more than 80 households are now using home dams to store rainwater runoff, under an initiative supported by ActionAid International Kenya.
The simple dams - reservoirs with a polythene lining to stop water percolating into the ground - are easy to build, families say.
Under the program, local people who dig out the reservoirs receive free polythene liners and lessons on dry-land farming and aquaculture.
The Bidii Women Group, in semi-arid Isiolo County, now uses the water stored in home dams to produce green beans for export, through a company that sells primarily to markets in Britain, the United States and Asia.
Sadia Ibrahims, the women's group leader, said the organization earns an average of Sh. 50,000 ($500) every two weeks.
According to the U.N. World Food Programme, an estimated 1.3 million Kenyans are food insecure and in need of assistance. Water storage projects, their backers say, can help families use the resources available to them to adapt and even thrive in the face of climate change.
"Water has been the main problem for people in these dry-land areas," Kyalo said. "But withinnovative water harvesting techniques, most of them have become food secure and not dependent on aid any longer."
(Reporting by Isaiah Esipisu; editing by Laurie Goering :; Please credit the Thomson Reuters Foundation, the charitable arm of Thomson Reuters, that covers humanitarian news, climate change, women's rights, trafficking and property rights. Visit http://news.trust.org/climate)
Support HuffPost
The Stakes Have Never Been Higher
Related
Popular in the Community