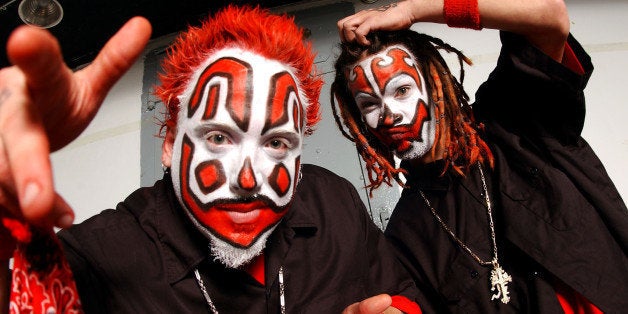 A former publicist and attorney for the Insane Clown Posse has filed a lawsuit against the rap duo and its hardcore rap company, alleging that her employers regularly sexually harassed her and encouraged to lie to federal authorities.
In her complaint filed Monday, Andrea Pellegrini alleges "constant and pervasive harassment" while she worked at Psychopathic Records. Included in the complaint are employee Dan "Dirty Dan" Diamond and ICP members Joseph "Shaggy 2 Dope" Utsler and Joseph "Violent J" Bruce. The lawsuit, which can be viewed online here, includes 86 counts of alleged wrongdoing by the rap group and label.
Pellegrini claims "Dirty Dan" sexually assaulted her, propositioned her and gave her a dildo at work as a gift. The former ICP publicist says she was one of three female employees who were also presented with "vagina tighteners" by management, while also detailing alleged examples of being belittled, sexually threatened and even encouraged to procure illegal "automatic tommy guns" for a photo shoot.
Pellegrini alleges was terminated after reporting the harassment to her superiors, according to the suit.
The Insane Clown Posse is infamous for their "hardcore" lyrics and imagery, along with their subculture of fans known as "Juggalos." Psychopathic Records, partially owned by the rap duo, is located in Oakland County, north of Detroit.
Pellegrini also said she was emotionally abused and demeaned by members of the record label, who she says regularly referred to her as "bitch" and refused to let her use business cards or tell people she worked for Psychopathic Records.
She also alleged that Psychopathic Records lied to federal investigators with the U.S. Department of Labor, calling her "In-House Counsel" so she would be exempt from payment of accrued overtime hours. In reality, Pellegrini, who wanted to learn about entertainment law, said she was routinely bullied and asked to do illegal and unethical acts with her law license.
She's now suing for wrongful termination and wants damages for the emotional distress she says she suffered, including conduct that was "extreme and outrageous and exceeds the bounds of human decency."
Despite recent controversy, or maybe because of it, ICP, which has been around for two decades, has been receiving more attention of late. The two host new show "Insane Clown Posse Theater" on Fuse Network, where they riff on pop culture and music.
"ICP is the only group in the position in the history of rock 'n' roll that ever sold as many millions of records as we had and had as much success as we've had and it's still considered a joke. It's still considered the most hated band in the world," Bruce told the Associated Press in an interview about the show. "We love to be hated."
The following is an excerpt from Daniel Cronin's introduction to his photography book, The Gathering of the Juggalos. The book examines band Insane Clown Posse's fan base, also known as "Juggalos." Every year, Juggalos meet up at an event called "The Gathering." Cronin's photos are from this event.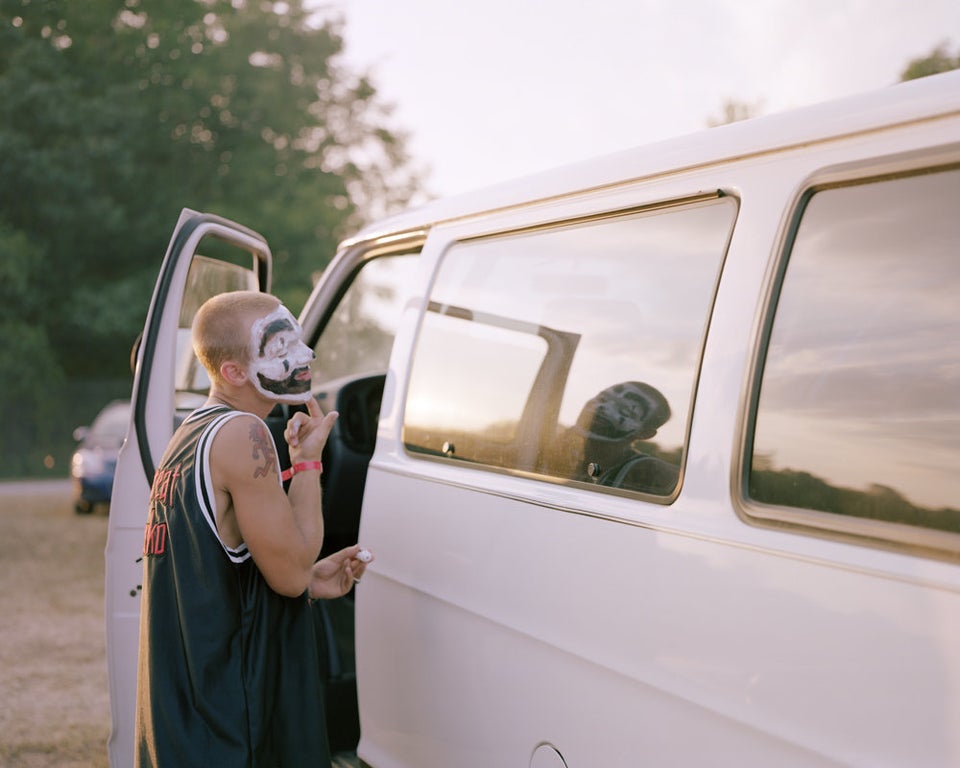 Gathering of the Juggalos
Popular in the Community