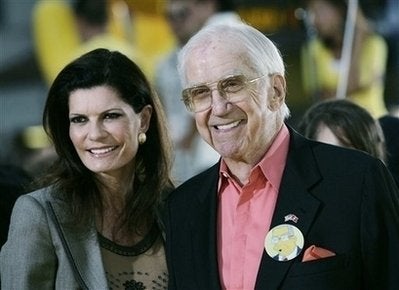 Ed McMahon helped Johnny Carson on "The Tonight Show." Ed McMahon helped
people realize their dreams on "Star Search." Ed McMahon helped
individuals win millions, thanks to the American Family Publishers'
sweepstakes. Ed McMahon helped fight two wars. And Ed McMahon helped
generations laugh and smile. But now, who is going to help Ed McMahon?
That remains to be answered.
Ed McMahon, who has given to so many, may now lose his Beverly Hills
home to foreclosure because he owes approximately $644,000 in payments
on a nearly $5 million mortgage loan. Added to that fiscal fiasco is
that American Express obtained a judgment against McMahon for just about
$750,000 in unpaid bills, and a Washington-based company named Hix Inc.
claimed he failed to repay a loan of $135,000. (In February, McMahon
settled with Hix Inc., and now owes $51,000.) All tallied, McMahon, who
earned millions over his 50-year career, is in debt for nearly $1.5
million.
How is it possible that this TV legend could fall so far into financial
disarray?
Heeeeeere's what happened. Part of the comedic sidekick's tragic flaw
has been his big heart. McMahon "is an extremely generous human being to
his own detriment," said David Fisher, who collaborated with McMahon on
his autobiography, "For Laughing Out Loud" and his latest book, "When
Television Was Young."
"Ed is someone who loves to make people happy," revealed Fisher, who
added that the munificent McMahon would drop dough everywhere. "Being Ed
McMahon was an expensive proposition," he said. A lot of cash "went to
tips," noted Fisher, who recalled walking through hotel lobbies with
McMahon as he would hand out money to anyone who helped him. The TV
fixture also spent a fortune helping to launch his third wife Pam's
clothing company. By most accounts, even though the designs, which were
sold at Saks Fifth Avenue and Neiman Marcus and reportedly worn by Paula
Abdul and Sharon Stone, were well received, the high-priced fashion line
fizzled.
And while money was going out, little was coming in. Incredibly,
Carson's second banana of 30 years has said he doesn't receive residuals
from the successful DVD box sets of "The Tonight Show." The 85-year-old
also hasn't been able to work since he broke his neck in a fall a
year-and-a half ago. Fisher recounted how a day or two after McMahon was
injured, the TV fixture instead stuck to his commitment to review the
manuscript for "When Television Was Young," rather than going to the
hospital.
"He was in terrible pain," said his coauthor, "but he spent the entire
day working, and when he went to the hospital the next day, he was told
he broke his neck and was in possible danger of dying."
His rep, Howard Bragman, further felt McMahon's money mess was a result
of a confluence of "bad health, bad economy, bad housing market."
Bragman told me that even though McMahon is going through his own
financial woes, he's still empathetic, and that his "heart goes out to
[all those] who worked their whole lives" and are similarly caught in
the housing crisis.
Compounding the problem for the big-hearted McMahon is that he's had a
hard time unloading his magnificent six-bedroom, five-bathroom,
7,000-square-foot home, complete with sweeping views and a large pool.
(For a look into McMahon's mansion, originally listed for $6.25 million
and now priced at $5.75 million, check out
http://video.accesshollywood.com/player/?id=259537.) Some potential
buyers have been scared off by the area, which boasts such celebrity
neighbors as George Clooney and Britney Spears, who ironically gained
fame on McMahon's "Star Search." Alex Davis, McMahon's real estate
agent, told the Associated Press, "When we were trying to sell the house
one time, there were about 100 paparazzi there."
Nevertheless, despite his current cash calamities, McMahon's rep said
his client has "always been optimistic, and he remains optimistic that
something good will happen."
Hopefully, this TV veteran, who's also a World War II and Korean War
marine vet, will quickly win this battle with the help of his friends
and fans.
Popular in the Community