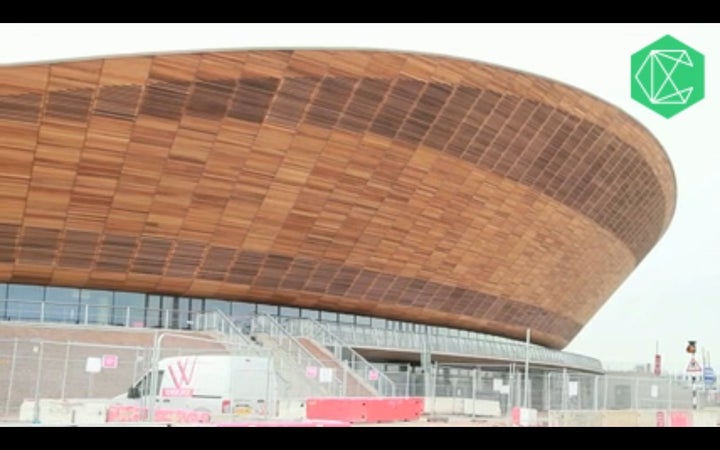 Opened on time and on budget in February 2011, 17 months prior to the Opening Ceremony, Hopkins Architects' 2012 Olympics' Velodrome is the first venue to be completed at the Olympic Park. Alongside technical and aesthetic considerations, the Velodrome has been constructed with utmost care for eco-sustainability. Crane.tv chats to engineers Andrew Weir at Expedition Engineering and Klaus Bode at BDSP to hear about how they created one of park's largest structures.
The 6,000 seat Velodrome is a hyperbolic structure with an impressive double-curved, ultra-light roof covered in red cedar wood and inspired by the race tracks. The 250m long track, made of Siberian Larch, has been designed with the world's fastest cyclists in mind.
Selected to design the venue from 70 competing teams, Expedition Engineering was required to create a building that would last not only for the London 2012 Olympic and Paralympic Games duration, but also for the next 50-60 years, when it'll be used by elite athletes as well as the local community.
For his part, Bode pointed to another requirement: eco-sustainability. Thanks to various technical means, they achieved their objectives, such as embodied energy and water reduction, as well as steel reduction. He highlights also that even though the Velodrome cannot boast about having the biggest roof or structure of the Olympic Park, it is the site's most sustainable building. "It's integrated realistic design, clever team work and that's what we have achieved."
Crane.tv App now available for Nokia devices from the OVI Store
REAL LIFE. REAL NEWS. REAL VOICES.
Help us tell more of the stories that matter from voices that too often remain unheard.