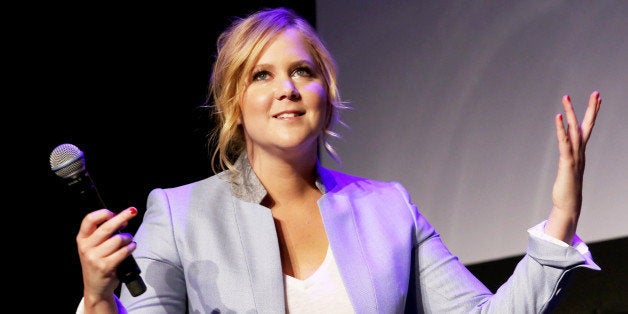 Amy Schumer may have declared 2015 "the year of the ass," but we think it's more accurate to call this the year of Amy Schumer. The always inappropriate writer, actress, feminist and stand-up comic makes her feature film writing debut in this summer's "Trainwreck," hosted the MTV Movie Awards with a plethora of masturbation jokes and is set to return for Season 3 of "Inside Amy Schumer" on Tuesday.
After screening the premiere of the Comedy Central series' third season at the Tribeca Film Festival on Sunday, Schumer and her "Inside" writers, producers and director spoke on a panel about the show. They spilled exciting details about what's to come this season (yup, there's a Bill Cosby sketch) and the racy spoofs that didn't make the cut, and revealed that people actually thought Schumer was a real rapper in her amazing booty parody video. Here are the 8 best highlights from the panel:
1. Get ready for a Cosby parody sketch.
Schumer came up with the idea to have a support group of "girls who wouldn't say what happened, but they were all wearing Cosby sweaters." The "Inside" writers first began working on the sketch when the Cosby sexual assault allegations started making headlines last year. Schumer said the sketch stirred some heated debates in the writers' room: "I think we probably talked about this scene more than any other scene we've done."
2. A "Dirty Dancing" abortion sketch didn't make the cut.
There had been an idea for a "Dirty Dancing" spoof to appear on "Inside," but it never happened. Schumer wouldn't reveal much about it, but it was more than enough to paint a picture: "There's like a back alley abortion in 'Dirty Dancing' you forget about. What if there was an abortion clinic that was like 'Dirty Dancing'-themed?"
3. A TMZ baby coffin sketch didn't happen either.
Another idea that never happened was a TMZ spoof that would've showed a reporter following a celebrity with a baby coffin. "Then we we're like, 'Do we want to be on set with a baby coffin? No, no one wants to see that,'" Schumer said.
4. People thought Schumer was a real rapper.
Last week, Comedy Central released Schumer's "Milk Milk Lemonade" music video featuring Amber Rose and other celebs. The parody video opens the Season 3 premiere of "Inside," but Schumer noticed that some people commenting on a music website apparently didn't know that. "It's on this website and people never heard of me and they all think I'm a rapper. They're like, 'This girl sucks!'" Schumer also said she had never been as embarrassed in her life as she was while filming it.
5. Julia Louis-Dreyfus, Tina Fey and Patricia Arquette celebrated being "unfuckable."
In one of the best sketches from the Season 3 premiere, JLD, Fey and Arquette appeared to celebrate Louis-Dreyfus' last "fuckable" day. Writer Jessi Klein said the sketch was inspired by the idea of "actresses aging out of Hollywood."
6. An entire episode of "Inside" is a remake of "12 Angry Men."
Schumer really wanted to remake Sidney Lumet's classic film "12 Angry Men" for an episode, so she did. The entire third episode of Season 3 is a "shot-for-shot" black and white recreation of the 1957 movie featuring an array of A-listers including John Hawkes, Paul Giamatti, Jeff Goldblum, Vincent Kartheiser and Dennis Quaid. Spoofing the film's murder-trial-verdict plot, the episode has the men deciding if Schumer is good-looking enough to be on TV. Schumer, who also co-directs the episode, said she's more proud of it than anything she's done before.
7. A random old guy Schumer met on a plane is on the show.
"I got drunk on a cross-country flight with this guy," Schumer said. "He was like 89 or 90 or something." The two ended up bonding and now he's appearing on the sit-down interview segment of "Inside" with his husband.
8. Schumer thought the feminism aspect of the show was subtle.
Speaking about the first season of the "Inside," Schumer said she and Klein thought they were being "slick" about bringing a feminist tone to the show. "It still felt like something we had to sneak in," Schumer said. "We thought we were kind of tip-toeing." But then Schumer mentioned how one critic wrote that the show is "the equivalent of putting shaved carrots into brownies." But Schumer loves that, saying "I guess everyone sees what we're doing."
"Inside Amy Schumer" returns on Tuesday at 10:30 p.m. ET on Comedy Central.
Popular in the Community