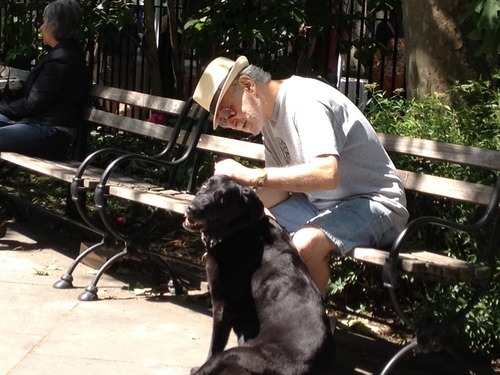 Off of 8th Avenue, sandwiched between the glamor of Meatpacking and the allure of Magnolia Bakery, rests a little-known park: Abingdon Square. More a triangle than a square, the diminutive Abingdon is no Central Park - -and it's not trying to be -- but for most who have visited, it's the calm, modestly-green respite on their way to bigger pastures.
On Saturday mornings, I am one of these people, but I don't really have any greater place to go. Abingdon Square is my destination, and I treat it as such. Gathering my frothy cappuccino, I take my time meandering to the park, looping across Greenwich Avenue, down ivy-covered Perry Street, shuffling to Bleecker for window-shopping and, finally, catching sight of the park.
When I first started settling here on Saturday mornings over a year ago, I'd bring a bookbag of items, like I was ready to be taught. Inside, you'd find a book about mindfulness, a screenwriting book if I got bored of mindfulness, my favorite newspaper section, and, of course, my phone.
But as the seasons passed, and my mornings spent here did, too, the bookbag I carried became weightless, as I started to forget why I needed these 'things,' and left them behind.
I observed the folks sitting on benches beside me and, one day, made a discovery.
The 20 to 30-somethings: They mostly come to the park to relax and look at their iPhone, busying themselves with the latest email and social alert and text message.
The 40 to 60-somethings: They bring a book to read, every now and then looking up at the strollers passing by.
But the 70-year-olds and up -- the ones who have lived the most life -- they arrive at the park with nothing. No phone, no book. They settle on a bench along the perimeter across from the grass, looking out at the people passing by who make their way across the park.
Sometimes these bench-dwellers smile as they observe, and sometimes they sit solemnly. Occasionally, they look up at the trees, at the sky, and I wonder what they see.
But, always, the older bench-dwellers stay much longer than the youngins. They're in no rush. The swaying trees are a movie, and the people are a show, and they know they have the front-row seats. The park is enough.
But as the morning passes, the folks in the park do, too.
So when the 20-something sitting across from me with his iPhone leaves his spot by the oak tree, a 40-year-old man with a messenger bag takes his seat.
And later, when an elderly man makes the slow rise from his bench to the garbage, tossing a butterscotch candy wrapper, and gradually exiting the park, he, too, is replaced -- with a child, and a family.
Now, when I make my Saturday morning shuffle to Abingdon Square Park, I come with nothing. No phone, no book. But I leave with more than I can carry. And I, too, am replaced.
REAL LIFE. REAL NEWS. REAL VOICES.
Help us tell more of the stories that matter from voices that too often remain unheard.