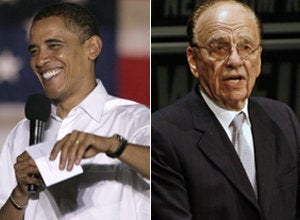 Just before the New York Democratic primary, when I found myself undecided between Clinton and Obama, I said to Murdoch (a little flirtation, like a little gossip, softens him), "Rupert, I don't know who to vote for--so I'm going to give you my vote. You choose."
He paused, considered, nodded his head slowly: "Obama--he'll sell more papers."
Even though his daughter Elisabeth and her husband, high-flying P.R. man Matthew Freud, have been raising money for Obama in Notting Hill, in London, where they live, and his wife has been attending fund-raisers for Obama in Los Angeles with David Geffen, this is a leap for Murdoch. Murdoch has traditionally liked politicians to come to him. His historic shift in the 1990s to Tony Blair came after Blair made a pilgrimage to Australia.
Obama, on the other hand, was snubbing Murdoch. Every time he reached out (Murdoch executives tried to get the Kennedys to help smooth the way to an introduction), nothing. The Fox stain was on Murdoch.
It wasn't until early in the summer that Obama relented and a secret courtesy meeting was arranged. The meeting began with Murdoch sitting down, knee to knee with Obama, at the Waldorf-Astoria. The younger man was deferential--and interested in his story. Obama pursued: What was Murdoch's relationship with his father? How had he gotten from Adelaide to the top of the world?
Murdoch, for his part, had a simple thought to share with Obama. He had known possibly as many heads of state as anyone living today--had met every American president from Harry Truman on--and this is what he understood: nobody got much time to make an impression. Leadership was about what you did in the first six months.
Then, after he said his piece, Murdoch switched places and let his special guest, Roger Ailes, sit knee to knee with Obama.
Obama lit into Ailes. He said that he didn't want to waste his time talking to Ailes if Fox was just going to continue to abuse him and his wife, that Fox had relentlessly portrayed him as suspicious, foreign, fearsome--just short of a terrorist.
Ailes, unruffled, said it might not have been this way if Obama had more willingly come on the air instead of so often giving Fox the back of his hand.
A tentative truce, which may or may not have vast historical significance, was at that moment agreed upon.
Related
Popular in the Community