The last two days of fashion week were just as overwhelming as the first. The week closed with such incredibly relevant showings, all of which left me yearning for more when normally I just walk away feeling partially satiated. Only four shows were left for me to see which included Tommy Hilfiger, Calvin Klein, Zac Posen and Alabama Chanin.
I arrived backstage at Tommy Hilfiger bright and early on Thursday morning as I was slated for an interview with the designer pre-show. (Note to self: next time book interview POST show because 9:30am is too early for any interview.) The place was packed with models, stylists, hair, makeup, reporters and photographers frantically running around in the final countdown. Champagne, Mimosas and little espresso cups filled with rich hot chocolate and paired with vanilla macaroons were being served by a team of beautiful Hilfiger-clad models, all provided by New York's most celebrated (and my personal favorite) event caterer, Olivier Cheng.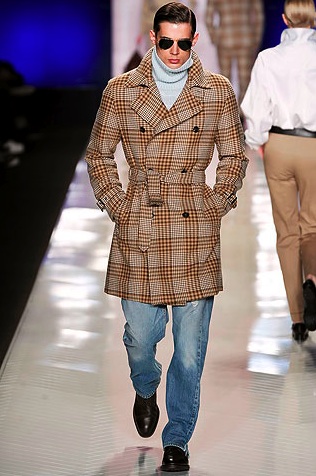 Tommy Hilfiger Fall Winter 2009
The collection was entitled Quintessentially Fifth Avenue and was inspired by the new 5th Avenue Hilfiger boutique opening later this year, where "sensibility meets fashion" Tommy Hilfiger told me. "This season was designed to fit with everything else in our entire world." When I asked him how he was aligning himself and his brand with the current state of the economy, he said that it was all about the clothes themselves. "We're putting all of our effort into improving the quality of our garments. We want them to be incredible at affordable prices." In true Hilfiger fashion, no visible expenses were spared, and the show was just as decadent and American as seasons past.
The women's Calvin Klein show designed by Francisco Costa was next on the schedule, and I was very excited as I had never attended this show before. On Tuesday, I received a phone call from the PR department with my seating assignment. I had been placed in Section F, Row 3, Seat 3. I couldn't believe it. I had been given third row which, if you know anything about fashion show hierarchies, was an incredible seat. The third row is only two rows away from the front row which is a coup d'etat in itself if you can get it. The night before the show, I was regaling my good friend and online fashion editor, Sarah Cristobal, with the incredible news of my swift advancement through the upper echelons of fashion's media elite, and she regretfully said to me, "Ummm, Joey. There are ONLY three rows at the Calvin show." Really??? Oh. Right. I knew that. Totally. I was still very excited to have been invited.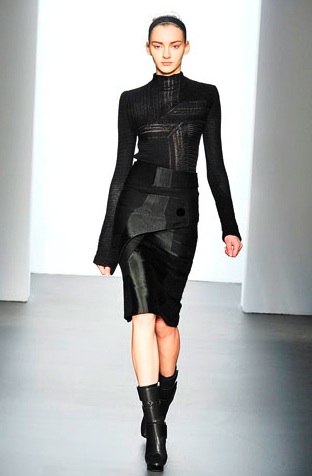 Calvin Klein Fall Winter 2009
The collection was a masterpiece in fashion design sculpted in strong architectural silhouettes and built with technologically advanced fabrications featuring crackled metallic jacquards, crystal bonded wools and laser cut velvets. The music also reflected the modernity of the clothes with a soundtrack filled with acoustic pings and pongs which one guest described as "the architecture of sound". The front row was packed with a stellar group of VIPs including actresses Eva Mendes and Kate Beckinsale, supermodel Natalia Vodianova, famed photographer Terry Richardson and social queens Jennifer Creel, Fabiola Beracasa, Allison Sarofim and Zani Gugelmann.
Earlier in the week, I had heard a rumor that Zac Posen had done away with the two front rows which lie in the center of his U-shaped runway and replaced them with five grand pianos on which The 5 Browns, a family of brother and sister piano virtuosos, would perform during the show. Leave it to Zac, a man of perennial showmanship, to bring this kind of glamour to the tents.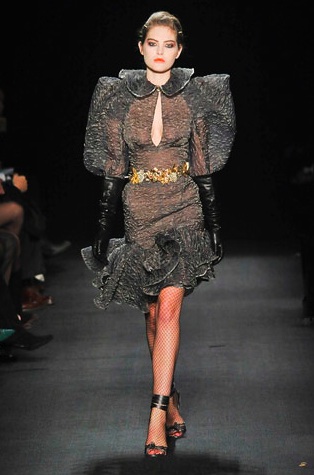 Zac Posen Fall Winter 2009
While trying to find my seat, I ran into my old friend and actress, Joy Bryant. She had been in town all week for the shows, so I asked her if she was heading back to Los Angeles for the Oscars. "No. I'm staying here a couple of extra days. I hosted a cocktail party here in New York with Oxfam for the ladies a couple days ago, so I'm going to hang around and relax." In true Zac Posen fashion, the front was filled with the industry's hottest stars including Alicia Keys, Leigh Lezark, Claire Danes, Sandra Bernhard, pop stars Estelle and Santogold, Rachel Bilson and Nicole Richie.
The collection was a Victorian exultation of turn of the century glamour mixed with the heightened femininity of the 1940s. "I celebrate the relationship of passion to pragmatism, and the power of a woman's self-expression," said Posen when describing his inspiration for the collection. A broadtail lace evening coat was paired with a Venetian blue blouse and metal plisse skirt. A mink coat was featured over a caviar silk blouse and scarlet silk crepe skirt. Although over the top and a bit questionable when parlaying the collection to the functionality of the modern woman's daily wardrobe, you definitely cannot deny Posen the title of master of his craft.
With the week just hours before coming to a close, I had one final presentation to attend and that was Alabama Chanin by Southern Belle, Natalie Chanin, who hales from Florence, Alabama and whose garments are all hand sewn and constructed using quilting and stitching techniques from the depression-era South. The line is American couture unlike that which the industry has seen in a while. Chanin employs 40 artisans skilled in the tradition of hand stitching and uses all recyclable and sustainable materials in her garments. When I asked her how long this collection took to create, she laughed and said "I have 40 women working 8-10 hours a day over a few months to create these pieces." With that in mind, I could only estimate it took over 33,000 man hours of painstaking attention to detail.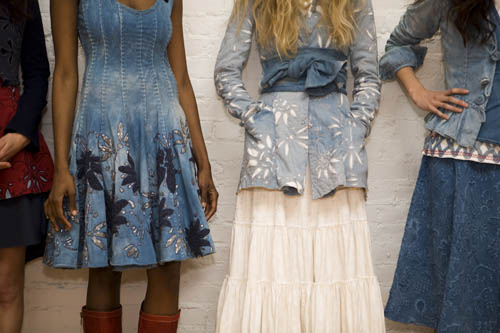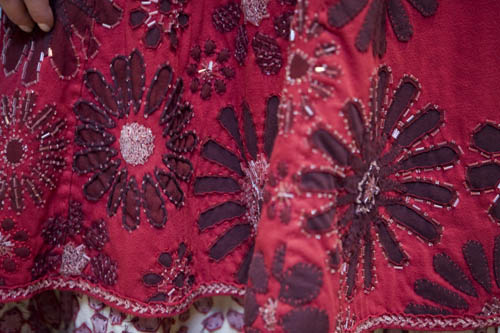 Alabama Chanin by Natalie Chanin Fall Winter 2009
Photos by Nick Wolf
The collection was entitled Songbirds and was inspired by female vocalists such as Emmylou Harris, Patty Griffin, Allison Moorer and Abigail Washburn. The clothes were soft and romantic as is Chanin's trademark style. Indigo blues played against backdrops of natural cream cottons and deep burgundy trims, and countless crystal beads, applied by hand, embellished the floral appliques, as seen in the above photo. The beauty in the clothes lies in the touch, feel and the fit which in part is due to the sustainable nature of the materials used. "The process in which we make the clothes is just as important to us as the finished product," Chanin said. "We do not live as though there is no tomorrow, but rather, we live as though we know there will be."
With that tomorrow brings another day where we realize that fashion is just clothes on our back and one's personal style is a gift of beauty that one shares with the world. Until next season...