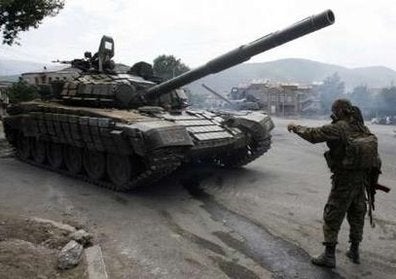 When Jason Maloney and Kira Kay, two freelance journalists who work frequently with HDNet, first pitched me a story about some obscure places called Abkhazia and South Ossetia a few months ago, I was skeptical to say the least. A story about breakaway territories in the Caucasus didn't exactly scream 'ratings magic.' What they described, however, was chilling. Abkhazia, and South Ossetia, two breakaway territories in the former Soviet Republic of Georgia, might be the center of a new war that pitted the U.S.-backed Georgians against the Russians, who support the independence claim of Abkhazia and South Ossetia.
They convinced me to approve the story, and Jason and Kira were reporting in Georgia when war broke out. The story they've come back with is not so much about the military battle, but rather an exploration of what led to this crisis. Anyone who was caught by surprise by the violence wasn't paying enough attention. Jason and Kira found a region with ethnic tensions boiling over, national aspirations thwarted, and a dangerous brinksmanship on all sides.
Just hours before the war began, Georgian president Mikheil Saakashvili told Kira that "with all the courage I can observe in our troops, nobody would be crazy enough to attack the Russian army, right?" But attack, he did, in South Ossetia, and the Russian Bear was unleashed.
"HDNet World Report: Under Siege" airs on Tuesday, August 19 at 9:00 p.m. ET with a re-air at midnight ET to accommodate West Coast Prime Time.