Jacobs Pillow is America's most beloved home for dance of all kinds - modern, classical, international, and everything in between.
Don't just take my word for it--President Obama recognized the 84-year-old institution with the National Medal of Arts.
Pamela Tatge, the institution's new Director, took the reins at Jacobs Pillow just before the summer season began. Previously, she served as the Director of the Center for the Arts at Wesleyan University for 16 years.
She took time to speak with me about what Jacobs Pillow means to the dance world and to her.

Michael: What do you think motivated President Obama to give Jacobs Pillow with the National Medal of Arts?
Pamela: Well, we're the longest running dance festival in the country. We're the only national landmark dedicated to dance. We are a national treasure, and I think the caliber of the programming is the reason why. It was quite a watershed moment for this institution.

Michael: What changed as a result?
Pamela: The Pillow is recognized the world over as a very important place to be presented. To perform here is viewed as a vote of confidence, an endorsement of your company as an important, relevant dance company.
Just last week we welcomed a group of dancers from Algeria who are based in France. The idea that their director's work was going to be presented at the Pillow was a huge recognition of his work as an artist and of his company's importance in the world. A group in Houston, Texas presented on the Inside/Out stage, our free stage. That was a vote of confidence that they took back to their home community that enabled them to grow in terms of their, their support from their local contributors, and so on. That's what I think it means to the groups that perform here.
Michael: You arrived at Jacob's Pillow this past April, just two months before the season started. What was that like, getting your arms around this whole thing?
Pamela: It is an extraordinary institution to learn. It's over 200 acres and it's got an 84-year-old history. I hadn't located a rental yet, so I needed to be put up on an artist housing on the campus. I woke up every day looking out at this Berkshires landscape and walking down to work. By living here for the first six weeks, I appreciated the power of the site, how we, unlike any other festival, exist in dialogue with our natural surroundings, and how important that is to the Jacobs Pillow experience. Yes, you're seeing dance, but you're seeing it in this extraordinary natural environment.
Michael: What does it mean to the performers, who are used to rehearsing and performing indoors and in cities, to be liberated and set free in nature in this manner?
Pamela: In this day and age, it's something that dancers and companies are really hungry for. They can really unplug and focus in on the work, live here, have all of their equipment set up in the Doris Duke theater, sleep at Derby House, and really never have to leave the campus after they get their groceries. They can experience what's it like to not be pulled by the six different jobs the dancers have to make a living. Instead, they go home to Derby House and have dinner and say, "What if we tried XYZ?" Their equipment is still set up in the theater and you can work in that theater 24/7. That kind of retreat immersion, and lack of distraction, in this day and age, is something we crave, and our dancers and our companies crave it, too.
Michael: What makes Jacobs Pillow unique for the ballet lover?
Pamela: We really are a national treasure, like Yosemite, one of those places in our country that everyone should visit at least once. It's because we hold the history of American dance -- so many ideas and movements were explored here.

People want to be reminded of our human capacity for creativity, for invention, and for innovation. When you see some of the companies that come through Jacob's Pillow, you literally experience it because you are interacting body to body. Your body can't help but react to what's happening onstage because you have the same body as the dancers. You're the same species! When you see what those bodies can do in space, and look at the creativity and appreciate the creativity of the choreographers who have set their minds to creating, to having audiences enter into a world, an experience.
So that's one aspect, the very importance of the universal language that is dance. Another reason -- we present companies from all over the world at Jacob's Pillow. So you can increase your appreciation of other cultures when you can experience their art forms. This season we've already had a company from Argentina and one from South Korea.
We get very narrow views of what's going on in the rest of the world, and seeing work from other cultures makes you ask questions that you otherwise wouldn't ask about, where this work comes from.
Michael: Tell me about the Inside/Out stage.
Pamela: It's a hugely democratic stage whose backdrop is the mountains of the Berkshires. Audiences are invited to come for free Wednesday through Saturday at 6:15. They bring a picnic, and then they come to see whatever we put on that stage for them. And it can be everything from hip hop to South Indian Bharatanatyam dance to classical ballet. People around here building a knowledge and an understanding of dance through how hugely accessible the Inside/Out stage is. And so I think really we are, we are truly open to everyone. There's another thing that you can do here that is really rare.
Michael: People can observe classes at Jacobs Pillow - that's unusual, isn't it?
Pamela: That's right. Many schools are very defiant about not letting you see classes in progress. Here, the doors of the summer studio are open, people wander in, sit on a chair in the back, and watch the students learn. They're able to bear witness to that educational process. I think connects people further to this form and how demanding it is for dancers to realize choreographic visions.
And yes, we want to come together. We want increasingly to find ways to come together in community to appreciate and revel in the very best of ourselves, and I think places like Jacob's Pillow give you a total, immersive experience in this amazing landscape.
It's a true campus for dance.
Below, Jacobs Pillow Director Pamela Tatge and The School at Jacob's Pillow Improv Traditions & Innovations: From Ring Shout to Blues to Jazz Program Director Jawole Willa Jo Zollar; photo Hayim Heron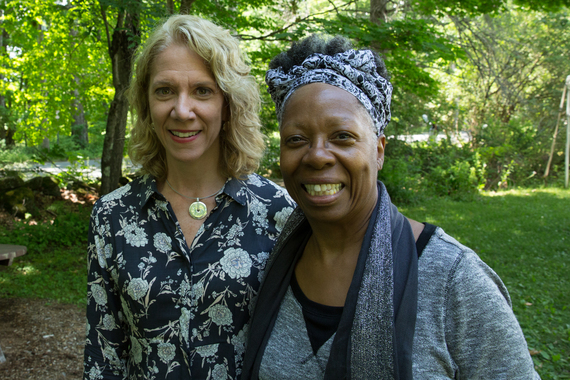 REAL LIFE. REAL NEWS. REAL VOICES.
Help us tell more of the stories that matter from voices that too often remain unheard.