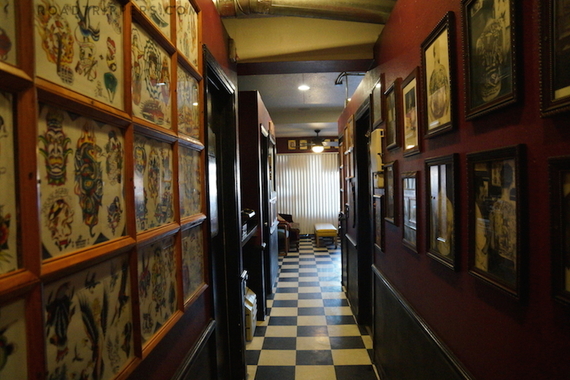 Las Vegas is known for many things. Mostly naughty things. So, when I took my 10-month-old son there for a whirlwind 24 hours I wasn't really sure what the hell we were gonna do besides walk around, people-watch and relax in our hotel room and veg on room service. We'd been on the road for almost two weeks driving down Route 66, so a day hanging out in Sin City didn't sound too bad.
Well…in case you didn't know, Vegas in August is fu#%ing hot. Like, over 100 degrees hot. So, the whole walking around and people watching was out of the question with the little guy. We grabbed food in one of the casinos and hung out for like 20 minutes until we were both bored out of our minds. I made an executive decision to get off the strip and explore offbeat Vegas.
It wasn't too long before we found ourselves in an unassuming parking lot, next to a gas station, in front of building that said "Frankie's Tiki Room." I was immediately intrigued, so I got Bruce out of his carseat and plopped him on his little red car out front. I was reluctant to go in as it's generally assumed that children are persona non grata at such boozy establishments.
While in the parking lot a heavily-tattooed bloke came up to us and asked what we were doing. I explained that I needed to get off the strip and find some offbeat place to check out with my son. The kind gentleman politely let me know that Frankies Tiki Room was in fact a bar and children were definitely not allowed inside. Vegas is weird about that sorta thing, I guess.
As my tattooed friend introduced himself, I felt a little embarrassed, as he looked awfully familiar. He informed me that I'd probably seen him on TV. Sure enough, he was Dirk Vermin, owner of Pussykat Tattoo, and star of A&E's Bad Ink. Dirk totally gets my problem with Vegas and offer to take me into Frankie's Lounge to take a few quick photos (he's actually really close friends with the owner). Frankie's is such a rad joint. The lounge itself dates back to the late '40s or early '50s, and it's mostly patronized by locals. It's totally a diamond in the rough.
I get my pictures and then ask if I might be able to see Dirk's infamous tattoo shop. He agrees and gives me his card. It's probably the coolest business card ever. Of all time.
The next morning I roll into Pussykat Tattoo at the crack of 9 a.m. with my baby Bruce in tow. The first thing that strikes you walking in is just how insanely cool the damn place is. From its funky, retro furniture, to the mad art that adorns the walls. It's like you're being swallowed by a badass rockabilly black hole. It's awesome.
Dirk explains to me that since his show premiered he's seen quite a lot of interest from the ladies, and a few marriage proposals from lovestruck fans. He's mostly kept a low-key presence on social media, but once he got on Facebook and started managing his fan page he's amassed 58,694 followers. Currently he's writing a book on his life and mostly staying out of the public eye.
He's an incredibly real and accessible person, when a fan reaches out he's very forthcoming with responding. Though he's not totally comfortable with being considered a "product" he understands how fleeting fame is and is ready for what's coming next. Though Bad Ink was a surreal experience, he's very proud of Season 2, but definitely ready to branch out and take over.
Off-camera he's such a likeable guy, very intelligent and thoughtful. He's a proud "soccer mom" (which he displays with a tattoo on his leg) and a passionate artist.
And my son Bruce really liked him.
When I asked him about his most favorite and least favorite parts of living in Vegas he said he loves the offbeat side of Sin City, the fact that everything is open 24 hours rocks (getting sushi at 2 in the morning is pretty damn rad), and the freedom you enjoy in this little neon oasis in the desert.
Worst part of Vegas: The heat. You pay for your winters with summers. However, he cautions that Vegas is a town that doesn't say no. So you better be careful what you ask it.
Vermin's not just an accomplished tattoo artist, proud father, soon-to-be-author (he's writing a "raw, uncut, uncensored" account of his life), and a veritable television star, he's also one of the founding members of Las Vegas's oldest punk bands, The Vermin.
Equal parts profane, funny, and sweet, Vermin's charming inside betrays his badass exterior. I can't wait to see what he does next.