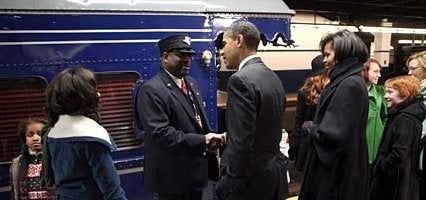 A lot of ink has been spilled comparing Barack Obama's inaugural Whistle Stop tour with the pre-presidential trip taken by Abraham Lincoln. Obama himself has cultivated the comparisons with his political idol.
But there are obvious differences as well. On his way to the White House, Lincoln traveled for nearly two weeks -- the latter part under threat of assassination -- making more than 100 speeches at various spots.
And he didn't have Obama's train.
The president-elect's staff sends over some background information on the mode of transportation being used for the roughly 150-mile trek from Philadelphia to D.C.
The train is ten cars long, encompassing the length of two-and-a-half football fields. The press is sitting in the front four cars while 16 specially-invited families (41 people total) are in a car of their own. No word where Obama is sitting or if he will walk through the aisles (aides and secret service members have been roaming). But the inaugural committee is saying there will be two "slow rolls" in which onlookers will get to wave at the train crawling by their windows.
Already, there are well-wishers lining up along the tracks, waving and snapping photos as the behemoth rolls by.
"Welcome aboard the 2009 inaugural train to Washington D.C.," said the conductor upon departing Philadelphia at 11:38. "On behalf of Amtrak I am pleased to welcome President-elect Obama and his special guests on this historical journey."
The Georgia 300 was built by Pullman Standard in 1939 as a 10-section lounge car for the Southern Railway. In 1949, Georgia Railroad purchased the car, after which it was rebuilt into the office configuration it has today. The Georgia 300 made regular trips to the Masters golf tournament and occasionally, the Kentucky Derby, hosting Georgia Governors and other dignitaries. It has also hosted George H. W. Bush and Bill Clinton. The train is now privately owned by the man who acquired it in 1985. It has a kitchen, two living room areas and a small bedroom.
Calling all HuffPost superfans!
Sign up for membership to become a founding member and help shape HuffPost's next chapter