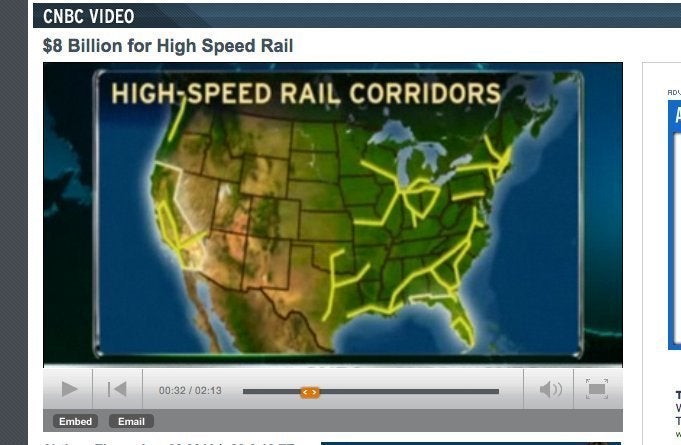 JOAN LOWY, Associated Press Writer
WASHINGTON - High-speed rail projects in California, Florida and Illinois are among the big winners of $8 billion in grants announced Thursday by the White House -- the start of what some Democrats tout as a national rail-building program that could rival the interstate highways begun in the Eisenhower era.
President Barack Obama announced the awards during a town hall meeting in Tampa, Fla. -- a follow-up to Wednesday's State of the Union address that focused on getting Americans back to work. Thirteen passenger rail corridors in 31 states will receive grants, which are funded by the economic recovery act enacted last year.
Obama said focusing on building 21st century infrastructure projects is an important element of the country's economic recovery.
"It creates jobs immediately and it lays the foundation for a vibrant economy in the future," Obama said.
Though the administration bills the program as "high-speed rail," most U.S. projects won't reach the speeds seen in Europe and Asia. California's trains would be by far the fastest, exceeding the 200 mph achieved by some trains overseas.
Some of the money will go toward trains with top speeds of 110 mph, while other funds -- such as the $400 million allotted to Ohio to connect Cleveland, Columbus, Dayton and Cincinnati -- will be for trains traveling no faster than 79 mph.
A half-dozen Cabinet members and other senior administration officials were fanning out across the country for rail events Thursday and Friday. The White House said rail projects will create or save thousands of jobs in areas including track laying, manufacturing, planning, engineering and rail maintenance and operations.
Obama told the crowd at Thursday's town hall that when the high-speed rail line connecting Tampa and Orlando is finished, "I'm going to come back down here and ride it."
Transportation Secretary Ray LaHood and members of Congress have acknowledged they expect much of the expertise and equipment to be supplied by foreign companies. Except for Amtrak's Acela line between Boston and Washington, there are no high-speed trains in the U.S. and no domestic high-speed rail industry.
The $8 billion investment is just a start. Last year, Obama asked Congress in his budget request for an additional $1 billion a year for five years. Congress for this year approved another $2.5 billion that remains to be awarded. And Obama is expected to ask for yet more rail funds when his budget is presented next week.
Also, LaHood has hinted that some of the $1.5 billion allotted in the stimulus plan for discretionary transportation projects may go toward high-speed rail.
Japan launched the first high-speed trains in 1964, and France and other European countries followed in the 1980s and 1990s. China has announced plans to expand its high-speed rail system to a network of more than 16,000 miles by the year 2020 at an estimated cost of $300 billion.
In the U.S., only the projects in California and Florida are planned to reach maximum speeds of 150 mph or more, what most transportation experts consider high-speed rail.
Projects awarded the largest grants include:
• California: $2.3 billion to begin work on an 800-mile-long, high-speed rail line tying Sacramento and the San Francisco Bay area to Los Angeles and San Diego.
• Florida: $1.25 billion to build a rail line connecting Tampa on the West Coast with Orlando in the middle of the state, eventually going south to Miami.
• Illinois-Missouri: $1.1 billion to improve a rail line between Chicago and St. Louis so that trains travel up to 110 mph.
• Wisconsin: $810 million to upgrade and refurbish train stations and install safety equipment on the Madison-to-Milwaukee leg of a line that stretches from Minneapolis to Chicago.
• Washington-Oregon: $590 million to upgrade a rail line from Seattle to Portland, Ore.
• North Carolina: $520 million for projects that will increase top speeds to 90 mph on trains between Raleigh and Charlotte and double the number of round trips.
By spreading the $8 billion among so many states, Obama is ignoring the advice of transportation experts and high-speed rail advocates who said the best way to build continuing political support for the program would be to concentrate on two or three grants large enough to get a high-speed line up and running. Once that happens, they reasoned, other parts of the country would lobby for more money to build their own lines.
Rep. John Mica of Florida, the senior Republican on the House transportation committee, complained that the Midwest lines awarded grants will achieve top speeds of only 110 mph and were "selected more for political reasons than for high-speed service."
Related
Popular in the Community