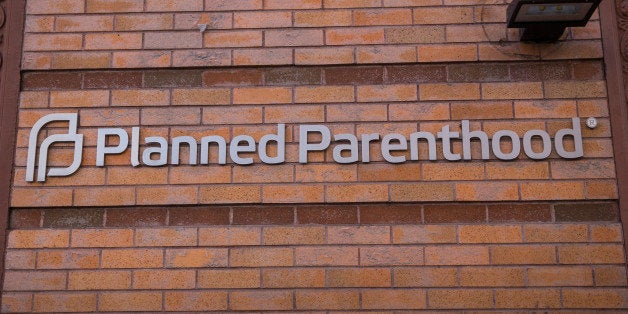 In March, the Planned Parenthood Federation of America launched Spot On, a free period tracker and birth control planner developed by Planned Parenthood's Digital Products Lab. Like many such apps, it allows users to track their physical symptoms, moods, and birth control use. But what makes Spot On unusual is that it's aimed at anyone who menstruates -- not just women.
The app discusses body symptoms and birth control, which may include "sore breasts" and reminders like "take your pill," but doesn't assume that the person with the breasts or the pills is a woman. Instead, it speaks directly to the user as "you." There are no pink flowers and there is no gendered language. (There is, however, a dinosaur. On the moon.)
"Our patients and supporters don't comprise any one identity, especially when it comes to periods, menstrual cycles, or sexual or reproductive health," says Jenny Friedler, director of Planned Parenthood's digital products lab.
And Spot On is only the latest and most visible development in Planned Parenthood's efforts to use inclusive language across its programs.
Planned Parenthood is often thought of by the public as a women's health provider. But it isn't really a women's health group -- Planned Parenthood has provided reproductive health care to people of all genders for years.
It's difficult to find a breakdown of Planned Parenthood's patients by gender -- the annual report gives stats on services offered in a given year, while its By The Numbers document breaks down patient demographic by age and income rather than gender. Staff members say that the majority of Planned Parenthood's clients identify as female, but that people of other genders are welcome.
"When you look at our patients, we do overwhelmingly serve more cisgender women than anyone else. However, our mission, what we do, is sexual and reproductive health and sex education, and that includes everyone," says Elizabeth Clark, Planned Parenthood's director of health media.
One of the reasons Planned Parenthood is seen as solely a women's health-care provider, says Clark, is because the group's most controversial work -- abortion -- is often seen as a women's health-care issue (although trans people and gender non-conforming people also need abortion services).
"I think a lot of the attention gets focused on women's health care, but we've always been a sexual and reproductive health-care provider for everyone," says Clark.
Planned Parenthood's language has been evolving for a long time. One affiliate I spoke to, Planned Parenthood of the Southern Finger Lakes, first began changing gendered language in its educational programs in the late 1980s, back when the group's focus was fighting homophobia and related bullying. At the time, PPSFL started eschewing the words "boyfriend" and "girlfriend" and using words like "partner" instead.
In the last five years, as the affiliate began responding to the health needs of the Finger Lakes transgender population, language has begun to change even more, says Maureen Kelly, vice president for programming and communications for Planned Parenthood of the Southern Finger Lakes. The new gender-neutral and inclusive language focuses less on who people are and more on what genitalia they have and what activities they engage in, she says.
For example, in sex ed, rather than saying "the man becomes erect," educators say "the penis" becomes erect, says Kelly.
In clinics, the patient intake form has changed to reflect the fact that gender is not a binary. Where there were two separate intake forms -- one for men and one for women -- there is now one that allows clients to describe themselves, write in their gender, and indicate the name they choose to use if it differs from their legal name.
"We want you to find yourself on that form," says Kelly.
When the intake form was changed, Kelly says, there was some concern that people who didn't know a lot about gender or sexuality spectrums might be confused by the new language. But that hasn't been the case. In fact, the form has had an unexpected positive effect: Many people, not just those who don't identify as the gender they were assigned at birth, go by something other than the name on their birth certificates -- Margarets who want to be called Peg, for example, and Josés who want to be called Joe. Allowing people to specify their preferred name on the intake form lets everyone feel more comfortable.
Forms are also changing at other affiliates. Planned Parenthood of New York City, for example, changed its medical history form when staff realized that trans and gender non-conforming people weren't represented. The current form allows for more detailed information, with space to indicate gender identity separately from sexual anatomy. Asking about someone's genitals is a terrible way to behave socially, but for a doctor's office, it offers much more useful background, says Lauren Porsch, MPH, director of clinical training and research for that affiliate.
"If someone says 'I'm a woman and I have sex with women,' that doesn't really tell you very much about their behavioral risk for pregnancy or STI prevention," she says. "But if we ask people what type of anatomy they have and what type of anatomy their partners have and what type of activities they're engaging in, it's a much better gauge for are they at risk of pregnancy, what STIs are they at risk for, and we can actually provide more medically accurate and appropriate and sensitive information to clients when we ask for the information that way."
According to Kelly O'Hanlon, regional director for Planned Parenthood South Atlantic (PPSAT), those medical intake forms are the first step in providing compassionate nonjudgmental care to all patients. For many people, particularly transgender patients, she says, Planned Parenthood is the only health-care provider they can use without fear of being shamed.
"In a health-care landscape that can often be difficult to navigate and sometimes even hostile for transgender people, PPSAT is intentional in creating an accepting and safe space for these patients," says O'Hanlon. "This begins with being conscious and respectful of each individual's preferred name and pronouns, which is asked for at the top of our medical intake forms. It is critical to us that we respect every patient's unique identities, and for transgender people, who face persistent discrimination and misunderstanding, starting with these simple questions can make their entire health-care experience more accepting, positive, and supportive."
Language about certain kinds of birth control has changed as well. "Male condoms" and "female condoms" are now referred to as internal and external condoms at Planned Parenthood of New York City.
"The language we're using today reflects the fact that gender is a spectrum and not a simple system, a binary system of male and female," says Porsch. "We really talk about having sexual and reproductive health services [for everyone including] women who have penises, men who have vaginas, and there are people with all different types of anatomy that may not identify with a binary gender at all," she says.
While this language might not be shared by all 59 of Planned Parenthood's affiliates, many have changed the language they use on intake forms, in sex education programming, in policy discussions, and even in describing what the agency does.
"You'll note that I use the term 'sexual and reproductive health services,'" says Porsch, "which is an evolution of the term 'family planning' that had been used for many years. I know there are still organizations that are using the term 'family planning,' but we're really trying to move away from that because we feel that it's not as LGBTQ-friendly or inclusive."
Another change in language is obvious to anyone who emails Planned Parenthood employees regularly. Many Planned Parenthood staffers include their preferred gender pronouns in their email signatures. This started in the last year or two, says Clark, but it's not official policy. Staffers across the federation are choosing to do this on their own.
"It's one of those things that organically happened as people realized it's helpful," she says.
Many of Planned Parenthood's efforts to use more inclusive language sprang up organically, independently of one another, according to Clark.
For example, Planned Parenthood's digital health team, which manages all of the federation's health-related social media accounts, started using non-gendered, inclusive language three years ago, according to Chelsea Perugini, Planned Parenthood's social media community manager.
"We use non-gendered language when we talk about bodies, sexuality, gender, etc.," she says. "Some of the writers on the team implement non-gendered language by saying things like, 'people with a uterus,' which is one way to do it. We also like to put our writing in the second person -- your uterus, your penis, your partner -- or by using 'they' as a singular pronoun."
The change in language was sparked by the Tumblr community, she says.
"The Tumblr audience is smart. They understand feminism. They understand that sex ed isn't one-size-fits-all -- even though that's what they were taught in school," says Perugini. "And they know that words matter. They didn't see themselves reflected in the language we were using on our social media pages or our website, and they let us know."
That response from the community has had a huge impact on the way the digital health team writes; the online community now expects to see gender-inclusive language on health-related social media properties.
"We've raised the bar for ourselves and when we fail to meet it, the blowback is there," says Perugini. "But it's a good thing. It helps us work harder to maintain the standards we've set."
The positive reaction has extended to Spot On, which has only been released for iPhone and is about to be launched for Android. At press time, it had been downloaded 76,000 times.
The app, says Friedler of the Digital Products Lab, owes its success to the fact that it doesn't presume anything about its users. That lack of presumption goes beyond gender.
"People's needs are all really different, and it's not just about gender neutrality," she says. "I think it's also about not making assumptions about people's sexual orientation and not making assumptions in general about where they are in their lives, and how understanding their periods and their birth control relates to that."
Case in point: many people who use birth control aren't using it for contraception, but for various health reasons. Spot On doesn't assume the users are tracking their periods for fertility reasons, but asks if they are.
And then there's the dinosaur.
"The things that we did to make the app gender-neutral, to make sure the app wasn't making assumptions about sexual orientation, to make sure the app didn't feel gendered to people who were using it -- those things don't just resonate with a gender non-conforming audience, or with an LGBT audience. They've really resonated with all of our users," says Friedler.
She points to all the super-gendered items on the market "for women": pink pens and pink earplugs, for example. Many heterosexual, cisgendered women don't like those any more than any other demographic does.
"I think everyone really liked the surprise of the dinosaur . . . regardless of how they identified," she says. "I think that has really helped us not just reach the LGBT audience -- which certainly has unique health needs -- but also reach an audience that, in general, really appreciates something that is specific to them as people, not based on them as a specific gender."
Planned Parenthood's national office hasn't set policy around language for its affiliates, and can't require them to follow its guidance. It can, however, make recommendations and act as a resource for the affiliates, and according to Clark, the national office is now in the process of developing a resource to address how and when to use inclusive language.
"We are in the process of pulling together a style guide, for issues around when we use gendered language, when we use transgender-inclusive language, and when we use gender-neutral language," she says. "Those are internal conversations that have been happening between teams, and so in the last few months we decided that we should have an official set of guidelines. That's being drafted now with input from different divisions within the national office."
None of this means that Planned Parenthood is abandoning gendered language altogether. The federation is simply being more thoughtful about how that language is used.
"There are still going to be times and places when we will use gendered language," says Clark.
She pointed to policy efforts like the Trust Texas Women campaign, which was founded by The Center for Reproductive Rights to combat laws that restrict access to abortions in Texas.
"Sometimes we are going to say the word 'women,'" says Clark. "You can't not talk about women when you look at what's happening to health-care access in this country. At the same time, these attacks on reproductive and sexual health care affect everyone, and we need to acknowledge that."
Other recent stories include:
Popular in the Community