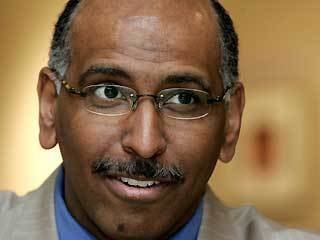 Public criticisms of Michael Steele's brief tenure as RNC chair have focused, so far, on the big picture. His rhetorical flourishes and lack of a coherent strategy, observers say, have left the party too often fielding questions on the defensive.
But the concerns with the new RNC Chair aren't strictly macro in nature. A Republican strategist familiar with the situation said that inside the committee, staffers are distraught and confused over a hectic internal management style that has stepped on more than a few toes.
"There was a firing of tons of staff. But the way the firing was done, more specifically, was problematic," said the source. "There were a lot of people pissed about them being let go. I think the fact that a bunch of people were let go right ahead of [Obama's] non-State of the Union address taking place was not good."
"The RNC fired all the communications staff," the source added, "only then they went and told about five or six who were deemed 'indispensable' that they weren't really fired and that they should stay on for another month but not tell their soon-to-be-former colleagues. I believe that before press staff were fired, some of them at least were subjected to sitting through an hour long lecture about things changing. It was like, come on, if you're firing people, just fire them. The interviews for re-hires have also been really onerous. One person had to interview for a full hour-and-a-half."

Another source inside the committee confirmed the above description and noted that future overhauls were expected. As the New York Times reported on Sunday, "about 70 staff members have already resigned or been fired." Among them were some popular members from the old regime, including Cyrus Krohn, who spearheaded the RNC's efforts to rebuild its online infrastructure.
Krohn has said that the reason behind his departure was a desire to move back to Seattle with his family. But a well-connected Republican notes that Krohn had let it be known -- quite publicly, in fact -- that he wanted to stay on-board with the RNC. "And," the official added, "who leaves a job without having another one lined up in this economy?"
Popular in the Community